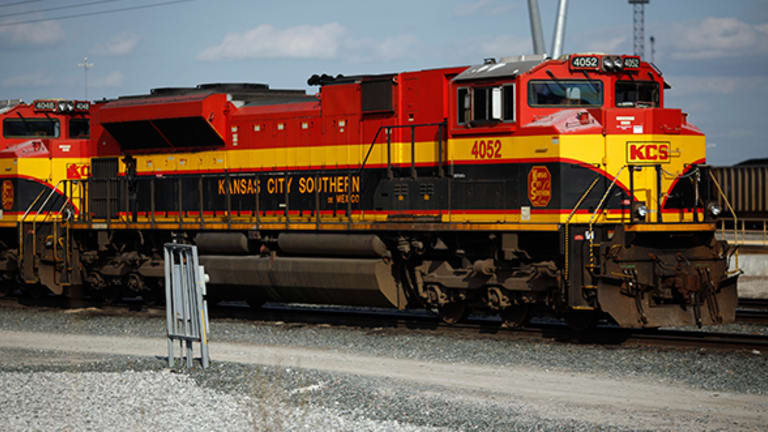 Mexico-Dependent Kansas City Southern Says Trump-Related Concerns Overblown
The company's outlook remained upbeat.
As Kansas City Southern (KSU) - Get Kansas City Southern Report execs noted, there's a certain irony to the railroad most tied to cross-border trade with Mexico reporting earnings on the same day of Donald Trump's inauguration. Company management used the occasion to try to reassure investors that the future was bright despite the political rhetoric.
KSU on Friday reported fourth-quarter adjusted earnings per share of $1.12, missing the FactSet consensus estimate of $1.17, on sales that at $598.5 million fell just short of the $603.3 million consensus. The company mentioned a range of issues including a weak peso, continuing struggles in the energy market and congestion related to expansion projects by key customers for its financial and operational issues, but highlighted an improving operating ratio of 64.9% as a positive.
"KCS' ability to react swiftly and efficiently was proven throughout 2016, as our network faced challenging operational interruptions throughout the year," CEO Patrick J. Ottensmeyer said. "In addition, volatility in key commodities such as energy, consumer, and intermodal markets created uncertainty during 2016."
Shares of the company are off more than 6% since the U.S. election.
But the real focus was on the future of Kansas City Southern's massive Mexico business, and what impact Trump's pledge to rework NAFTA or push companies to cease manufacturing south of the border might have on the railroad's bottom line.
Ottensmeyer on a call with analysts noted that about 60% of the railroad's cross-border traffic - representing about 29% of total revenue - is southbound, or U.S. exports, with grain being the largest contributor. He said that two other net export sectors, refined product and plastics, are among the railroad's largest growth areas.
Ottensmeyer said that in recent weeks KSU has spoken to about two dozen major customers, saying the message has been "overwhelmingly positive" in regards to the future of Mexican operations. Addressing specific announcements from companies, particularly automakers, planning shift manufacturing northward, company officials said they believe those decisions were based on the business and the market and not based on political pressure to get out of Mexico.
"We continue to emphasize our commitment to growth and we are well positioned to take full advantage of the significant new business opportunities that lie ahead of us," Ottensmeyer said. He said KSU is trying to stay on top of the plans of major customers to change internal capital expenditure planning if necessary but said "we are not getting any indication from opportunities in the pipeline that their plans have changed."
The market was more focused on the outlook than it was the fourth quarter results, with Kansas City Southern shares trading up more than 3% on Friday morning.
Overall the company said it has a favorable outlook heading into 2017 for businesses that make up about 65% of total volume, including its automotive business, and a neutral outlook for the remainder.