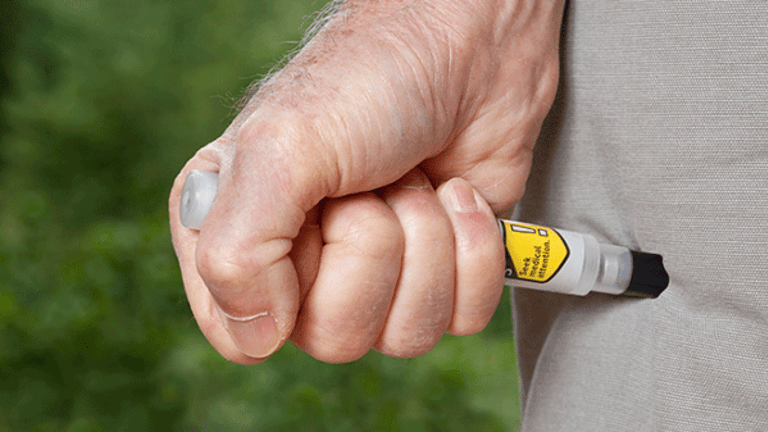 Publish date:
Kaleo CEO Positive on EpiPen Competition
A more affordable competitor to Mylan's MYL EpiPen is set to enter the market earlier than expected, and will likely pose a threat to the autoinjector's dominance in the space.
A more affordable competitor to Mylan's MYL EpiPen is set to enter the market earlier than expected, and will likely pose a threat to the autoinjector's dominance in the space.
A more affordable competitor to Mylan's (MYL) - Get Report EpiPen is set to enter the market earlier than expected, and will likely pose a threat to the autoinjector's dominance in the space.
Kaleo Pharmaceuticals, a privately held company based in Richmond, Va., announced Oct. 26 that it will bring the product it invented, Auvi-Q, back to market in the first half of 2017. Auvi-Q was previously an option for those with life threatening allergic reactions, but was pulled in late 2015 due to problems with the injection mechanism. At the time, Sanofi (SFY) - Get Report was marketing the device.
"We saw the impact over the summer of the lack of options for patients," Kaleo's CEO Spencer Williamson said by phone Wednesday. "We have worked very hard to bring the product back and we're excited to do so."
Auvi-Q is smaller than the EpiPen and, much like an AED defibrillator, uses voice commands to walk a patient through the injection. It also has a retractable needle, unlike the EpiPen. 
"A lot of people see epinephrine as epinephrine," one of Auvi-Q's inventors, Eric Edwards said. "We grew up with life threatening food allergies, so we know what patients want."
Edwards and his twin brother Evan brought Auvi-Q to market back in 2012. Within 27 days of its presence on the market, a child used the autoinjector to save her own life, Edwards said. 
The announcement that Auvi-Q will return comes as a surprise to the markets, which expected a competitor to enter the space in late 2017, when Teva Pharmaceuticals (TEVA) - Get Report was expected to release a generic version of the EpiPen.
It is unclear how much the announcement will impact Mylan's EpiPen sales, though it's worth noting that when Auvi-Q hit the market back in 2012, it took about a 10% market share. Patients appreciated the Auvi-Q's smaller, more compact design.
Mylan came under fire in the summer when it was first reported that it had hiked the price of the EpiPen approximately 25% each year since 2007, when Mylan bought the drug from Merck. The drug industry's standard price increase is 10% year over year.
The Epipen price increases, coupled with an insurance environment that passes more of the cost of drugs onto patients, sent their cost as high as $600 per two pack. Since these issues came to light, Mylan has agreed to offer a rebate program worth $300, and has broadened its patient assistance program offerings.
A competitor to EpiPen, Impax's Adrenaclick, is already on the market, but due to manufacturing constraints, most patients haven't been able to obtain the generic autoinjector. Sandoz and Imprimis are also developing competitors, and Mylan has plans to release a generic version of EpiPen before the year's end.
"Looking at 2017 and beyond, we assume the 5% growth of the epinephrine market," analyst Louise Chen of Guggenheim Securities wrote in a note. She added that Guggenheim expects that by the end of 2018, Mylan will have one-third of the market share for autoinjectors.
Kaleo executives, though, say they see this as a positive.
"It will increase awareness of the risk of anaphylaxis," Williamson said. "We think patients should have choice."
The FDA has already approved Auvi-Q for sale. As the recall was voluntary, Kaleo does not need to obtain approval for the drug again before entering the market.
Kaleo is anticipating broad interest in its device, and has completely automated its manufacturing process to keep up with demand.
"We immediately invested in our quality system processes," Evan Edwards said. "We've created an intelligent 100% automated robotic product line. This ensures a consistent, reliable and streamlined product."
"We have the capacity to meet demand as we put the product back in the hands of patients," Williamson added. "This population of patients deserve this."
Kaleo will continue to market the device even as demand grows, executives noted, adding that a partnership like the one it had with Sanofi when Auvi-Q was last on the market will likely not happen again.
"We are thrilled to control the manufacturing and commercialization of Auvi-Q," its inventor Evan Edwards said by phone. "We feel it is in the right place, where we can best serve the patients."
Kaleo executives also noted that they're looking at schools as a place to both educate patients and to partner with, much like Mylan already does. Since some states require schools to have epinephrine on hand, the market is likely wide open for an entry from an EpiPen competitor.
Meanwhile, Mylan continues to face broad scrutiny from federal and state officials. On Oct. 10 Mylan settled with Center of Medicare and Medicaid, agreeing to pay $465 million after the EpiPen had for years been misclassified as a generic drug, which allowed the company to pay a lower rebate to patients.
Mylan is still under investigation by the attorneys general of Minnesota and New York. Neither has provided an update into the investigations.
Mylan executives declined comment on Kaleo's announcement. The pharmaceutical company's share price fell 1.5% Wednesday before bouncing back slightly, hitting $38.73 per share midday.
Mylan will report earnings after market's close on Nov. 9.