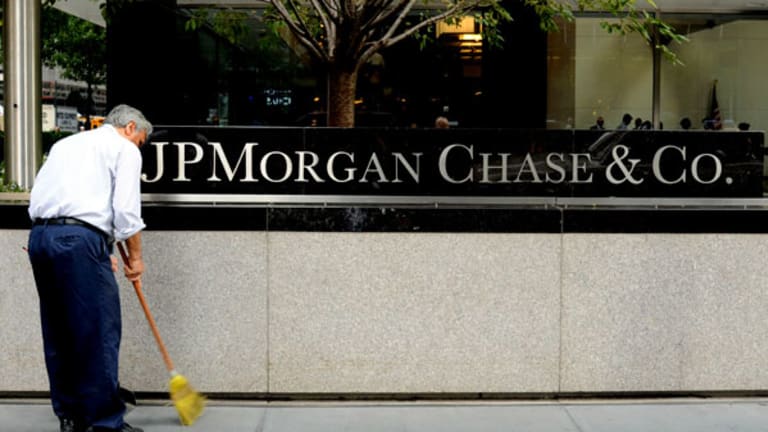 Justice Department Hits JPMorgan Again
The latest leak is another investigation of possible energy market manipulation by the bank.
NEW YORK (
) -- The Department of Justice is among several federal agencies leaking like a sieve, at least as far as
JPMorgan Chase
(JPM) - Get Report
is concerned.
The latest investigation of the nation's largest bank centers on possible manipulation of energy markets in the United States, according to a
Wall Street Journal
report.
According to "people familiar with the case," U.S. Attorney Preet Bharara is handling the new investigation, which is "still in its early stages." The
Journal's
unnamed sources also said "Mr. Bharara will examine some of the same issues at the center of the FERC case."
JPMorgan late last month
agreed to pay $410 million to settle charges of market manipulation
by the Federal Energy Trading Commission (FERC) in two specific markets in California and the Midwest. The settlement included $125 million in what the FERC termed "unjust profits," and a $285 million civil penalty to be paid to the U.S. Treasury.
The bank, only a few days before the FERC settlement, announced it was considering "strategic alternatives" for its physical commodities business, which includes energy trading.
Several federal agencies seem to be well-focused on continuing the almost daily flow of negative JPMorgan Chase headlines. The Tuesday leak report comes while the new investigation is in its "early stages." If this investigation uncovers what the Justice Department considers to be wrongdoing, it will be time for another leak. Then, if JPMorgan agrees to settle, that news can be leaked before either JPMorgan or the Justice Department makes an announcement, thus milking the investigation for as many days of headlines as possible.
The Tuesday leak follows by one day the
New York Times DealBook
report that JPMorgan Chase is facing a civil investigation by the Securities and Exchange Commission over its hiring practices in China. The
DealBook
report cited a "confidential United States government document," while saying "federal authorities have opened a bribery investigation into whether JPMorgan chase hired the children of powerful Chinese officials to help the bank win lucrative business."
According to the
DealBook
report, "in one instance, the bank hired the son of a former Chinese banking regulator who is now the chairman of the China Everbright Group." Following the hiring, JPMorgan "secured multiple coveted assignments from the Chinese conglomerate," the report said.
Then again, "legal experts note that there is nothing inherently illicit about hiring well-connected people," according to the report.
Everyone knows that companies at home and abroad will hire the children of well-connected people, or friends of board members, etc. This is how business has always been done. Then again, the Foreign Corrupt Practices Act seems to hold a few U.S. companies to a different standard when doing business outside the United States.
Rafferty Capital Markets analyst Richard Bove on Monday summed up the government's leak strategy against JPMorgan Chase, while skewering the SEC's selective use of the Foreign Corrupt Practices Act. He described the SEC's leak as "part of the program" with the agency "acting on orders" from above.
"In fact, it is believed that there are 8 U.S. government agencies seeking ways to harm that company along with some states and even two foreign governments," Bove wrote in a note to clients.
"
If the SEC pursues an action against the bank here and prevails, it will be establishing a standard that all American companies will not be allowed to hire the most educated and best trained people in any emerging country outside the United States. If the SEC prevails it would make it necessary for that entity to investigate hundreds of companies operating outside the United States and thousands operating in this country," he wrote.
Bove added, "Everyone knows that the SEC is not about to do that."
The latest DOJ investigation comes on the heels of the
federal indictments against two former JPMorgan traders
last week, in connection with the "London Whale" trading losses of at least $6.2 billion during 2012. Of course, those charges were leaked during the days leading up to the indictment.
JPMorgan Chase's shares were up slightly in premarket trading Tuesday, to $52.07.
The shares closed at $51.83 Monday and traded for 1.3 times tangible book value, according to Thomson Reuters Bank Insight, and for 8.5 times the consensus 2014 earnings estimate of $6.10 a share. The consensus 2015 EPS estimate is $6.42.
JPMorgan was recently included among
TheStreet's
, based on consensus 2015 earnings estimates.
Guggenheim analyst Marty Mosby, in an interview on Monday, said "JPMorgan is under the microscope and what I think the regulators are doing is using them as an example to make sure that all of the largest banks understand they have to be above all the boundaries that are set."
"We think a lot of these overhang issues are setting the tone for the regulatory view of JPM and other money center banks, and are weighing on the stock price relative to where it should be, based on returns," Mosby said.
"JPM will be able to work through a lot of issues over the next 12 months, and as they emerge from under that cloud, their valuation should better reflect their current profitability and returns, instead of the headline risk that is pressuring the stock today," he added.
"Their return on tangible common equity exceeds their cost of equity by five percentage points," according to Mosby. "And that given that level of profitability, they should be trading at twice the premium to tangible book value that they do today."
Mosby rated JPMorgan Chase a "buy," with a price target of $66.
data by
Interested in more on JPMorgan Chase? See TheStreet Ratings' report card for this stock.
-- Written by Philip van Doorn in Jupiter, Fla.
>Contact by
.
Philip W. van Doorn is a member of TheStreet's banking and finance team, commenting on industry and regulatory trends. He previously served as the senior analyst for TheStreet.com Ratings, responsible for assigning financial strength ratings to banks and savings and loan institutions. Mr. van Doorn previously served as a loan operations officer at Riverside National Bank in Fort Pierce, Fla., and as a credit analyst at the Federal Home Loan Bank of New York, where he monitored banks in New York, New Jersey and Puerto Rico. Mr. van Doorn has additional experience in the mutual fund and computer software industries. He holds a bachelor of science in business administration from Long Island University.