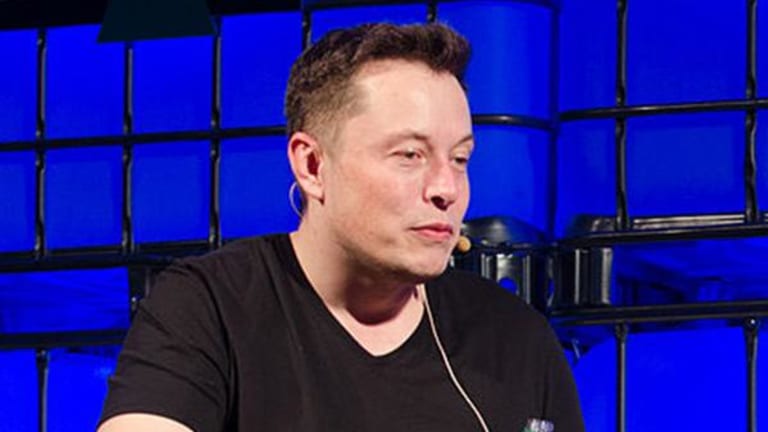 Tesla Tumbles as Goldman Sachs Downgrades Stock on Model 3 Concerns
CEO Elon Musk surprised investors last week by saying Tesla planned to tap the capital markets to give the company a margin for error as it ramps up production.
Updated from Feb. 24 with additional information.
Shares of Tesla (TSLA) - Get Tesla Inc Report shares dropped sharply on Monday after Goldman Sachs raised concerns about a host of issues, including the launch of the Model 3, the purchase of SolarCity and the company's need to raise cash this year.
Tesla declined nearly 4.9% to $244.54 as Goldman dropped its target from $190 to $185 and downgraded to sell from neutral.
As Elon Musk's electric car outfit gears up for the launch of the Model 3, Goldman analyst David Tamberinno expects the company to raise $1.7 billion in equity.
"We see room for shares to de-rate as the Model 3 production launch likely disappoints and as an unproven SolarCity business model likely weighs on the company's focus/results," Tamberinno wrote, predicting that Telsa will not hit mass-market run-rates of 100,000 per year until 2018, despite the company's expectation that it will do so in this year's third quarter. 
Tamberinno further expects automotive capital expenditures to hit $3 billion in 2017, with Tesla needing to tap the equity markets to raise the funds, as it did in 2016.
Musk opened the door to a new round of fund raising in Tesla's earnings call this week, after suggesting in the prior quarter's call that one was not necessary. 
"This is really a question of what's the risk tolerance of the company, or how close to the edge do we want to go," Musk told investors during the call.  "According to our financial plan, capital needs to be raised for the Model 3."
Tesla did not say how much it needs to launch the Model 3 later this year. The $35,000 electric car would be the budget model Tesla for a mass audience, with a significantly lower price tag than the Model S and the falcon-door equipped Model X. Goldman's Tamberrino suggests that the sale price is likely to rise to $45,000 per vehicle. 
For Wall Street, the question has become how much Tesla needs rather than whether it will raise capital in the first place. CFRA Research analyst Efraim Levy suggested Tesla could try to raise between $1 billion and $3 billion, which fits with other estimates.
Given Tesla's cash burn, Colin Langan of UBS wrote that the company has a "minimum need" of $1 billion in a report following fourth-quarter earnings.
If Musk really wants to address the risk that Tesla could become capital-constrained as it launches the Model 3, another analyst suggested, the company could raise $3 billion, or roughly the consensus for total 2017 capital expenditures, according to FactSet. Tesla has frequently opted tosell convertible notes to meet such needs, the person observed, and could likely arrange low financing costs. For instance company raised $2 billion in convertibles in 2014 at favorable rates to fund the construction of a new battery plant. 
Tesla aims to start production of the Model 3 in July, with output reaching 5,000 cars per week in the fourth quarter.
The acknowledgement that Tesla will raise capital marks a change in plans. When the company announced third quarter results in late October, Musk told investors, "our current financial plan does not require any capital raise for Model 3 at all." But Musk qualified the remark at the time by saying,"That's different from saying whether we should raise capital or not to account for uncertainty to have a larger buffer and to sort of de-risk the business."
The Model 3's financing needs come on the heels of Tesla's $2.6 billion purchase of solar energy company Solar City in November. Tesla has said that SolarCity will not drain liquidity and may actually contribute cash to the balance sheet.
Until the Model 3 reaches scale, Musk said during the call, the car's impact on Tesla's margins will be "horribly negative," during Wednesday's call.
While the Model 3's road to profitability is unclear, Oppenheimer analyst Colin Rusch wrote, lining up capital ahead of the launch would be positive. "[C]larity on the company's capital plan and completion of a capital raise would be a positive catalyst for shares," Rusch wrote in a report after earnings.
Tesla declined to comment for this story.