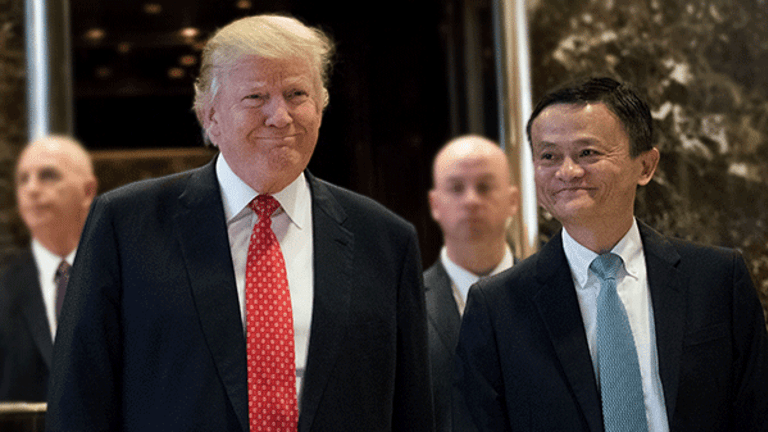 Why Alibaba's Eye-Popping Job Creation Goal May Be Crazy
This number seems to be quite the reach.
This number seems to be quite the reach.
Editors' pick: Originally published Jan. 11.
During a 40-minute meeting with President-elect Donald Trump at Trump Tower on Monday, Alibaba (BABA) - Get Report founder and executive chairman Jack Ma pledged to create one million jobs in the U.S. by helping small businesses sell products and services to China.
Ma's high-profile meeting and "lobby photo op" with Trump put Alibaba's U.S. expansion strategy back in the limelight. As an e-commerce empire, Alibaba's investments in the U.S. so far are largely concentrated in the entertainment business. In October last year, Alibaba announced it had acquired a minority stake in Amblin Partners, Steven Spielberg's film, TV and digital content creation label.
However, Alibaba has had a hard time replicating the same level of e-commerce success in the United States as it has enjoyed in China and continues its battle for global e-commerce domination with Amazon (AMZN) - Get Report . While one million jobs is an attractive figure, all eyes are on Alibaba in terms of how exactly it will carry out creating one million jobs through its e-commerce platforms. The company has two main e-commerce sites, Taobao and Tmall where its subsidiary Tmall Global provides a marketplace for American sellers.
Analysts are positive on Ma's efforts to build good relationships with the incoming U.S. administration but more conservative about Ma's reliance on this model to create one million American jobs.
"I think it is a positive sign that Jack Ma has good access to important relationships," said Marie Sun, analyst at Morningstar. "At this stage, it is too early to say whether Alibaba's platforms can help create 1 million jobs in U.S. One thing for sure is that if U.S. companies, including SMEs, want to reach Chinese consumers Alibaba's platforms are one of the most efficient choices."
"I don't doubt the intention of Alibaba to cultivate a seller base in the U.S., I am skeptical about Alibaba making actual major investments in the United States anytime soon. That would be contrary to their strategy today," said Gil Luria, senior analyst at Wedbush Securities. "Having a million U.S. businesses selling in China doesn't necessarily mean a million jobs."
While Alibaba has yet to put out more details regarding the job promise, statistics from the U.S. Chamber of Commerce estimates that international trade already supports over 40 million jobs in the United States.
"As an economist, I am pretty skeptical of that number of 1 million jobs. I believe that would represent almost 1% of all jobs in the United States and rank it as one of the largest private employers in the United States," said Christopher Balding, associate professor of finance and economics at the HSBC Business School of Peking University Graduate School.
"There is strong reason to be skeptical of this number in the near term. In 10-20 years anything is possible. Not to mention potential protectionist pressures if there was to be some type of import surge from the United States to China," added Balding.
Some experts believe that the job promise might not be the biggest takeaway from the meeting. Alibaba was recently put back on the United States Trade Representative's list of "Notorious Markets" after being removed from the list for several years. The company claimed the decision was politically motivated during a tumultuous election cycle.
"There's been somewhat of a China witch hunt of late and they are being somewhat defined as a country who rips off America, I think what you are seeing is one of their top leaders come over and show that not only do they hear from the President of the United States on behalf of the American people that jobs are important but that he's wanting to act, to support that aim. He's doing that as much for himself as I think for the government of China," said Eric Schiffer, CEO of investment firm The Patriarch Organization who conducts business regularly in China.
"Of course within China the company has demonstrated the power of its platform - especially Taobao - to create millions of jobs," said Duncan Clark, chairman and founder of the consultancy company BDA China who is also author of the book Alibaba The House That Jack Ma Built. "The key question is how translatable is this job-creating potential to overseas markets, in this case to the U.S."
In an opinion piece for the Wall Street Journal in 2015, Ma pointed to the enormous size of China's middle class which has a large disposable income and growing demand for foreign goods as a potential market for foreign sellers. 
Ma's meeting with Trump came a day before the e-commerce giant announced it was teaming up with Shen Guojun, the founder of Chinese retailer Intime, to acquire the latter company for about HK$19.8 billion ($2.6 billion).
Editor's note: This article has been updated to reflect that global trade, not just trade with China, creates about 40 million jobs.