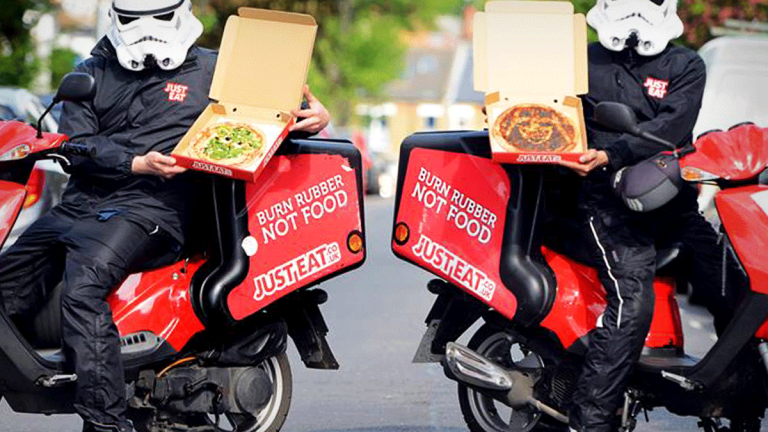 Just Eat Soars on Takeaway.Com Bid; Deal Would Create Big Uber Eats Rival
Amsterdam food-delivery service Takeaway.com makes a bid with a 15% premium for U.K. peer Just Eat.
Takeaway.com (TKAYF) , the Amsterdam food-delivery service, agreed to pay a reported $10 billion of stock for its U.K. peer, Just Eat (JSTTY) .
A statement from the companies sent U.S. American Depositary receipts of Just Eat soaring 21% to $4.74.
Reuters reported that the deal creates the largest online food-delivery service outside China.
The deal creates a major competitor to Uber Eats (UBER) . The combined company would have a major presence in the U.K., Germany, the Netherlands and Canada.
A combined Takeaway-Just Eat had 2018 orders of $8.1 billion against Uber Eats' $7.9 billion, Reuters reported.
Terms of the deal call for Takeaway to issue almost 0.1 share for each Just Eat share. The terms would give Just Eat holders 52.2% of the new company and Takeaway holders 47.8%.
The deal values Just Eat at 731 U.K. pence a share, 15% above the company's closing price July 26.
Just Eat shares in London on Monday traded as high as 833 pence and closed at 780, indicating that investors expect a higher bid to emerge.
In a statement, the companies said Jitse Groen, CEO of Takeaway, would assume that role at the combined company.
Mike Evans, chairman of Just Eat, would take that post in the combined group. Adriaan Nuhn, chairman of Takeaway, would become vice chairman.
Save 76% with our Summer Break Sale. Subscribe to our premium site Real Money and become a smarter investor! Click here today to sign up!