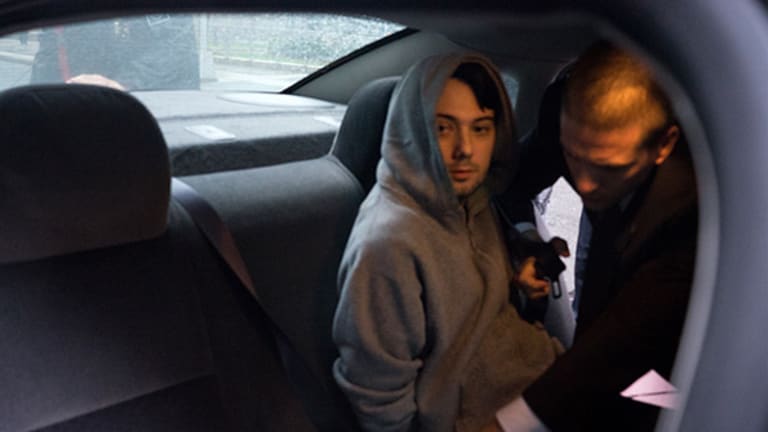 Juror Selection In Martin Shkreli Case Drags Into a Third Day
More than 250 jurors have been interviewed, but there's still no luck in assembling a jury for the so-called 'Pharma Bro.'
Juror selection dragged out for a third day in Martin Shkreli's hearing, as the so-called "Pharma Bro" awaits the official start of his trial for eight separate counts of securities and wire fraud related to his time as CEO of biotech firm Retrophin Inc. (RTRX) - Get Retrophin, Inc. Report .
By midday Wednesday, June 28, Judge Kiyo Matsumoto in the Federal District Court in Brooklyn had already filtered through nearly 250 persons as the search to fill 18 seats (12 jurors and 6 back-ups) ensues. 
Shkreli currently faces eight indictments for securities and wire fraud. He is notoriously referred to as Pharma Bro after raising the price of Daraprim by 5000%. He is also the former CEO of the biotech firm Retrophin and the founder of Turing Pharmaceuticals AG.
Jury selection began on Monday and was initially expected to be completed by midday Tuesday. There was hope that the search would end Wednesday though there remains a possibility selection won't be completed by the end of the week.
Shkreli remains a controversial and polarizing person, and the 36-year-olds social media habits, as well as his overall portrayal in the media has made it difficult for the Judge Matsumoto to fill out the juror box.
Some in the legal community, however, have suggested that Shkreli and his attorneys may be using the defendant's polarizing nature to actually help their case. Some have said that Shkreli's attorney could eye a mistrial as the trial continues, though early claims on Tuesday to declare a mistrial by Shkreli's attorney Benjamin Brafman were denied. 
"The more he speaks by definition, it increases the chance that someone will read his tweets or hear those tweets [which will] make an argument to kick that person off the jury," said former federal prosecutor Jeffrey Cramer. "Two things come to mind: one, the lawyer can't control him, or two, he's tainting the well."
Cramer added that despite the fact that it is indeed difficult to find jurors, Shkreli's high profile missteps and press coverage, not to mention the fact that the former pharma executive continues to have an active and pronounced role on social media, will hurt any chances he has at truly tainting the juror pool.
"The problem is, in that situation, courts are reluctant to give benefit to a defendant who is purposefully creating a problem," said Cramer. "You're hard-pressed to argue that the jury is tainted by media attention when he's the one proactively making these statements."
Instead of laying low as advised by his attorney, Shkreli is doing just the opposite. Following the second day of his trial, Shkreli hosted a live-stream, advertised the link to his twitter account, and announced the acquisition of two Internet domains. The domains are the names of two reporters who have previously covered Shkreli.
Shkreli's attorney Brafman, of New York-based Brafman & Associates PC, was not immediately available for comment. While the Justice Department also did not respond to a request seeking comment.