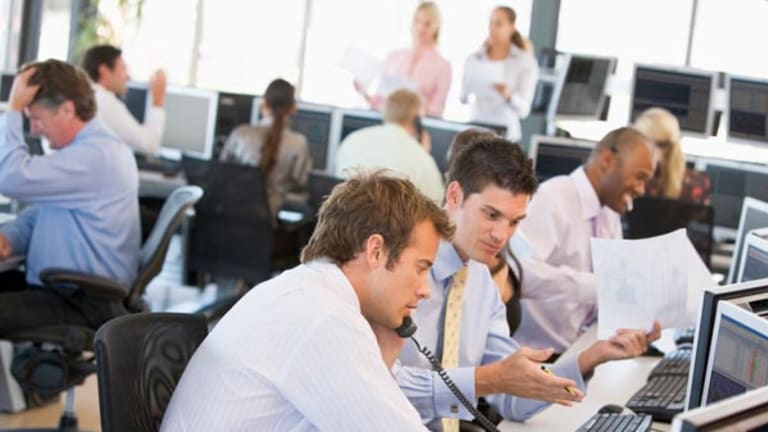 June 4 Premarket Briefing: 10 Things You Should Know
U.S. stock futures are dropping as investors wring their hands over Greece's debt situation and await jobless claims data. Dish looks close to a deal to merge with T-Mobile.
Updated from 7:03 a.m.
NEW YORK (TheStreet) -- Here are 10 things you should know for Thursday, June 4:
1. -- U.S. stock futures were dropping as investors wrung their hands over Greece's debt situation and awaited jobless claims data.
European stocks felt the impact of a sharp selloff of government bonds, and investors were skeptical of progress on the Greek crisis, with stock indices trading 1.5% or more lower on Thursday.
Asian stocks had an extremely volatile day, as the Shanghai Composite index closed up 0.8% after falling as much as 5.9% earlier in the day. In Hong Kong, the Hang Seng fell. Tokyo's Nikkei 225 and Topix rose modestly.
2. -- The economic calendar in the U.S. on Thursday includes the Challenger Job-Cut Report at 7:30 a.m., official jobless claims data at 8:30 a.m., productivity and costs numbers at 8:30 a.m., and the Gallup U.S. Payroll to Population numbers at 8:30 a.m.
3. -- U.S. stocks on Wednesday closed with modest gains after the Federal Reserve Beige Book showed a strengthening economy.
The Dow Jones Industrial Average (DIA) - Get Report rose 0.36% to 18,076.27. The S&P 500 (SPY) - Get Report went up 0.21% to 2,114.07. The Nasdaq (QQQ) - Get Report increased 0.45% to 5,099.23.
4. -- Jobless claims data this morning said that 276,000 new claims were filed last week. That's a drop of 8,000 claims from the prior week.
Economists surveyed by Econoday hit the nail on the head -- they expected that 276,000 new unemployment claims were lodged last week. That number dropped from 284,000 the prior week. Unemployment has been hitting new lows, signaling an economic recovery.
5. -- Dish Network (DISH) - Get Reportis close to a deal to merge withT-Mobile (TMUS) - Get Report of Bellvue, Wash, The Wall Street Journal is reporting. The Journal said the companies had already agreed to put the T-Mobile CEO at the helm of the new entity, while Dish founder Charlie Ergen would be chairman. T-Mobile is majority-owned by Deutsche Telekom (DTEGY) .
In premarket trading, Dish stock was rising by 5.9%; T-Mobile stock was up by 7%.
6. -- Chris Sacca, one of Twitter's (TWTR) - Get Report early investors, published a long blog post -- "not a hit piece," he insisted -- with advice about how Twitter could transform into a more widely used and significant platform. Twitter has faced problems expanding its user base and fine-tuning its advertising. Sacca is a former Google (GOOG) - Get Report (GOOGL) - Get Report employee who is now an angel investor.
Sacca's three bullet points on what Twitter needs to do are:
Make Tweets effortless to enjoy,
Make it easier for all to participate, and
Make each of us on Twitter feel heard and valuable.
Twitter's annual shareholder day was Wednesday. In premarket trading. Twitter stock was dropping by 0.46%.
7. -- Credit card giant Visa (V) - Get Report is forming a partnership with cybersecurity company FireEye (FEYE) - Get Report to share data and combat cyber threats. The companies are hoping the deal will help them find problems sooner and fix them more easily. Some security experts have expressed skepticism of such partnerships, but the practice is gaining support in industry and in Washington.
In premarket trading, Visa stock was falling by 0.3%. FireEye stock was rising by 3.4%.
8. -- London-based Nomad Foods, backed by Bill Ackman's Pershing Square Capital Management, is in talks to buy frozen food company Findus. The deal is focused on Findus' European business.
9. -- Alibaba Pictures, formerly known as ChinaVision Media before it was bought by Alibaba (BABA) - Get Report last year, is raising $1.6 billion via a sale of new shares. The funds raised will allow Alibaba Pictures to make new acquisitions. Alibaba has said it will transfer its online movie-ticketing unit and movie crowdfunding division to Alibaba Pictures.
In premarket trading, Alibaba stock, which is traded on the New York Stock Exchange, was down 0.28%.
10. -- The earnings calendar for Thursday includes Ciena (CIEN) - Get Report and J.M. Smucker (SJM) - Get Report before the opening bell and Diamond Foods (DMND) , Rally Software (RALY) and VeriFone (PAY) after the closing bell.