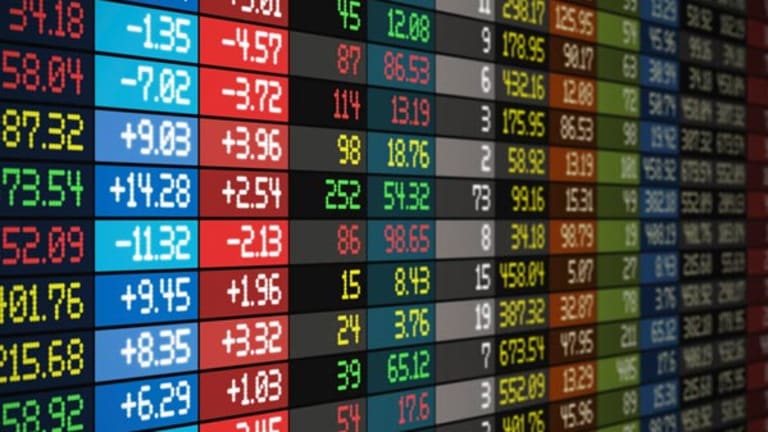 June 30 Premarket Briefing: 10 Things You Should Know
U.S. stock futures are flat; U.S. to unveil fine of close to $9 billion for BNP Paribas; GM to offer uncapped compensation fund, a report says.
Here are 10 things you should know for Monday, June 30:
1. -- U.S. stock futures were flat on Monday ahead of a week filled with economic data from the U.S., China and a meeting of the European Central Bank.
European stocks were mixed while Asian shares ended Monday's session mostly higher. Japan's Nikkei 225 gained 0.4%.
2. -- The economic calendar in the U.S. on Monday includes Chicago PMI for June at 9:45 a.m. EDT and pending home sales for May at 10 a.m.
3. -- U.S. stocks on Friday rose but finished the week lower. The Dow Jones Industrial Average closed flat at 16,851.84, though 0.56% lower for the week. The S&P 500 inched 0.19% higher on Friday to 1,960.96, down just 0.1% since Monday. The Nasdaq climbed 0.43% to 4,397.93.
4. -- The Justice Department is expected to announce on Monday a settlement with BNP Paribas involving a record fine of nearly $9 billion over alleged U.S. sanctions violations by France's biggest bank, sources familiar with the matter told Reuters.
BNP is expected to plead guilty to a criminal charge in Manhattan Federal Court on Monday and the Justice Department is planning a news conference in Washington to announce a deal the same day, sources said.
The penalties, which the sources said may also include a temporary ban on some dollar-clearing business, could hit BNP's dividend payout, regulatory capital ratios and its investment banking targets, analysts said, Reuters reported.
The bank is expected to retain its banking license from the New York state banking regulator, according to Reuters.
5. -- Kenneth Feinberg, who is creating a fund to compensate victims of General Motors' (GM) - Get Free Report faulty ignition switch, is expected to offer payments for all drivers, passengers and bystanders killed or hurt in collisions related to the defect, according to a lawyer who said he's spoken to him, Bloomberg reported.
Money is expected to be offered even if the driver was drinking or GM believes the company could block the claim in court by citing its bankruptcy, said attorney Bob Hilliard, who is suing Detroit-based GM over deaths and injuries allegedly due to ignition-switch failures, Bloomberg reported.
Feinberg, hired by GM CEO Mary Barra to administer the company's compensation fund, will announce the details on Monday at 10 a.m.
GM is facing investigations from Congress and the Justice Department into why it took more than a decade to recall Chevrolet Cobalts and other compact cars with faulty switches.
6. -- The Food and Drug Administration on Friday approved MannKind's (MNKD) - Get Free ReportAfrezza, a fast-acting form of insulin, for adults with the most common form of diabetes.
The approval from the FDA comes more than three years after the agency first asked MannKind to run additional clinical studies on the drug.
7. -- American Apparel (APP) - Get Free Report adopted a one-year shareholder rights plan a day after its ousted CEO and founder, Dov Charney, made a bid to increase his control of the clothing chain. 
The retailer said the move was designed to limit the ability of any person or group, including Charney, "to seize control of the company without appropriately compensating all American Apparel stockholders."
The stock soared almost 30% on Friday to 97 cents after Charney, who holds a 27% stake in American Apparel, disclosed he was looking to buy an additional 10%. 
8. -- Online-streaming service Aereo is temporarily closing down its operation, three days after it was dealt an unfavorable ruling by the U.S. Supreme Court. 
"We have decided to pause our operations temporarily as we consult with the court and map out our next steps," Aereo's CEO Chet Kanojia wrote in a letter to customers posted on its Web site Saturday.
"The spectrum that the broadcasters use to transmit over the air programming belongs to the American public and we believe you should have the right to access that live programming whether your antenna sits on the roof of your home, on top of your television or in the cloud," he wrote.
9. -- The National Highway Traffic Safety Administration is investigating complaints that a trim panel can cause unwanted acceleration in Nissan Versa small cars.
The probe covers about 360,000 Nissan Versa and Versa Note subcompacts from the 2012 through 2014 model years, The Associated Press reported.
10. -- "Transformers: Age of Extinction," the fourth installment in filmmaker Michael Bay's morphing robots series, earned $100 million in North America during its opening weekend, making it the biggest debut for a movie this year, according to studio estimates. 
Google Still Searching for Right Mix of Innovation and Application 
How to Recession-Proof Your Portfolio With These 5 Dividend Aristocrats
STMicroelectronics Is on a Tear -- but Don't Believe the Hype
To contact the writer of this article, click here:Joseph Woelfel
To submit a news tip, send an email to:tips@thestreet.com.
Copyright 2014 TheStreet.com Inc. All rights reserved. This material may not be published, broadcast, rewritten, or redistributed. AP contributed to this report.