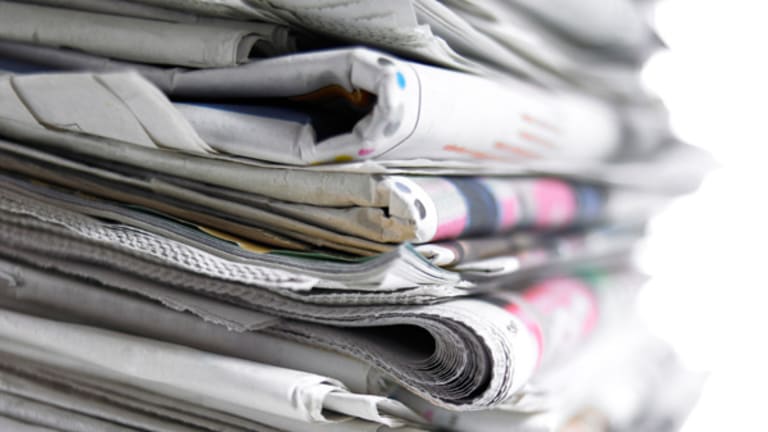 June 29 Premarket Briefing: 10 Things You Should Know
U.S. stock futures are trading sharply lower, as major indices looked ready to drop more than 1% on fears over Greece's debts and on large declines in Europe and Asia.
U.S. stock futures are trading sharply lower, as major indices looked ready to drop more than 1% on fears over Greece's debts and on large declines in Europe and Asia.
Updated from 7:09 a.m.
NEW YORK (TheStreet) -- Here are 10 things you should know for Monday, June 29:
1. -- U.S. stock futures were trading sharply lower, as all major indices looked ready to drop more than 1% on fears over Greece's seemingly unpayable debts and on large declines in European and Asian markets.
European stocks were in turmoil at their first opportunity to react to Friday night's decision by the Greek government to call a referendum on the austerity measures demanded by the country's creditors and Sunday's announcements of capital controls.
The European Central Bank has stopped emergency funding for Greek banks, and the euro is down sharply against the dollar. European stock markets are all down markedly. London's FTSE 100 is down 1.63%, Frankfurt's DAX is down 3.31%, and Paris's CAC 40 is down 3.29%.
Asian stocks were also falling sharply. China's volatile indices officially entered bear market territory. The People's Bank of China cut benchmark interest rates and reduced the minimum reserves that major banks are required to hold. The Shanghai Composite fell 3.34% after a rollercoaster day. The tech-heavy Shenzhen index fell 6.05%. In Tokyo, the Nikkei 225 closed down 2.88%. In Hong Kong, the Hang Seng sank 2.61%.
2. -- The economic calendar in the U.S. on Monday includes pending home sales data at 10 a.m. and the Dallas Fed's Manufacturing survey data at 10:30 a.m.
3. -- U.S. stocks on Friday closed mixed and lower for the week, as worries over Greece's debt weighed on U.S. indices. 
The Dow Jones Industrial Average (DIA) - Get Report rose 0.31% to 17,946.68. The S&P 500 (SPY) - Get Report closed 0.03% lower at 2,101.49. The Nasdaq (QQQ) - Get Report sank 0.62% to 5,080.51.
4. -- Unless Greece hammers out an emergency debt deal, it will default on a €1.6 billion payment to the International Monetary Fund that is due Tuesday, June 30. Greece also owes a €3.5 billion bond repayment to the European Central Bank on July 20. No deal appears to be in sight with Greece's creditors at the IMF, the ECB or other European countries.
To prevent a run on banks, Greece declared limits on how much bank customers could take out -- only €60 a day -- and restricted international transfers. Prime Minister Alexis Tsipras also declared an emergency referendum on austerity measures on July 5.
If Greece can't make the IMF debt payment, it will likely be forced to leave the euro. The prospect drove the euro down 1.5% on Friday alone, and another 0.6% Monday.
5. -- General Electric (GE) - Get Report has struck a deal to sell its fleet-financing business for $6.9 billion. The deal includes the U.S., Mexico, Australia and New Zealand branches of the business, which finances commercial vehicles and vehicle fleet management services. A separate deal for GE's Europe fleet-financing business to BNP Paribas (BNPQY) unit Arval was also said to be in the works. All of the sales are scheduled to close by the end of the fourth quarter. GE isn't yet selling the Japan fleet-management business.
The sale of the fleet-financing unit is part of a larger pullback by GE from banking and financials, as the company focuses on its industrial business. The company is selling much of its GE Capital business as well.
In premarket trading, GE stock was dropping by 1.14%.
6. -- Carmaker General Motors (GM) - Get Report said that it was accelerating the timeline for the release of its new electric car, the Chevy Bolt. The car is designed to be a longer-range electric vehicle that will be a lower-priced competitor to Tesla (TSLA) - Get Report models and the Nissan  (NSANY) Leaf.  The Bolt is expected to go about 200 miles on a charge and to cost around $30,000 after tax credits are applied. The car was originally expected to be released in 2017.
GM stock was falling by 0.64% in premarket trading.
7. -- Stocks in the Russell 2000, a small-cap stock index, should quiet down in trading on Monday after its annual reshuffle Friday. The index changed its holdings Friday, falling by 0.3% for the day. The change in components makes the reshuffle day one of the busiest trading days on the market for the year.
Nicholas Colas, the chief market strategist at Convergex, wrote in a note that Friday marked "the end of a trade that began almost 2 months ago, as traders began handicapping which equities would be included for the first time or swapped between various Russell indices."
8. -- European drugmaker Novartis (NVS) - Get Reportsaid it would buySpinifex Pharmaceuticals, a U.S.-Australian maker of pain medications, for about $200 million. Spinifex is privately held. The deal will also allow Spinifex shareholders to maintain a financial stake in the progress of Spinifex's drugs.
In Swiss trading, Novartis was falling by 0.43%.
9. -- Oil prices have been falling for fifth day in a row, and oil futures look ready to mark a decline for the month. Crude oil prices have risen by 10% this year, but the rise in prices looks to have stalled out over larger market fears about a Greek default. Also, if Iran signs a nuclear de-escalation treaty, a flood of Iranian oil will be ready to enter the market and likely depress prices.
U.S. West Texas Intermediate crude oil was in the $58 range, and Brent crude oil was in the $61 range. U.S. oil companies have been operating fewer rigs as prices remain low, according to a survey by oil services company Baker Hughes (BHI) .
10. -- The American Automobile Association predicted that 42 million Americans plan to travel 50 or more miles for the Independence Day holiday this week. That's a 0.7% increase over last year, which is probably driven in part by relatively low oil prices and greater consumer confidence. AAA said that consumers would likely pay the lowest gas prices for the July 4 weekend in five years.