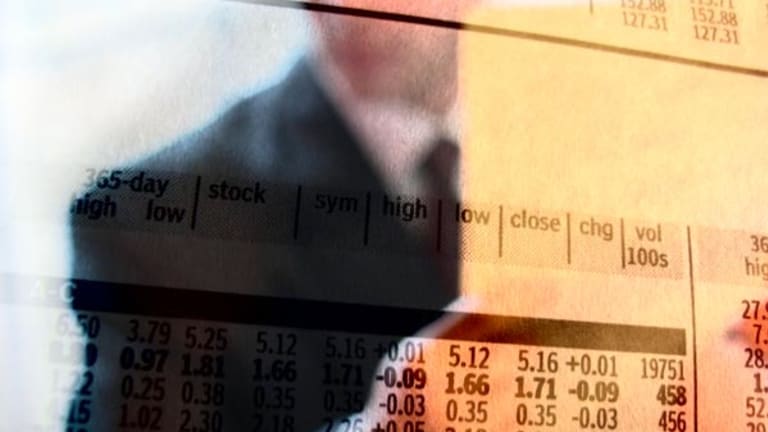 June 26 Premarket Briefing: 10 Things You Should Know
U.S. stock futures are flat; New York attorney general sues Barclays; GoPro's IPO is priced at $24 a share.
Here are 10 things you should know for Thursday, June 26:
1. -- U.S. stock futures were suggesting Wall Street would open flat on Thursday after investors across the globe largely brushed off a poor U.S. GDP report.
European stocks traded mixed while Asian shares finished the session higher. Japan's Nikkei 225 rose 0.3%.
2. -- The economic calendar in the U.S. on Thursday includes weekly initial jobless claims at 8:30 a.m. EDT, and personal income and personal spending for May at 8:30 a.m.
3. -- U.S. stocks on Wednesday gained ground, taking soft domestic economic data in stride. However, while markets were up, they didn't fully recover from geopolitical tensions in Iraq and Ukraine which spooked investors a day earlier.
TheDow Jones Industrial Average added 0.29% to close at 16,867.51, the S&P 500 gained 0.49% to 1,959.52, and the Nasdaq jumped 0.68% to 4,379.76.
4. -- Barclays (BCS) - Get Free Report committed fraud in the sale and marketing of a "dark pool," an alternative trading platform used for large stock sales, according to charges brought by New York Attorney General Eric Schneiderman.

Schneiderman, in a press conference on Wednesday, argued Barclays falsely marketed its dark pool as being safe from what its internal marketing materials described as "predatory," "aggressive," and "toxic" activity by high-frequency traders.
The complaint cited internal emails in which Barclays employees deliberately withheld or changed information about its dark pool to make it appear safer and more attractive to prospective clients such as mutual funds.
5. -- GoPro, the maker of wearable sports cameras, said late Wednesday it sold 17.8 million shares at $24 each in its initial public offering of stock.
The IPO was priced at the high end of GoPro's expected range and raised $427 million, valuing the whole company at about $3 billion. 
The stock will begin trading on Nasdaq Thursday under ticker symbol " (GPRO) - Get Free Report."
6. -- Hedge fund Paulson & Co. has amassed a large stake in Allergan (AGN) - Get Free Reportof more than 6 million shares and supports a deal between the Botox maker and Valeant Pharmaceuticals (VRX) , people familiar with the matter told Reuters.
The position is expected to make the U.S. hedge fund, led by John Paulson, one of the top 10 to 15 holders of Allergan, according to Thomson Reuters shareholder data as of March 31.
Paulson's new position in Allergan could give Valeant a boost, as the company tries to drum up support from at least 25% of Allergan shareholders so that it can call a special meeting, Reuters said. Valeant and Bill Ackman's Pershing Square Capital Management are seeking to call a meeting to elect new directors to Allergan's board, which could pave the way for a takeover of the company.
7. -- London Stock Exchange agreed to acquire Frank Russell Co., owner of Russell Investments, for $2.7 billion from Northwestern Mutual Life Insurance. 
The deal would represent the LSE's largest acquisition since it bought the remaining 50% stake in FTSE International, known for the U.K.'s FTSE 100 Index, from Pearson in 2011, according to The Wall Street Journal.
The purchase of Frank Russell, which operates the Russell 2000 Index, will help LSE expand its index and exchange-traded fund businesses.
8. -- Wall Street expects sneaker and athletic apparel maker Nike (NKE) - Get Free Report to post fourth-quarter earnings on Thursday of 75 cents a share on revenue of $7.34 billion.
9. -- Bed Bath & Beyond (BBBY) - Get Free Report reported fiscal first-quarter earnings that were short of analysts' expectations.
The retailer reported earnings 0f 93 cents a share, where were 2 cents below forecasts. Revenue of $2.66 billion was also $30 million short of the $2.69 billion consensus estimate.
Bed Bath & Beyond issued second-quarter guidance of $1.08 to $1.16 a share, less than the $1.20 analysts are expecting.
10. -- General Motors (GM) - Get Free Report told dealers in the U.S. and Canada to stop selling 2013 and 2014 Chevrolet Cruze sedans because of a potential defect in air bags made by air bag supplier Takata.
"Certain vehicles may be equipped with a suspect driver's air bag inflator module that may have been assembled with an incorrect part," GM spokesmen Jim Cain said in a statement. "We are working diligently with the supplier of the defective part to identify specific vehicles affected and expect to resume deliveries by the end of this week once those vehicles are identified."
GM, which notified dealers of the stop-sale order on Tuesday, said it has identified about 33,000 Cruze sedans, mostly in the U.S. and Canada, that may have been built with parts from the bad batch and said it believes it is close to identifying all the problem cars, USA Today reported. 

Monsanto's Stock Is Still a Long-Term Growth Story
A Secure ADT Is Getting Ready to Leave the Doghouse
STMicroelectronics Is on a Tear -- but Don't Believe the Hype
To contact the writer of this article, click here:Joseph Woelfel
To submit a news tip, send an email to:tips@thestreet.com.
Copyright 2014 TheStreet.com Inc. All rights reserved. This material may not be published, broadcast, rewritten, or redistributed. AP contributed to this report.