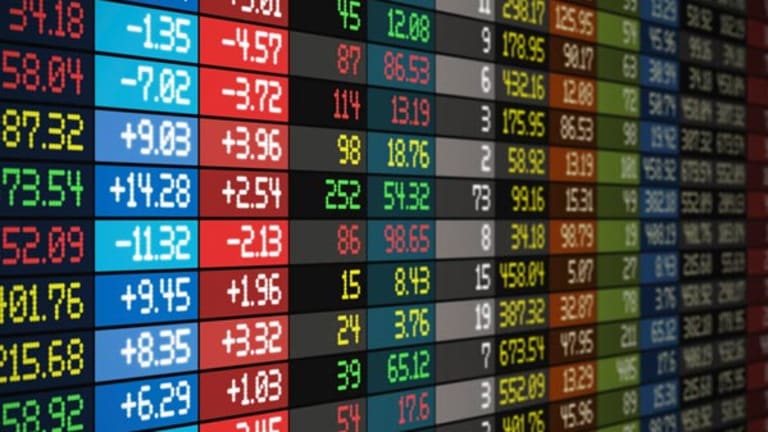 June 24 Premarket Briefing: 10 Things You Should Know
U.S. stock futures are dropping Wednesday as investors prepare for gross domestic product numbers.
U.S. stock futures are dropping Wednesday as investors prepare for gross domestic product numbers.
Updated from 7:06 a.m.
NEW YORK (TheStreet) -- Here are 10 things you should know for Wednesday, June 24:
1. -- U.S. stock futures were dropping Wednesday as investors prepared for gross domestic product numbers.
European stocks were mixed on Wednesday amid a drop in German business confidence and another flurry of Greek crisis huddles in Brussels. Dutch food retailer Royal Ahold (AHONY) rose on an agreement to merge with Belgium's Delhaize (DEG) .
In London, the FTSE rose, while Frankfurt's DAX and Paris's CAC 40 nudged down.
Asian stocks were mainly in positive territory. Hong Kong's Hang Seng rose modestly, as did Japan's Nikkei.
2. -- The economic calendar in the U.S. on Wednesday includes the Mortgage Bankers' Association mortgage application data at 7 a.m., gross domestic product numbers at 8:30 a.m., the Bureau of Economic Analysis' corporate profits data at 8:30 a.m., and the Energy Information Administration petroleum status report at 10:30 a.m.
3. -- U.S. stocks on Tuesday rose as hopes for a more final Greek debt deal remained aloft. The Nasdaq closed at a record high.
The Dow Jones Industrial Average (DIA) - Get Report edged up 0.13% to 18,144.07. The S&P 500 (SPY) - Get Report eked out 0.06% more to 2,124.20. The Nasdaq (QQQ) - Get Report added 0.12% to 5,160.10.
4. -- GDP figures will be announced at 8:30 a.m. Economists surveyed by Econoday predicted a minor contraction of 0.2%, as the weak first quarter continued to weigh on the economy. The prior GDP report said the economy shrank by 0.7%.
GDP measures activity in all sectors of the U.S. economy.
5. -- Web site Yahoo! (YHOO) holds its annual shareholder meeting in Santa Clara, Calif., on Wednesday. Its nine board directors are up for re-election. Yahoo!'s CEO, Marissa Mayer, is expected to give a talk to shareholders Wednesday morning. Mayer has posted a shareholder letter in anticipation of the event, at which she will likely look closely at advertising.
Yahoo!'s stock has been on a roller coaster for the past year, as the company has reaped huge rewards from its stake in Alibaba (BABA) - Get Report, but has also wrestled with other aspects of its business, some of which it has shut down. The stock is up 19.4% in the past year, but was much higher six months ago. The stock has fallen 19.5% year to date.
In premarket trading, Yahoo! stock was tipping lower by 0.05%.
6. -- Greek debt negotiations face a hard deadline of June 30, when Greece owes a payment of $1.8 billion to the International Monetary Fund. A deal on its debt would release more funding and would assure Greece of being able to pay its debts and remain on the euro currency.
Greek people would need to swallow serious cutbacks in pensions as well as higher taxes in order to satisfy the rest of Europe. That could be a tough sell from the recently elected anti-austerity Syriza party.
7. -- At-home video service Netflix (NFLX) - Get Report will conduct a seven-for-one split of its shares, the company announced. Each shareholder of record as of July 2 will receive six additional shares as a divided on July 14. The stock will trade at its post-split price starting July 15.
The split will lower the price of the stock, currently at $681.19 at Tuesday's close; the company is hoping to attract more retail investors with the more manageable post-split price.
Netflix stock was rising by 2.3% in premarket trading.
8. -- Food distributor Sysco (SYY) - Get Reportwill need to wait before it can finalize a deal to buy US Foods, a District of Columbia court said. Regulators at the Federal Trade Commission expressed concern that the merger would decrease competition in food supply companies. The deal has been pending since December 2013.
The merger will now be further debated in court.
In premarket trading, Sysco stock was falling by 1.62%.
9. -- Freeport-McMoRan Oil & Gasfiled for an initial public offering. The future company, to be traded on the New York Stock Exchange, is currently a subsidiary of Freeport-McMoRan (FCX) - Get Report, which is also traded on the NYSE. The spinoff will allow Freeport-McMoRan to reduce its reliance on its energy business at a time of low oil and gas prices.

The new company plans to use the ticker FMOG.
10. -- Earnings reports Wednesday include Lennar (LEN) - Get Report and Monsanto (MON) before the opening bell and Bed Bath & Beyond (BBBY) - Get Report after the closing bell.