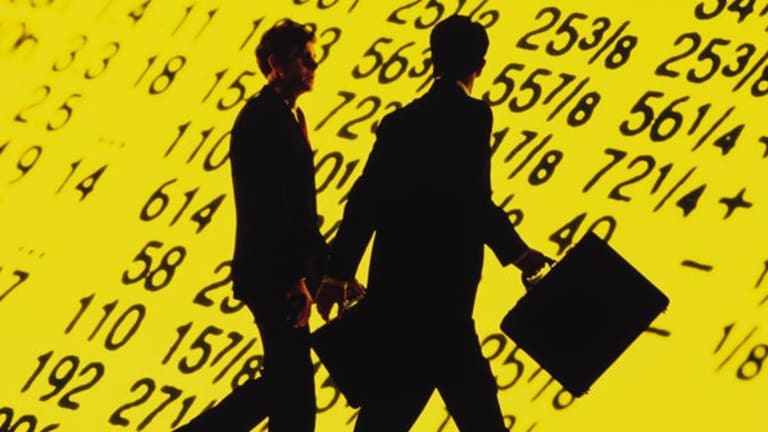 June 19 Premarket Briefing: 10 Things You Should Know
U.S. stock futures are mildly higher as concerns over a Greek debt default are moderating optimism about the U.S. economy.
Updated from 7:11 a.m.
NEW YORK (TheStreet) -- Here are 10 things you should know for Friday, June 19:
1. -- U.S. stock futures were mildly higher as concerns over a Greek debt default moderated optimism about the U.S. economy.
European stocks rose on Friday, as overnight gains on Wall Street provided a welcome distraction from the latest Greek eurozone cliffhanger. London's FTSE 100 rose, and Frankfurt's DAX and Paris's CAC 40 were both up more than 1%.
Asian stocks were mostly higher, as Hong Kong's Hang Seng and Tokyo's Nikkei both rose.
2. -- The economic calendar in the U.S. on Friday includes the Atlanta Fed's Business Inflation Expectations at 10 a.m.
3. -- U.S. stocks on Thursday surged as even troubled Greek debt talks couldn't quell investor optimism.
The Dow Jones Industrial Average (DIA) - Get SPDR Dow Jones Industrial Average ETF Trust Report rose 1% to 18,115.84. The S&P 500 (SPY) - Get SPDR S&P 500 ETF Trust Report jumped 0.99% to 2,121.24. The Nasdaq (QQQ) - Get Invesco QQQ Trust Report soared 1.34% to 5,132.95.
4. -- U.S. consumer prices jumped the largest amount since 2013, driven upward by gasoline prices. Inflation was still low, but even so the consumer price index rose 0.4% in seasonally adjusted terms in May.
Gas prices rose more than 10% that month, but have leveled off in June. Food costs were unchanged.
5. -- Martha Stewart's housewares and publishing company Martha Stewart Living Omnimedia (MSO) is near to selling itself toSequential Brands  (SQBG) - Get Sequential Brands Group, Inc. Report, according to reports. After Stewart's 2004 conviction for obstruction over a stock sale, her company was severely hurt. Now it looks as though her company -- dedicated mainly to helping consumers beautify and decorate their homes or cook meals -- will no longer be a stand-alone operation with magazines, gardening and houseware supplies.
Martha Stewart Living Omnimedia stock rose 26.7% in Thursday trading on the speculation, and is falling by 0.9% in premarket trading.
6. -- Greece is still struggling to come to a debt deal with its European creditors, with no signs of a forthcoming agreement ahead of a  €1.5 billion ($1.68 billion) payment it owes to the International Monetary Fund this month. Talks resumed in Luxembourg on Thursday in a last-ditch effort for a deal, but little movement seems to have occurred. An emergency summit meeting is now scheduled for Monday about the crisis.
If Greece can't reach a bailout on its debt terms with the International Monetary Fund, the European Commission and the European Union, it likely be forced out of the euro currency and default on its bonds.
7. -- The Securities and Exchange Commission charged 36 firms with fraudulent marketing of municipal bonds. The charges are designed to encourage transparency in bond offering documents. The firms were busted for misstatements and failure to disclose relevant information in offering materials. Most of the problems were self-reported under a program which reduces penalties if companies step forward first.
Companies charged include bank units at Bank of America (BAC) - Get Bank of America Corp Report, Citigroup  (C) - Get Citigroup Inc. Report, Goldman Sachs (GS) - Get Goldman Sachs Group, Inc. Report, JPMorgan Chase (JPM) - Get JPMorgan Chase & Co. Report and Morgan Stanley (MS) - Get Morgan Stanley Report, among others. All settled the charges without admitting wrongdoing.
8. -- Drivers for ridesharing company Uber were ruled by a California court to be employees, not independent contractors. The ruling suggests that further clarification is needed about labor practices in citizen-delivery plans for other companies, likeAmazon (AMZN) - Get Amazon.com, Inc. Report. 
In premarket trading, Amazon shares were up 0.3%.
9. -- Burger flipper McDonald's (MCD) - Get McDonald's Corporation Reportis reducing the number of stores it is operating in the U.S. for the first time in more than 40 years. The fast-food chain hasn't closed more stores than it has opened since at least 1970.
McDonald's has been struggling to keep up as fast-food customers turn more toward natural- and organic-focused options like burrito chain Chipotle (CMG) - Get Chipotle Mexican Grill, Inc. Report. As the economy improves, more potential customers may be spending more money on fast-casual chains instead of at McDonald's.
In premarket trading, McDonald's stock was falling by 0.6%.
10. -- Earnings reports Friday include Carmax (KMX) - Get CarMax, Inc. Report and KB Home (KBH) - Get KB Home Report before the opening bell.