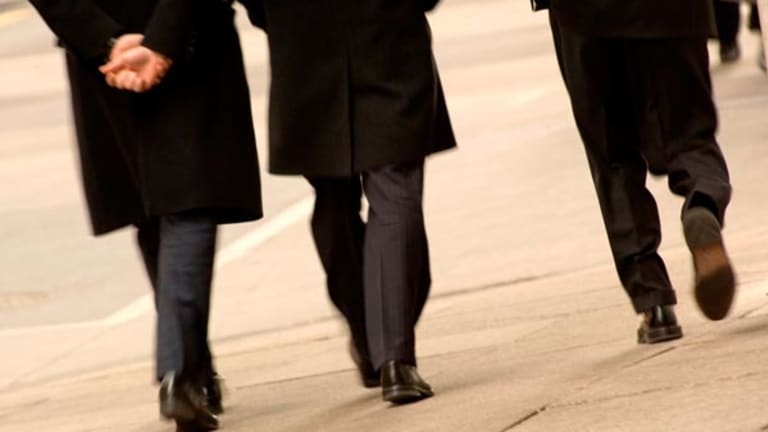 July 29 Premarket Briefing: 10 Things You Should Know
U.S. stock futures looked optimistic Tuesday as investors prepped for a deluge of earnings and applauded Monday's merger news.
NEW YORK (TheStreet) -- Here are 10 things you should know for Tuesday, July 29:
1. -- U.S. stock futures were up Tuesday across the indices, as investors geared up for a major earnings day and applauded Monday's news of mergers like that of Zillow (Z) - Get Free Report and Truliaundefined.
European stocks were slipping Tuesday, as investors looked for safety from the conflict in Ukraine and sanctions against Russia.
2. -- The economic calendar in the U.S. on Tuesday includes earnings reports from 346 companies, Marriott (MAR) - Get Free Report, Coach (COH) , Merck (MRK) - Get Free Report and Twitter (TWTR) - Get Free Report among them. An update from the Case-Shiller Home Price Index will arrive today. Investors are preparing for this week's Federal Reserve policy announcement and second-quarter GDP figures on Wednesday and July government jobs report on Friday.
3. -- U.S. stocks on Monday were mixed, on news of Dollar Tree (DLTR) - Get Free Report buying out Family Dollar (FDO) for $8.5 billion, and rumors that U.S.-based Hospira (HSP) was in talks to buy out French yogurt-maker Danone's (DANOY) medical and nutritional business.
The Dow Jones Industrial Average (DIA) - Get Free Report closed up 0.13% to 16,982.59. The S&P 500 (SPY) - Get Free Report rose 0.03% to 1,978.91. The Nasdaq (QQQ) - Get Free Report sank 0.1% to 4,444.91. 
4. -- Inversion, the newly popular practice in which U.S. companies buy foreign competitors in order to reincorporate offshore and save on taxes, is in the headlines again. Yesterday U.S. injectable drug maker Hospira (HSP) was reported to be in talks with French yogurt-maker Danone (DANOY) to buy Danone's medical and nutritional business for about $4 billion -- and possibly to save on the tax bill.
Jamie Dimon of JPMorgan Chase (JPM) - Get Free Report defended the practice, which the New York Times said will reap nearly $1 billion in fees for banks involved in the transactions. "You want the choice to be able to go to Walmart to get the lowest prices," Dimon said in a conference call with reporters. "Companies should be able to make that choice as well."
5. -- U.K. oil company BP (BP) - Get Free Report warned that more oil sanctions in Russia could affect the company's bottom line. BP is the foreign oil company with the largest investment in Russia, and it holds a 20% share of OAO Rosneft, a Russian oil company.
BP reported a rise in second-quarter profit of 34%, with earnings of $3.6 billion -- up from $2.7 billion a year ago. The earnings beat estimates. BP did warn, though, that its production will likely be less in the third quarter due to maintenance. 
6. -- The European Union will impose $50 billion in fines on Russia for its takeover of oil company Yukos, which a court in the Hague ruled to be illegal on Monday. However, the fine may be difficult to collect. 
7. -- Nutritional supplement maker Herbalife (HLF) - Get Free Report -- and accused fraud, according to activist investor and short-seller Bill Ackman -- reported adjusted second-quarter earnings of $1.55 a share, 10% better than a year ago. Revenue rose 7% to hit $1.3 billion. The problem was that these results missed by 1 cent per share and $50 million.
In premarket trading, Herbalife stock has wilted 10.8% to $60.17, after a close Monday at $67.48. 
8. -- The FAA will be levying a $12 million fine against Southwest Airlines (LUV) - Get Free Report for making substandard repairs to Boeing BA 737 planes in 2009. Southwest claimed that it had done nothing wrong.
The company will likely contest the fine and perhaps see it reduced. Southwest shares were trading little-changed in premarket action, down 0.14% to $29.17.
9. -- On Monday chicken-seller Tyson Foods (TSN) - Get Free Report announced the sale of its Mexican and Brazilian business to JBS. Tyson said that the sale would help the company pay down debt from its bid for Hillshire (HSH) .
Tyson's deal with JBS is worth $575 million in cash. The Mexican business will be acquired through Pilgrim's Pride, of which JBS is majority owner; the Brazilian business will be bought by the JBS Foods subsidiary.
10. -- Former Microsoft (MSFT) - Get Free Report executive Steve Ballmer will continue in his bid to buy the L.A. Clippers basketball team from the embattled Donald Sterling and his family trust. The sale is working its way through the courts, and a ruling Monday removed a roadblock to the sale. 
To submit a news tip, send an email to:tips@thestreet.com
Nora Morrison is a researcher, writer and editor on music, popular culture, and business topics. She is an associate editor at
TheStreet
, and is on Twitter at
.