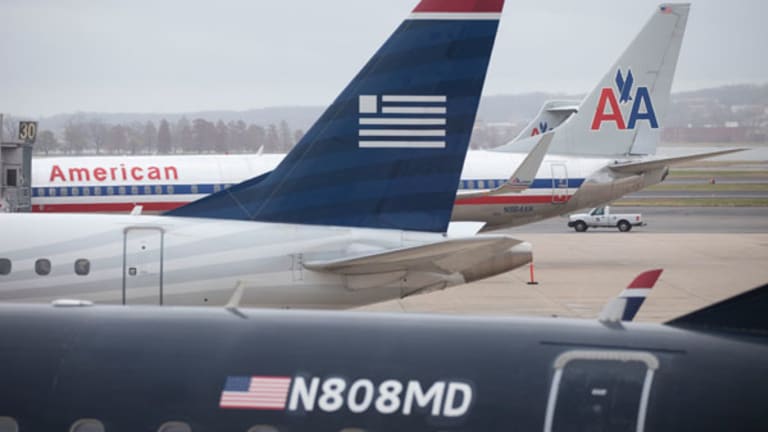 Judge Issues Key Ruling in US Airways Pilot Seniority Dispute
American Airlines pilots can begin to negotiate seniority integration with US Airways pilots, now that a judge has issued a ruling regarding seniority in the US Airways/American West merger.
CHARLOTTE (TheStreet) -- A federal judge in Phoenix didn't much care for the courtroom tactics utilized by the union representing US Airways pilots, but she nevertheless ruled in its favor in a potentially conclusive court ruling in the eight-year-old seniority battle resulting from a 2005 merger with America West.
U.S. District Court Judge Roslyn Silver, in a ruling issued late Friday, said the US Airline Pilots Association has not breached its duty of fair representation, as former America West Pilots had claimed. Silver also ruled that the former America West pilots need not be separately represented in seniority list discussions with the Allied Pilots Association.
Seniority negotiations will take place under the McCaskill-Bond labor protection protocol approved by Congress in 2007. US Airways became a subsidiary of American Airlines (AAL) - Get American Airlines Group, Inc. Report in amerger that took effect on Dec. 9.
The ruling appeared to mean that arbitrator George Nicolau's controversial 2007 seniority ruling, which followed the 2005 merger of America West and US Airways, need not be specifically considered in compiling the seniority list that will apply in the 2013 merger between US Airways and American.
At the least, adherence to the ruling is not part of the language that will guide APA and USAPA as they enter seniority negotiations.
Read: Data Breach: It's Not Just Target Anymore
However, Silver wrote in her 22-page ruling, that USAPA "has never been free -- and never will be free -- to extract the maximum benefits for the east pilots, regardless of the cost to the west pilots." The ruling bristled with negative references to USAPA and declared near its conclusion that "USAPA has succeeded here but it is a Pyrrhic victory" because the union will disappear as a result of the merger, given that APA is far larger.
USAPA represents pilots from both America West and the former US Airways, known as "the east." Pilots from the east account for about two-thirds of its members. They view the Nicolau ruling as overly favorable to west pilots. After Silver's ruling, some proclaimed the Nicolau ruling to be "dead."
But a west pilot, who asked not to be named, said, "This fight is far from over, and the west pilots are united as ever in our resolve to force all parties involved to live up to their previous commitments."
The Nicolau award resulted from binding arbitration, agreed to by both sides and conducted under the seniority guidelines of the Air Line Pilots Association, which included US Airways at the time of the America West merger. Leonidas LLC, which represents west pilots, said on its Web site that "the seniority dispute is far from over."


In an e-mail to pilots, the USAPA merger committee wrote that the ruling "clears the way for your USAPA merger committee to fully engage with APA in the required process for the seniority list integration.
"The USAPA merger committee is now, and always has been, committed to representing all US Airways pilots fairly," the e-mail said. "We are not interested in any proposal that elevates or provides a windfall to only a segment of the pilot population at the expense of another."
In the section of her ruling on the duty of fair representation claim, Judge Silver said it is impossible to say that duty has been breached, even though "USAPA's actions are sufficiently disturbing to make this a very close call."
A key paragraph in the merger agreement, which is a memorandum of understanding between the two unions and American, appears to impede enactment of the Nicolau ruling. But that paragraph may have been part of the effort to negotiate the merger agreement, which also provides significantly increased compensation for both east and west pilots, Silver said. As a result, she said, inclusion of the paragraph in the merger agreement cannot be said to represent a breach of USAPA's duty of fair representation.
Read: Cold Weather Should Buoy Natural Gas Stocks
Moreover, when APA and USAPA devise a new seniority list under McCaskill-Bond, the list "will include the thousands of pilots from American Airlines," Silver wrote. "It will be difficult to compare that regime to the Nicolau award. Thus the only question the court can answer at this time is whether USAPA had a legitimate union purpose for entering into the MOU. It did.
"The present record does not establish the facially neutral provision was completely divorced from legitimate union objectives," Silver wrote. "Therefore the west pilots have not proven their DFR claim."
In determining whether west pilots should be separately represented in seniority negotiations, Silver wrote that the precedent is unclear regarding whether a "certified representative," meaning USAPA, is exclusively entitled to represent the parties.
But, referring to the west pilots, she concluded that "allowing the involvement of any employee or group of employees with sufficiently distinct interests would be an invitation to chaos; the seniority integration process cannot accommodate the participation of whoever might be affected by the final result."
Read: Regional Bank Earnings: What to Expect
In the next paragraph of her ruling, Silver declares USAPA's victory to be "Pyrrhic" and declares that USAPA will quickly be replaced and "will no longer be entitled to participate in the seniority integration proceedings." She said, "The court has no doubt that - as is USAPA's consistent practice - USAPA will change its position when it needs to do so to fit its hard and unyielding views on seniority" and will argue that it ought to participate even if it is not certified.
"The court's patience with USAPA has run out," she wrote. "USAPA avoided liability on the DFR claim by the slimmest of margins and the court has serious doubts that USAPA will fairly and adequately represent all of its members while it remains a certified representative."
In contrast to Silver's view, USAPA's merger committee asserted that "the McCaskill-Bond process provides that all US Airways pilots will be represented by the USAPA merger committee until the seniority list integration process is complete. The memorandum of understanding and the McCaskill-Bond legislation are very clear and concise on that point."

Written by Ted Reed in Charlotte, N.C.
To contact this writer, click here.