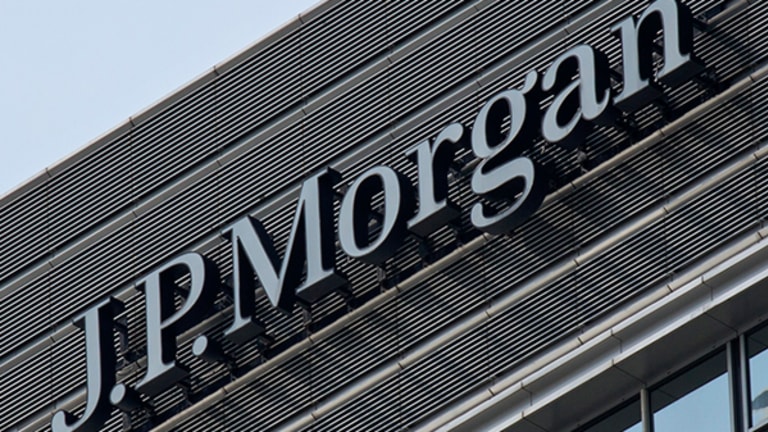 JPMorgan's FHFA Settlement Pleases Analysts
The agreement costs more than expected, but the $5.1 billion tab is likely covered by existing litigation or mortgage repurchase reserves.
NEW YORK (
) -- Investors seem pleased with JPMorgan's FHFA settlement, judging from a slight rise in the bank's share price in early trading Monday, and analysts are pleased as well.
The biggest industry story this earnings season has been the $387 million net loss reported by
JPMorgan Chase
(JPM)
, as the company set aside $9.15 billion for litigation reserves during the third quarter. The company also surprised investors by actually reporting it had $23 billion in litigation reserves on its "fortress balance sheet," the term repeatedly used by JPMorgan CEO James Dimon.
JPMorgan is expected to enter settlements with the Justice Department and regulators covering criminal and civil investigations of the company's securitization of mortgage loans, as well as other mortgage-related areas. The total settlement cost to the company could be as high as $13 billion, according to various media reports.
The first part of the big round of settlements was announced Friday, with the Federal Housing Finance Agency (FHFA) -- which regulates
Fannie Mae
(FNMA)
and
Freddie Mac
(FMCC)
-- announcing a
.
The agreement announced on Friday covers losses on purchases of private label mortgage-backed securities packaged by JPMorgan, or Bear Stearns or Washington Mutual, that were sold to Fannie and Freddie. JPMorgan acquired Bear Stearns in March 2008, after the investment bank went through a liquidity crisis that threatened bankruptcy. JPMorgan bought the failed Washington Mutual from the Federal Deposit Insurance Corp., after the nation's largest savings and loan institution was shut down by regulators in September 2008.
Friday's total settlements exceeded the $4 billion that was widely reported in the media over the past week; however, the language of the settlement agreements was favorable for JPMorgan. The FHFA settlement indeed totaled $4 billion, but JPMorgan's main banking subsidiary,
JPMorgan Chase Bank, NA
, agreed to pay about $670 million to Fannie Mae and $480 million to Freddie Mac.
A key element of the agreement with the FHFA was that JPMorgan admitted no wrongdoing. However, JPMorgan
continues to battle the FDIC
over how much of Washington Mutual's actions it is liable for.
Analysts reacted favorably, as JPMorgan having avoided the huge risk of an admittance of wrongdoing in the FHFA settlement. Admitting wrongdoing related to the sale of private label MBS to Fannie and Freddie could have opened the floodgates for lawsuits by other institutional investors, since their burden of proof would be made lower, and the could avoid some of the drudgery of analyzing loan-level data to identify misrepresentation by JPM, Bear Stearns or Washington Mutual.
The settlements announced Friday are unlikely to affect JPMorgan's fourth-quarter earnings. "
We think that the FHFA settlement is covered by established reserves," wrote Credit Suisse analyst Moshe Orenbuch in a client note on Monday. "Regarding the $1.1Bn settlement with Fannie Mae and Freddie Mac related to repurchase claims on whole loans originated from 2000-2008, we think that this may be covered, in part or its entirety, by JPM's existing mortgage repurchase reserves which stood at $2.2Bn as of 3Q'13," he added.
KBW analyst Christopher Mutascio expressed even more confidence JPMorgan would see no fourth-quarter earnings hit from the FHFA settlement. In a note to clients on Sunday, Mutascio wrote that the $4 billion FHFA settlement was "likely to fall under
JPM's legal reserves," while the "The $1.15 billion rep and warranty settlement will be paid out of JPMorgan's repurchase reserve."
Both analysts remain upbeat on the prospects for JPMorgan's shares, with "outperform" ratings. Orenbuch's price target for the shares is $65, while Mutascio's price target is $63.00.
JPMorgan's shares closed at $52.77 Friday. The shares have returned 23% this year and trade for 8.8 times the consensus 2014 earnings estimate of $6.01 a share, among analysts polled by
Thomson Reuters
. That's one of the lowest forward price-to-earnings valuations for actively traded bank stocks. The consensus 2015 EPS estimate is $6.38.
Based on a quarterly payout of 38 cents, the shares have a dividend yield of 2.88%.
data by
Interested in more on JPMorgan Chase? See TheStreet Ratings' report card for this stock.
RELATED STORIES:
U.S. Bank Makes Mobile Credit Card Play
Despite Sandy, Insurers Keep Improving During 2013
Indemnification of WaMu Receivership Not Addressed In JPMorgan's FHFA Settlement
Fifth Third, JPMorgan Lead Big Bank Revenue Winners: KBW
Madoff Deferred Prosecution Would Tighten Noose Around JPMorgan's Neck
-- Written by Philip van Doorn in Jupiter, Fla.
>Contact by
.
Philip W. van Doorn is a member of TheStreet's banking and finance team, commenting on industry and regulatory trends. He previously served as the senior analyst for TheStreet.com Ratings, responsible for assigning financial strength ratings to banks and savings and loan institutions. Mr. van Doorn previously served as a loan operations officer at Riverside National Bank in Fort Pierce, Fla., and as a credit analyst at the Federal Home Loan Bank of New York, where he monitored banks in New York, New Jersey and Puerto Rico. Mr. van Doorn has additional experience in the mutual fund and computer software industries. He holds a bachelor of science in business administration from Long Island University.