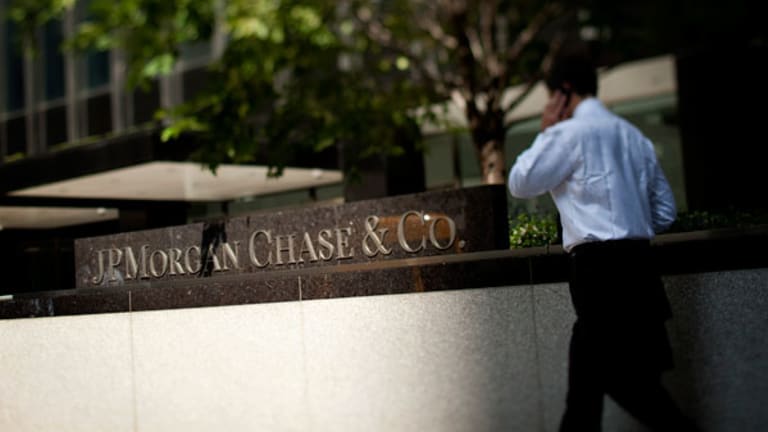 JPMorgan Shareholders Unfazed by Possible $13B Settlement
JPMorgan's stock continues to outperform the banking industry as shareholders brace for a record settlement with the DoJ.
NEW YORK (TheStreet) -- JPMorgan's (JPM)  stock continues to perform strongly, even as a spat of possible legal settlements cuts at the profitability of the nation's largest bank by assets.
JPMorgan is reportedly in the process of finalizing a $13 billion settlement with the U.S. Department of Justice over the bank's practices in underwriting mortgages prior to the collapse of the housing market in 2008. The prospective settlement is reported by The New York Times to include $9 billion in fines and $4 billion in relief to homeowners and will leave open a parallel criminal probe brought forward by the State of California into the firm's mortgage underwriting practices, a legal issue the bank disclosed in a second quarter 10-Q filing with the Securities and Exchange Commission.
It remains unclear whether JPMorgan is willing to make any admissions of guilt, according to the reports. The $13 billion figure is higher than previous reports of an $11 billion settlement and is reported to allow the criminal probe from California to move forward. The Times reports JPMorgan may assist regulators with ancillary probes.
A settlement would likely involve mortgages originated by JPMorgan and businesses it acquired during the financial crisis such as Washington Mutual and investment bank Bear Stearns. In acquiring WaMu in 2008, JPMorgan took over $190 billion in mortgage securities that had been taken over by the Federal Deposit Insurance Corporation.
Joshua Rosner, a banking analyst at Graham Fisher & Co. questioned in a March report why the bank had ended a program of reserving representation and warranty reserves for its acquired WaMu assets.
Claims between the bank and the Federal Housing Finance Authority would also likely be resolved in the settlement. Bank of America (BAC) is reported to be in the process of a $6 billion settlement with the FHFA, according to media reports.
Overall, a settlement could resolve claims with the DoJ, FHFA, HUD and New York State Attorney Genera's Office.
"While the settlement is a step forward for JPM in reducing the uncertainty generated by its legal issues, press reports suggest that the agreement - as it is currently structured - does not include a waiver of future criminal liability. We consider this a material issue for investors as the settlement would not then offer the increased certainty that such a waiver would provide shareholders." Matthew Burnell, a banking analyst at Wells Fargo said in a Monday client note.
Clearing legal issues could push JPMorgan's stock higher by 21%-to-32% over the next 12 months according to Burnell's calculations. A $13 billion settlement would be priced at roughly 12.1% of the principal balance on securities the bank sold to Fannie Mae and Freddie Mac prior to the crisis, and could mean First Horizon (FHN) and Bank or America would have sizable exposure, the analyst said. 
"[Morgan Stanley (MS)  and Goldman Sachs (GS) appear to have more manageable (but still material levels) of risk, based on our analysis," Burnell wrote.
JPMorgan spokesperson Mark A. Kornblau declined to comment.
For now, record fines and legal settlements don't appear to be sowing fear among the bank's shareholders. JPMorgan shares were little changed in Monday pre-market trading. Shares in the firm have gained nearly 25% in 2013, outperforming the S&P 500 Index while slightly under-performing the KBW Banking Index. 
JPMorgan reported its first loss under CEO Dimon in the third quarter, after the bank boosted its litigation reserve by $7.2 billion after taxes, as it prepared for prospective legal settlements.
"While we had strong underlying performance across the businesses, unfortunately, the quarter was marred by large legal expense. We continuously evaluate our legal reserves, but in this highly charged and unpredictable environment, with escalating demands and penalties from multiple government agencies, we thought it was prudent to significantly strengthen them," Dimon said in a statement.
Overall, JPMorgan reported a third-quarter loss of $400 million, or 17 cents a share, on revenue of $23.9 billion. That loss was attributable to $9.15 billion in pretax expense and $7.2 billion in after-tax expense related to a rising provision for the bank's legal expense.
The bank said in a presentation appended to its earnings that since 2010 it has added $28 billion to its legal reserves, offset by a $8 billion reduction attributable to settlements and legal judgments. Overall, reserves for litigation have cost the bank approximately $23 billion in net income over that time span.
On a conference call, JPMorgan said the firm likely wouldn't be doing much share buyback activity for the rest of 2013. Earlier in 2013, the company announced a $6 billion share buyback authorization.
JPMorgan shares were falling less than 1% in pre-market Monday trading at $53.91. Shares are less than 10% below record highs hit earlier in 2013.
-- Written by Antoine Gara in New York.