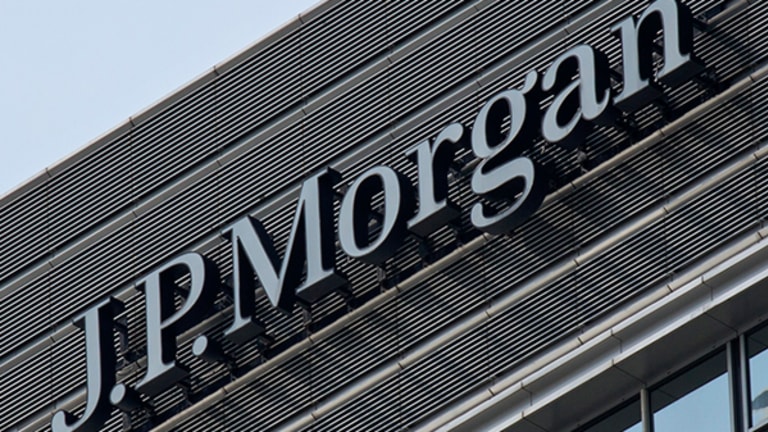 JPMorgan Settles With FHFA, Does Not Admit Wrongdoing
The $5.1 billion settlement is actually a victory for the bank, because admitting wrongdoing would have fed other institutional lawsuits.
NEW YORK (
) -- The Federal Housing Finance Agency (FHFA) late on Friday announced $5.1 billion in settlements of claims against
JPMorgan Chase
(JPM)
, which investors will likely cheer, since the bank didn't admit any wrongdoing.
The FHFA regulates
Fannie Mae
(FNMA)
and
Freddie Mac
(FMCC)
, known as the government-sponsored enterprises, or GSEs, which were taken under government conservatorship at the height of the credit crisis in 2008.
The FHFA sued JPMorgan and its main banking subsidiary over losses on private label mortgage-backed securities sold to the GSEs.
Under a $4 billion settlement, JPMorgan on Friday agreed to pay $1.26 billion to Fannie Mae and $2.74 billion to Freddie Mac, "to resolve certain claims related to securities sold to the companies between 2005 and 2007 by J.P. Morgan Chase & Co., Bear Stearns & Co., Inc. and Washington Mutual." The securities in question totaled $33.8 billion, according to a brief statement released by JPMorgan Chase.
JPMorgan acquired Bear Stearns in March 2008, after the investment bank went through a liquidity crisis that threatened to lead to bankruptcy. JPMorgan purchased the failed Washington Mutual from the Federal Deposit Insurance Corp., after the nation's largest savings and loan institution was shut down by regulators in September 2008.
Under separate settlement agreements announced by the FHFA on Friday,
JP Morgan Chase Bank, NA
will pay roughly $670 million to Fannie Mae and $480 million to Freddie Mac.
The total tab on Friday of $5.1 billion is only part of the expected wave of settlements JPMorgan is expected to enter into, to resolve investigations of its mortgage lending and sales activity by the Department of Justice, other regulators and states' attorneys general.
Friday's settlements exceed the $4 billion that was widely reported in the media over the past week, however, the language of the settlement agreements is favorable to JPMorgan.
There has been a change in thinking among the Department of Justice and federal regulators, leading to an expectation that financial firms settling government investigations shouldn't be able to avoid admitting fault.
Friday's settlements are completely different from previous settlements JPMorgan has made with Fannie and Freddie, because they cover losses on private label mortgage-backed securities, rather than losses on mortgage loans made under GSE guidelines. The GSEs bought the same MBS that other institutional investors bought from JPMorgan.
Therefore, and admission of wrongdoing would have made it very easy for other institutional investors to make strong cases against JPMorgan, without having to comb through loan-level data.
The agreement documents released by the FHFA describe the settlements as "a compromise within the provisions of the Federal Rules of Evidence, and any similar statutes or rules, and shall not be used or admitted in any proceeding for any purpose including, but not limited to, as evidence of liability or wrongdoing by any JPMorgan Defendant."
The agreement documents make clear that JPMorgan hasn't admitted any wrongdoing: "This Agreement does not constitute an admission by any of the JPMorgan Defendants of any liability or wrongdoing whatsoever, including, but not limited to, any liability or wrongdoing with respect to any of the allegations that were or could have been raised in the Actions.
While the settlements don't prevent private investors from making similar claims against JPMorgan Chase, the settlements haven't made it any easier for private investors to go after the company.
RELATED STORIES:
JPMorgan at Risk With FHFA Settlement
Madoff Deferred Prosecution Would Tighten Noose Around JPMorgan's Neck
Fifth Third, JPMorgan Lead Big Bank Revenue Winners: KBW
-- Written by Philip van Doorn in Jupiter, Fla.
>Contact by
.
Philip W. van Doorn is a member of TheStreet's banking and finance team, commenting on industry and regulatory trends. He previously served as the senior analyst for TheStreet.com Ratings, responsible for assigning financial strength ratings to banks and savings and loan institutions. Mr. van Doorn previously served as a loan operations officer at Riverside National Bank in Fort Pierce, Fla., and as a credit analyst at the Federal Home Loan Bank of New York, where he monitored banks in New York, New Jersey and Puerto Rico. Mr. van Doorn has additional experience in the mutual fund and computer software industries. He holds a bachelor of science in business administration from Long Island University.