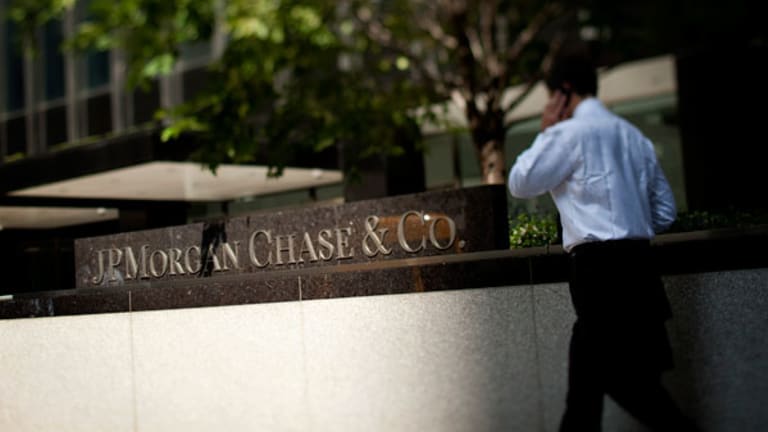 JPMorgan Settlement Looms Over Weak Bank Earnings
JPMorgan's legal troubles could be a harbinger of pain felt across the banking industry.
NEW YORK (TheStreet) -- JPMorgan's (JPM) - Get JP Morgan Chase & Co. Report prospective $13 billion settlement with the Department of Justice over the bank's origination of mortgages prior to the collapse of the housing market clouds a banking sector that is struggling to grow in a weak economic recovery.
So far, reports of JPMorgan's potential record settlement with a host of regulators is being taken by the media as a referendum on the legacy of Jamie Dimon, the firm's embattled CEO.
Dimon, once a favorite in Washington, was reported by the New York Times to have staved off a DoJ civil action with a last minute call to Attorney General Eric Holder. Reports also indicate Dimon was literally relegated to a corner seat in a recent discussion between top lawmakers and large bank CEO's over the recent debt-ceiling standoff.
Clearly, Dimon isn't the banking industry's point man in Washington, a position he happily occupied through the financial crisis of 2008.
Record fines, quarterly losses and the prospect that JPMorgan admits wrongdoing but continues to face ongoing civil and criminal scrutiny looms large over the bank. But JPMorgan's current legal woes are also germane to other large pre-crisis subprime lenders such as Bank of America (BAC) - Get Bank of America Corporation Report, Citigroup (C) - Get Citigroup Inc. Report, Morgan Stanley (MS) - Get Morgan Stanley Report and Goldman Sachs (GS) - Get Goldman Sachs Group Inc. (The) Report.
The prospect that a settlement is announced in coming days or weeks and its substance may pave the way for similar regulatory inquires and settlements across the banking industry, according to experts.
Meanwhile, recent earnings reports indicate large banks continue to struggle to identify growth businesses, in what has been a weak economic recovery from the depths of the banking crisis.
The pending settlement is reported by The New York Times to include $9 billion in fines and $4 billion in relief to homeowners and will leave open a parallel criminal probe brought forward by California, a legal issue the bank disclosed earlier in 2013.
A settlement would involve mortgages originated by JPMorgan and businesses it acquired during the financial crisis such as Washington Mutualand investment bank Bear Stearns. In acquiring WaMu in 2008, JPMorgan took over $190 billion in mortgage securities that had been taken over by the Federal Deposit Insurance Corp.
Banks like Wells Fargo (WFC) - Get Wells Fargo & Company Report made similar crisis-time acquisitions of troubled lenders like Wachovia, which also suffered from loss-saddled subprime origination operations such as Golden West. Bank of America famously acquired Countrywide Financial, in a deal that some analysts have called the worst acquisition in history. The firm also continues to face legal scrutiny pertaining to mortgage securitizations issued by Merrill Lynch, another crisis-time acquisition.
"The securitization business is pretty much the same from institution to institution and from bank to bank," said Thomas Gorman, a partner at law firm Dorsey Whitney, and a former Senior Counsel in the SEC's Division of Enforcement. "One would think that there might be a liability at other places," Gorman added in a Monday telephone interview.
A settlement could guide similar legal issues at lenders such as First Horizon (FHN) - Get First Horizon Corporation Report, Bank of America, Morgan Stanley and Goldman Sachs, according to a Monday analysis from Wells Fargo banking analyst Matthew Burnell.
The analyst said that First Horizon may be most exposed to litigation from Fannie Mae and Freddie Mac, given settlement figures that indicate a 12.1% payout on the loans JPMorgan sold to housing finance authorities prior to the crisis.
Bank of America also faces a sizable exposure, according to Burnell, while investment banks Morgan Stanley and Goldman Sachs "appear to have more manageable (but still material levels) of risk, based on our analysis," the analyst wrote.
"While the settlement is a step forward for [JPMorgan] in reducing the uncertainty generated by its legal issues, press reports suggest that the agreement -- as it is currently structured -- does not include a waiver of future criminal liability," Burnell added.
According to media reports, any JPMorgan settlement will leave open a criminal probe by the State of California into the firm's mortgage origination practices.
"This is going to have a rippling effect through the banking industry," Mark Williams, a professor of finance in the Boston University School of Management and a former Federal Reserve Bank examiner, said in a Monday telephone interview. JPMorgan's settlement may amount to 7% of the firm's equity capital, Williams said, and is an amount that would likely deter a return to poor origination standards.
JPMorgan may also assist the DoJ in criminal probes of mortgage origination staff. Such a scenario is similar to JPMorgan's settlement with the SEC over a $6.2 billion trading loss, which has left open the prospect that regulators continue to build cases against individual employees.
"I think what we are seeing is that the government's mortgage fraud task force appears to be more aggressively focused on mortgage origination claims," Joshua Rosner, a banking analyst at Graham Fisher & Co., said in a Monday telephone interview. "There are probably going to be more origination suits," he added.
Rosner, however, argued that the bigger picture of JPMorgan's settlement may be the firm's weak earnings outlook.
"After the dust settles there will be more dust," Rosner said, referring to JPMorgan's stagnant growth and uncertainty surrounding the bank's ability to grow revenue through new loan originations.
As it currently stands, JPMorgan's recent earnings indicate its profits are reliant on credit expense reductions such as loan loss reserve releases and on volatile investment banking and trading businesses.
After a settlement is disclosed to investors, will JPMorgan have the earnings power to regain its top standing in the banking sector?
Earlier in October, JPMorgan reported a third-quarter loss of $400 million, or 17 cents a share, on revenue of $23.9 billion. That loss was the first under CEO Dimon and was attributable to $9.15 billion in pretax expense and $7.2 billion in after-tax expense related to a rising provision for the bank's legal expense.
The bank said in a presentation appended to its third-quarter earnings that since 2010 it has added $28 billion to its legal reserves, offset by a $8 billion reduction attributable to settlements and legal judgments. Overall, reserves for litigation have cost the bank approximately $23 billion in net income over that time span.
On a conference call, JPMorgan said the firm likely wouldn't be doing much share buyback activity for the rest of 2013. Earlier in 2013, the company announced a $6 billion share buyback authorization.
While legal issues are depressing JPMorgan's current earnings, they could eventually become a drag across the banking industry.
JPMorgan spokesperson Mark A. Kornblau declined to comment.
-- Written by Antoine Gara in New York.