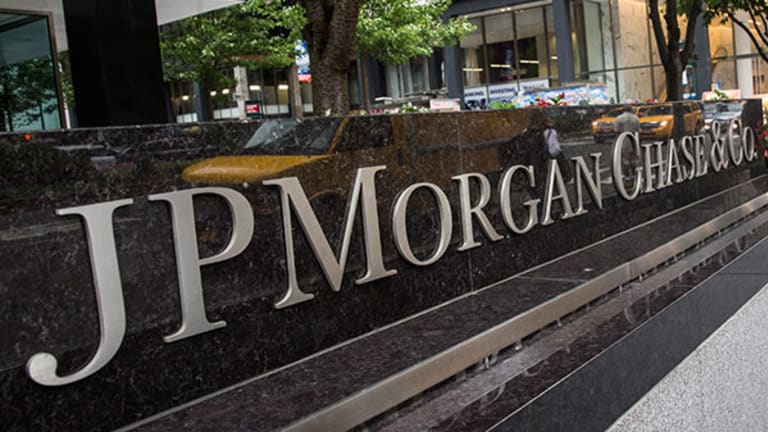 JPMorgan's Flirtation With Worldpay Shows Big Bank Deals Making a Comeback
Considering the purchase of Worldpay shows the largest U.S. banks believe they have a better shot at regulatory approval than in the immediate aftermath of the financial crisis.
The most important thing about JPMorgan Chase & Co.'s brief flirtation with Worldpay Group Plc  (WPYGY)  isn't that the largest U.S. lender walked away without making an offer for the $9.6 billion British payments processor. 
It's that JPMorgan (JPM) - Get JPMorgan Chase & Co. Report  CEO Jamie Dimon considered a deal at all.
With stricter regulations on the biggest U.S. banks in the wake of the 2008 financial crisis, it was widely assumed that "banks of JPMorgan's size would not be allowed to make acquisitions for the foreseeable future," Richard Bove, a Rafferty Capital Markets analyst who has followed the banking industry for five decades, said in a note to clients.
JPMorgan entertaining a purchase larger than any made by the biggest banks during President Barack Obama's administration signals that CEOs believe the environment has, as promised, shifted under his successor, Bove said.
Analysts and investors who monitor second-quarter bank earnings reports starting on Friday, July 13, should pay attention to whether "managements suggest a new attitude toward purchasing other banks," Bove wrote. "I think they will."
While JPMorgan, Bank of America Corp. (BAC) - Get Bank of America Corp Report and Wells Fargo & Co. (WFC) - Get Wells Fargo & Company Report already hold more than 10% of U.S. deposits and are legally barred from adding more through acquisitions, they might still expand by purchasing businesses such as auto lenders or consumer loan companies, Bove said in a telephone interview.
"They can buy a whole bunch of things as long as they don't buy deposits," he explained. "The banks have a huge amount of money to make acquisitions," he said, and "a huge need to make acquisitions."
Doing so would be a far better use of their money than the billions in stock-buybacks announced after the Federal Reserve's annual stress tests at the end of June, Bove said.
During the eight years of Obama's presidency, the six largest U.S. banks made only about $50 billion in acquisitions, according to data compiled by Bloomberg. The period included the 2010 passage of the Dodd-Frank Act setting up safeguards against a repeat of the crisis and was marked by heightened regulatory scrutiny.
It was an 88% dive from the transaction volume during George W. Bush's two terms, which ended in 2009, and included none of the earlier era's megadeals such as JPMorgan's $58 billion purchase of Bank One Corp. in 2004 or Bank of America's $48 billion acquisition of FleetBoston in 2003.
While the current president, Donald Trump, has yet to accomplish any of his major legislative goals, such as passing a healthcare overhaul, the financial services industry appears emboldened by his support of loosening bank regulations to buoy the economy, Bove said. His selection of a raft of bank-friendly regulators and advisers helps, too.
Among them are Treasury Secretary Steve Mnuchin, a Goldman Sachs Group Inc.  (GS) - Get Goldman Sachs Group, Inc. Report alumn; National Economic Council director Gary Cohn, Goldman's former COO; business advisory council member Jamie Dimon, the CEO of JPMorgan; and Securities and Exchange Commission Chair Jay Clayton, an attorney who previously advised companies on how to deal with that regulator.
This week, the White House confirmed that Trump will nominate Randal Quarles, a former Carlyle Group partner who worked in Treasury under George W. Bush, to lead the Federal Reserve's banking supervision unit.
With so many bankers and quasi-bankers, the agencies are "not about to stop anything that the banks want to do," Bove said in the interview.
Already, in the first in a series of white papers outlining the Trump administration's stance on banking regulation, Mnuchin's Treasury Department recommended reviewing some of the capital standards imposed on the biggest banks, eight of which hold a combined $10.7 trillion in deposits, about half of the U.S. total.
"It is with this new backdrop that JPMorgan may have made a bid to buy another company," Bove wrote. The lender opted against doing so after Worldpay, its erstwhile target, reached a tentative agreement to sell itself to U.S.-processor Vantiv (VNTV) for $11.7 billion.