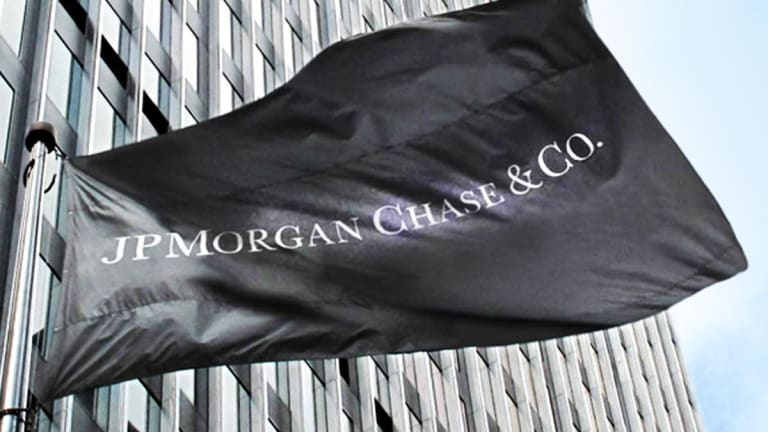 JPMorgan Price Target Raised at Morgan Stanley as Trade Tensions Ease
Morgan Stanley expects the Federal Reserve to hold rates at their current levels.
JPMorgan Chase (JPM) - Get Report shares got a slight boost from a bullish note from Morgan Stanley Monday with analysts at the firm raising the company's price target to $141 from $138 per share. 
The firm has a bullish outlook on large cap banks based on the forecast that the Federal Reserve will stand pat, bringing Morgan Stanley's Fed Funds expectations up by 50 basis points. Morgan Stanley now expects the Federal reserve to cut rates two fewer times in 2020. 
After 3 rate cuts so far this year, we expect the Fed to remain on an extended hold, as the slowdown in US growth stabilizes on lower interest rates and an improvement in global economic conditions," Morgan Stanley's note said. 
The firm is also rethinking its trading growth rates forecasts, reducing all of its growth rate forecasts on equity and fixed income, due to unexpected softness in European earnings results "as it appears there was more wallet shrinkage in 3Q19 than we have previously forecast."
Meanwhile, Morgan Stanley is keeping its consumer finance EPS estimates flat at the median in 2021 due to the burden of the additional provisions that will be required to maintain higher current expected credit losses reserve ratios after they fell flat in 2020. 
That headwind will weigh on the banking segment in the longer-term. In the shorter-term, that weight won't be as pronounced.  "In particular, changes in macro forecasts have the potential to drive a large level of volatility in provision forecasting going forward," Morgan Stanley's note said. 
JPMorgan shares rose 0.8% to $130.62 Monday.