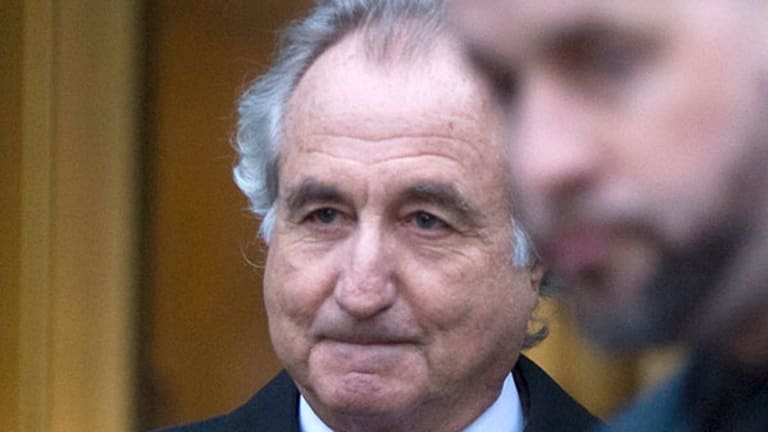 [video] JPMorgan Pays $2.6 Billion for Role in Madoff Scandal (Update 1)
The bank enters into a deferred prosecution agreement with the Department of Justice, admitting it 'could have done a better job' reporting signs of Madoff's fraud to regulators.
Updated from 10:34 a.m. ET with comments from U.S. Attorney for the Southern District of New York Preet Bharara's afternoon press conference and JPM's additional settlements with the Office of the Comptroller of the Currency and Irving Picard, the court-appointed trustee seeking to resolve the claims of the victims of Bernard Madoff's Ponzi scheme. Also updated to include JPMorgan's estimate of a reduction in fourth-quarter earnings.
NEW YORK (TheStreet) -- The main banking subsidiary of JPMorgan Chase (JPM) - Get JPMorgan Chase & Co. (JPM) Report entered into a deferred prosecution agreement with the U.S. Attorney for the Southern District of New York over its role in the Bernard Madoff Ponzi scheme, which led to an estimated $18 billion in losses to investors.
The company's main subsidiary,  JPMorgan Chase Bank, NA, consented to a two-count criminal nformation, through which the Justice Department charged the bank with "failure to maintain an effective anti-money laundering program... and failure to file a suspicious activity report."
JPMorgan agreed to pay $1.7 billion to the federal government as part of the agreement.  According to the court filing, the bank agreed "that it will not file a claim with the Court or otherwise contest civil forfeiture."
JPMorgan Chase Bank, NA also agreed to pay $350 million to the Office of the Comptroller of the Currency, its primary regulator, and also settled private lawsuits for $524 million, including a suit by Irving Picard, the court-appointed trustee seeking to resolve the claims of the victims of Madoff's Ponzi scheme.
The bank also agreed to fully cooperate in any criminal investigation of the Madoff affair and to continue improving its Bank Secrecy Act (BSA) and anti-money laundering (AML) compliance programs.
The deferred prosecution agreement will last for two years.
U.S. Attorney for the Southern District of New York Preet Bharara is expected to hold a press conference on the agreement at 1:15 p.m. ET.
Here's JPMorgan's full statement released Tuesday morning:
We recognize we could have done a better job pulling together various pieces of information and concerns about Madoff from different parts of the bank over time.  We filed a Suspicious Activity Reports (SAR) in the U.K. in late October 2008, but not in the U.S.

We do not believe that any JPMorgan Chase employee knowingly assisted Madoff's Ponzi scheme.

Madoff's scheme was an unprecedented and widespread fraud that deceived thousands, including us, and caused many people to suffer substantial losses.

The Firm is making significant efforts to strengthen our BSA- AML-KYC practices across the board to be best-in-class. We believe the lessons we have learned will make us a stronger company.
Previous media reports had said JPMorgan Chase was set to pay over $2 billion as part of its settlements of its role in the Madoff fraud, including payments to the Office of the Comptroller of the Currency and the Financial Crimes Enforcement Network, which haven't yet been announced.
Madoff in 2009 was sentenced to 150 years in prison.
After surprising investors with a third-quarter net loss, driven by $9.15 billion in provisions for litigation reserves, JPMorgan during the fourth quarter entered into $17.5 billion in mortgage-related settlements with the Justice Department, other government authorities and institutional investors.  It was a "kitchen-sink" fourth quarter, and JPMorgan CEO James Dimon said during a presentation on Dec. 11 mentioned Madoff while discussing the company's decision to make so many settlements, rather than fight, according to a transcript provided by Thomson Reuters.
If a big bank chooses a legal fight against the Justice Department and regulators, "You will be in court for two, three, four or five years. Your people will be interviewed, your company will be demeaned in the press nonstop," Dimon said.  "So you may have paid a premium to settle," he added.
Dimon went on to say that JPMorgan's residential mortgage-backed securities settlement "was a far better thing to do. It's very hard to go to court in some of these matters if you are a banker. And I don't want to threaten the health of my Company ever."
During an afternoon press conference on Tuesday, U.S. Attorney Preet Bharara said "the bank connected the dots when it came to its own profits, but was not so diligent about its legal obligations."  Bharara also said JPMorgan's settlement was the largest ever forfeiture from a bank.
Bharara also made clear that the entire $1.7 being paid to the Justice Department was not tax deductible and would go to Madoff's victims.
Using an elaborate chart showing a timeline of events, Bharara described how JPMorgan and predecessor institutions served as "the primary bank through which Madoff ran his Ponzi scheme," since 1986.
JPMorgan from early point had "plenty of reasons to be uniquely suspicious" about Madoff, Bharara said.  "Warning signs abounded."
In the mid-1990s, the bank learned, that Madoff and a prominent client of JPMorgan's private bank, were engaging in what looked like round trip or check kiting transactions.  large sums of money were being transferred back and forth between accounts for no apparent legitimate business purpose .  These transactions were sufficiently suspicious that another bank involved in those transactions filed a suspicious activity report, or SAR, and closed Madoff's account at the bank.  But JPMorgan, far from closing the account, allowed the transactions to continue for close to a decade or more, never filing a single SAR, or even notifying its own anti-money laundering compliance group.
Bharara added that "between 1986 and 2008, an astounding $150 billion went in and out of that account, and notably, none of it was used for the purpose and sale of securities, even though that was Madoff's stated business."
Numerous other examples of warning signs to JPMorgan Chase that Madoff's business was a fraud, were detailed during the press conference, as well as the bank's actions to mitigate its risk from Madoff's scheme, before it collapsed and became known to the public.
JPMorgan in an afternoon filing with the Securities and Exchange Commission said that although it was "substantially reserved for the settlements announced today," its fourth quarter net income would be lowered by $850 million, in part "as a result of the amounts of the settlement payments that are non-tax-deductible."
JPMorgan's shares were down 1.4% in afternoon trading, to $58.19.
The following chart shows the performance of JPMorgan Chase's stock over the past 12 months, against the KBW Bank Index (I:BKX) and the S&P 500undefined:
RELATED STORIES:

Digging Deep for Citigroup's Value
Why 'Sophisticated' Investors Fall for Ponzi Schemes
5 Things Bank Investors Should Watch in January
Citigroup Divides Analysts
Will It Be Easier To Get A Mortgage In 2014?
Cheapest U.S. Bank Stock May Surprise You
GE Downgraded as it Enters 'Transitional Period'
-- Written by Philip van Doorn in Jupiter, Fla.
>Contact by Email.
Philip W. van Doorn is a member of TheStreet's banking and finance team, commenting on industry and regulatory trends. He previously served as the senior analyst for TheStreet.com Ratings, responsible for assigning financial strength ratings to banks and savings and loan institutions. Mr. van Doorn previously served as a loan operations officer at Riverside National Bank in Fort Pierce, Fla., and as a credit analyst at the Federal Home Loan Bank of New York, where he monitored banks in New York, New Jersey and Puerto Rico. Mr. van Doorn has additional experience in the mutual fund and computer software industries. He holds a bachelor of science in business administration from Long Island University.