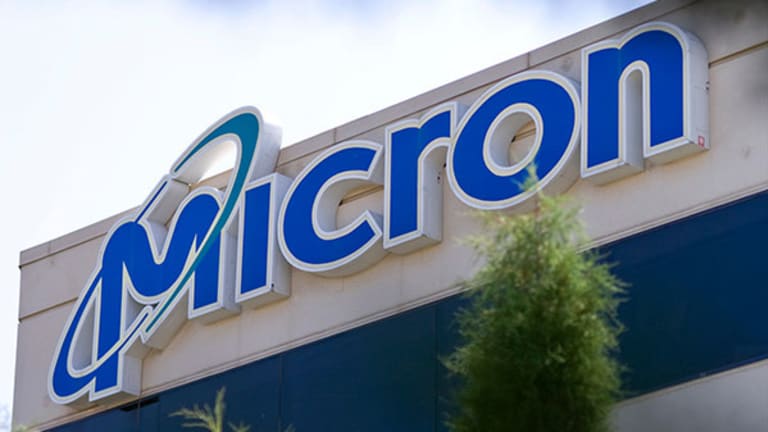 Micron Will Still Dominate, JPMorgan Says
Here's why.
Semiconductor firm Micron Technology (MU) - Get Report will keep its leadership position in memory technologies, regardless of "overblown" pressures from chipmakers in China, JPMorgan noted on Tuesday.
JPMorgan analyst Harlan Sur reiterated his "Overweight" rating on Micron's stock.
"Many investors are concerned of potential supply from China coming on-line and disrupting overall industry supply / demand fundamentals, in our view. We believe such concerns are overblown," Sur noted.
"We believe the technologies that are being proposed in China are likely to remain at least one or two generations behind industry leaders, likely through the rest of the decade (or longer)," he added.
Shares of Micron were trading lower by Tuesday's close.

What's Hot On TheStreet
Amazon has some work to do with Whole Foods: Organic grocer Whole Foods (WFM) needs Amazon's (AMZN) - Get Report tech know-how, and it needs it very quickly to slash prices.
TheStreet's Lindsay Rittenhousewent shopping online at Ohio stores to see how Whole Foods stacked up against Walmart Stores Inc. (WMT) - Get Report and rival grocer Kroger (KR) - Get Report . While the results may not be shocking, they show just how much Amazon will have to cut for Whole Foods to be on equal footing with some of its competitors.
The cost of eight everyday food items at Whole Foods, TheStreet found, were nearly double those of the ones at Walmart, but Kroger undercut them both. Whole Foods' basket cost $38.29; Walmart's, $19.86; and Kroger's, $16.58.
With data as shocking as this, it's no wonder Whole Foods founder John Mackey is in love with Amazon.
Tesla's stock is out of control: Tesla Inc. (TSLA) - Get Report shares are expected to have a strong session amid reports Elon Musk's electric car baby may open a new production facility in China. Such a move would avoid tariffs in the world's second-largest economy, but risk the ire of U.S. President Donald Trump's "buy American, hire American" industrial policy, TheStreet's Martin Baccardax reports.
Tesla's market cap is now more than $60 billion and climbing, despite the company continuing to lose money. Ford's (F) - Get Report market clocks in at $44.7 billion, while General Motors (GM) - Get Report stands at $51.9 billion.
Worried about how to pay for your golden years? Ken Fisher, founder of Fisher Investments, and TheStreet's Jim Cramer will tell you what you need to know in a June 21 webinar on the market trends that are shaping retirement planning today. Register here for the event, which starts at 11 a.m. ET.
Visit here for the latest business headlines.