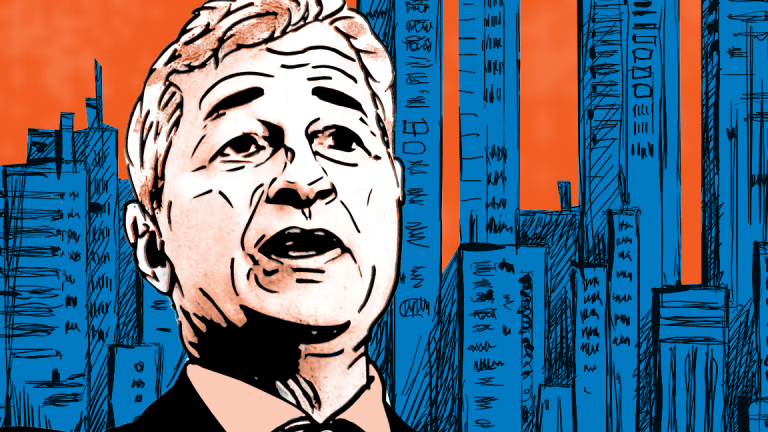 JPMorgan Blows Wall Street Away and Sets Stage for Big Earnings Season
Bank earnings have kicked off. Rumors are picking up on Wall Street that General Mills could sell more assets. A Tesla nemesis talks with TheStreet. Happy Friday.
Game on.
JPMorgan Chase (JPM) - Get Free Report blew Wall Street away with its second-quarter results on Friday, bolstering its status as the best bank stock to own. Earnings beat by 7 cents and divisional performance was strong. That could awaken JPMorgan's stock, which is down 1% this year, lagging the Dow Jones Industrial Average undefined  , the S&P 500 undefined  and the rest of the financials. More analysis on the stock here. 
"The banks posted strong results last quarter, but failed to gain the respect of the market," said Action Alerts PLUS senior portfolio analyst Jeff Marks. "Now that we are post-CCAR, another solid quarter from the group could prove why these stocks have so much long-term value to them down here."
Street Rumors 
Fresh off General Mills' (GIS) - Get Free Report  investor day on Wednesday, Credit Suisse analyst Robert Moskow said he thinks the packaged food giant could put Progresso up for sale.
Wrote Moskow: "CEO Jeff Harmening put more emphasis than we expected on his intent to divest 5% of the company's sales as he reshapes the portfolio through M&A to return to growth. Given the lack of details in the presentation about the marketing plans for canned soup and the weak trends in the category, we would not be surprised if management decided to sell its Progresso brand. By our math, selling Progresso would dilute the company's EPS by about $0.20 or 7%."
Progresso is one of the most storied brands in the supermarket, with history dating back to the late 1890s. The brand came into General Mills' possession via the 2000 acquisition of Pillsbury. But with soup sales under pressure, General Mills putting Progresso on the sales block would make sense. Product portfolio overhauls are all the rage in consumer packaged goods right now.
Companies such as J.M. Smucker (SJM) - Get Free Report  continue to unload legacy brands with sluggish sales to free up cash to invest in new areas like snacks. For its part, General Mills sold its frozen and canned vegetables business, Green Giant, to B&G Foods (BGS) - Get Free Report  in 2015 for $765 million after years of weakening sales. Trying to pick the next value-creating food deal? Check out TheStreet's sister publication, The Deal, which obsesses over this stuff. 
Around Wall Street 
The lawyer representing the so-called "Tesla whistleblower" told TheStreet's Katherine Ross that he "looks forward to taking on Tesla (TSLA) - Get Free Report  "and CEO Elon Musk.
"I do believe that he is a poster child for the David vs. Goliath motto," said Stuart Meissner, who is representing Martin Tripp, a Tesla ex-employee who accuses the automaker of lying to investors.
Tesla has fired Tripp,  accused him of sabotage and is suing. Meissner said he's rarely seen a company go after an employee the way that Tesla has gone after Tripp. He believes that "the aggressive nature is a message to Tesla employees in general to silence them." The crazy year of Tesla continues.
TheStreet's founder Jim Cramer reveals here why he continues to be bullish on tech names, despite what looks to be expensive valuations on the surface. "All right, so Apple's (AAPL) - Get Free Report down a little bit. Look, I could say the same thing about Microsoft (MSFT) - Get Free Report , right? Microsoft which I believe because of its red hot Azure business will perform amazingly this quarter, but don't forget the PC business is very good." Apple and Microsoft are home-run positions in Cramer's Action Alerts PLUS member club.
In Real Money's "Columnist Conversation" on Friday I shed some light on why McDonald's (MCD) - Get Free Report stock is down 5% over the past month. Read here, and get prepared for a possibly rancid quarter from the Golden Arches.
Thanks for showing up on General Electric (GE) - Get Free Report , Deutsche Bank. "Management is taking bold actions to unlock value, and we do acknowledge arbitrage opportunity," said Deutsche Bank analyst Nicole DeBlase in a new note. DeBlase hedged her position by initiating GE's stock at a hold. No word on whether DeBlase saw Jim Cramer's big call on GE last week. Cramer said it's time to buy GE.