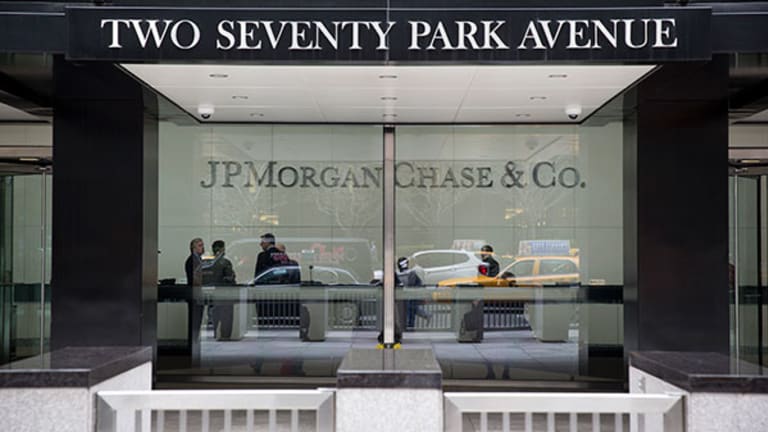 JPMorgan Has Major Upside When Short-Term Rates Rise
JPMorgan is on its way to earning $7 a share in 2016, and can add another dollar of EPS when the federal funds rate rises, according to Deutsche Bank.
NEW YORK (TheStreet) -- All the "taper talk" in media coverage of Federal Reserve policy draws attention from the central bank's main policy tool and a major catalyst for the banking industry earnings over the next few years.
The Federal Open Market Committee on Wednesday announced a further reduction in the Federal Reserve's purchases of long-term bonds to a monthly net pace of $65 billion beginning in February. The Fed began its "QE3" bond purchases of $85 billion a month in September 2012 in an effort to hold-down long-term interest rates. After many months of anticipation, the FOMC in December announced the bond purchases would be cut to $75 billion in January.
The committee's next meeting is scheduled for March 18-19, and it's quite reasonable to expect further reductions in the Fed's massive balance-sheet expansion, since the central bank wants to move away from years of extraordinary policy measures and back to relying on its main policy tool, which is the short-term federal funds rate.
The federal funds rate has been locked in a historically low range of zero to 0.25% since late 2008.
The FOMC on Wednesday said it had "reaffirmed its view that a highly accommodative stance of monetary policy will remain appropriate for a considerable time after the asset purchase program ends and the economic recovery strengthens." The committee also repeated its past statement that the federal funds rate was likely to remain in its current range at least as long as the U.S. unemployment rate remains above 6.5%.
The unemployment rate improved to 6.7% in December from 7.0% in November, bringing it pretty close to the Fed's target. However, the lower unemployment rate was driven in part by a 0.2% decline in the labor participation rate to 62.8%. The labor participation rate declined 0.8% during 2013, as a large number of people were effectively driven from the labor force.
And the unemployment rate could easily go below 6.5% before the Fed puts a full stop to its bond-purchases.
Banks have seen some easing of pressure on their net interest margins as long-term rates have risen over the past year. However, most banks see continuing margin pressure because long-term rates are still low on a historical basis, and many assets types are continuing to reprice lower, since they are benchmarked to short-term interest rates. Mortgage lenders also quickly sell their newly originated fixed-rate loans, since they need to get the interest rate risk off their books. Memories are short, but today's mortgage rates are way too low for most banks not to sell most of the new loans.
Most banks need to see a parallel rise in interest rates for significant expansions of their net interest margins and growth of net interest income.
This brings us to JPMorgan Chase (JPM) - Get JPMorgan Chase & Co. Report, which estimated in its third-quarter 10-Q filing that an instant parallel rise in interest rates of 200 basis points would increase its annual net interest income by $4.092 billion. A 100 basis-point parallel rise in rates would grow net interest income by $2.226 billion, based on the company's Sept. 30 financials.
Deutsche Bank analyst Matt O'Connor rates JPMorgan a "buy" and, in a note to clients on Wednesday following a meeting with the bank's CFO Marianne Lake, raised his price target for the shares to $66 from $64. The new price target implies upside of 19% over the next 12 months from JPMorgan's Wednesday closing price of $55.53.
JPMorgan earned $17.9 billion, or $4.33 a share during 2014, with earnings lowered by $7.2 billion after tax, or $1.85 a share, as it set aside reserves during the third quarter to help cover $17.5 billion in fourth-quarter residential mortgage-backed securities settlements with government authorities and regulators. The company also took a major hit in the fourth quarter, with earnings lowered by $1.1 billion after tax, or 27 cents a share, for legal expenses, which included the company's deferred prosecution agreement with the Department of Justice for its role in the Bernard Madoff Ponzi scheme.
O'Connor estimates JPMorgan's earnings will grow to a record $6.00 a share during 2014, with EPS rising to $6.60 in 2015 and hitting $7.00 in 2016, assuming a stable interest-rate environment. In a scenario of a 200 basis-point parallel rise in interest rates, the analyst believes JPMorgan's 2016 EPS could rise to $8.00.
Is a 200 basis-point parallel rate-rise extreme? Not really. A federal funds rate of 2.00% and yield of 4.72% on 10-year U.S. Treasury bonds would still represent a moderate interest rate environment.
"Even on current earnings expectations, JPM seems attractively valued," O'Connor wrote. Based on Wednesday's closing price, JPMorgan trades for 8.76 times the consensus 2015 EPS estimate of $6.34. Among major U.S. banks, only Citigroup (C) - Get Citigroup Inc. Report trades lower, at 8.4 times the consensus 2015 EPS estimate of $5.75, based on Wednesday's closing price of $48.08. 
Citi on Wednesday was downgraded all the way to a "sell" rating from a "buy" rating by Rafferty Capital Markets analyst Richard Bove on concerns over the bank's exposure to troubled emerging market economies.
Shares of JPMorgan Chase were up 1.5% to $56.36 in afternoon trading Thursday, while Citigroup shares were up 1.1% to $48.58.
The following chart shows the stock performance of JPMorgan and Citigroup against the KBW Bank Index I:BKX and the S&P 500 since the end of 2011.
data by YCharts
Bank of America Faces Major Earnings Dip When Reserve Releases End

New York Community Bancorp Downgraded by KBW
Philip W. van Doorn is a member of TheStreet's banking and finance team, commenting on industry and regulatory trends. He previously served as the senior analyst for TheStreet.com Ratings, responsible for assigning financial strength ratings to banks and savings and loan institutions. Mr. van Doorn previously served as a loan operations officer at Riverside National Bank in Fort Pierce, Fla., and as a credit analyst at the Federal Home Loan Bank of New York, where he monitored banks in New York, New Jersey and Puerto Rico. Mr. van Doorn has additional experience in the mutual fund and computer software industries. He holds a bachelor of science in business administration from Long Island University.