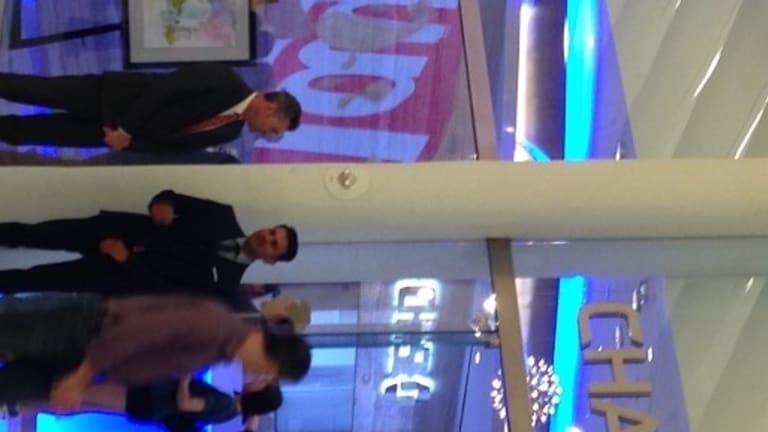 JPMorgan Chase (JPM) - Get JPMorgan Chase & Co. (JPM) Report opened its original World Trade Center branch more than 40 years ago.
The office was there for Phillippe Petit's tightrope walk between the twin towers in 1974, and it weathered a 1993 bombing before it was destroyed with the rest of the complex in the 9/11 terrorist attacks.
Now, the bank has returned, with a state-of-the-art branch at Westfield's $1.4 billion shopping plaza, which held a grand opening celebration Tuesday in the main hall of the distinctive white-ribbed Oculus transit hub. The New York-based company is the center's only financial services firm, with 11 ATMs scattered throughout in addition to the full-service branch, whose design subtly evokes the site's history.
Slightly smaller than the typical Chase banking center, the 2,700 square-foot office combines traditional services with state-of-the-art technology, including full-screen ATMs that dispense cash in a variety of denominations, from $1 bills to $100. Along with two teller windows, there are also four offices where customers can meet with bankers to discuss more complex financial needs, from wealth management to mortgages.
The mixture reflects the importance of striking the right balance with such services: While tech-based products like mobile deposits and advanced ATMs are in high demand, surveys have shown customers still want brick-and-mortar sites, too -- partly for in-person consultations. Since the financial crisis of 2008-09, clients increasingly are seeking financial advice that traditional branches employing mostly tellers weren't equipped to provide.
That's one of the reasons that branches remain a priority for JPMorgan, which ended last year with 5,400 of them, down about 3.6% from 2013. While conventional wisdom suggests millennials, the prized market born from 1980 to 2000, shuns branches for digital banking services on smartphones and tablets, that's not necessarily true, JPMorgan found. 
"Often, I will be asked, why don't we just accelerate closings?" Gordon Smith, the company's chief of consumer and community banking, told investors earlier this year. "Why don't we close 400 branches or 500 branches? The answer is that customers want to go there."
And such customers represent a vital part of JPMorgan's profit engine: Consumer banking generated $11.5 billion of revenue in the three months through June, roughly 45% of the parent company's total.
The bank will be particularly well-positioned to serve that market at the World Trade Center, whose transit hub will host 300,000 daily commuters by next year. The site's restaurants and shops, from John Varvatos to Lacoste and H&M, will cater to an additional 60,000 neighborhood residents, according to Australia-based Westfield, which developed it.
JPMorgan can handle the high volume in a space that's about 20% smaller than usual, in part because of the array of high-tech ATMs scattered around the shopping center, said John McGinley, the bank's head of branch real estate. The machines will eventually use near-field communication to let customers access them with their smartphones instead of the traditional plastic card.
"This represents the latest in all our technology," Erin Hill, Chase's head of consumer branch banking and wealth management," said in an interview Tuesday at the World Trade Center bank.
Because the ATMs offer a variety of self-help options, packaging a variety of services into the space was easier, she explained. "We didn't need a cavernous space for teller windows."
Still, "if you want to see a teller, you can always see a teller," she noted. "That's an important part of our business."