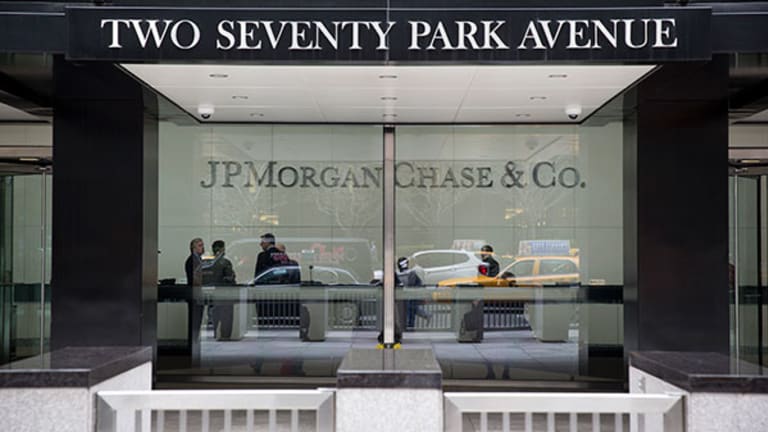 JPMorgan Chase Posts Unexpected Loss, $7.2B in Legal Expenses
JPMorgan Chase kicks off bank earnings season with a surprising report, hinging government demands.
Updated from 9:14 a.m. ET with additional detail throughout, comments from conference call.
JPMorgan Chase (JPM) reports third-quarter loss of $380 million or 17 cents per share.
Revenue came in at $23.9 billion.
Analysts expected the bank to report an earnings per share of $1.17 on revenues of $23.94 billion, according to Thomson Reuters.
Losses include $7.2 billion in legal expenses, including reserves for litigation.
NEW YORK (TheStreet) -- JPMorgan Chase reported an unexpected loss in the third quarter on the back of higher-than-expected legal expenses as the bank faced "escalating demands and charges from multiple government agencies."
This is the first loss the bank has ever reported since Jamie Dimon took over as CEO in 2006, a loss that is all the more painful considering the bank managed to stay profitable throughout the financial crisis. It is also the first time it has missed estimates since December 2011.
Still, shares were trading in the green early Friday. The bank's underlying businesses performed mostly in line with expectations. Investors also appear to be optimistic that the bank is well reserved for future legal losses, with the bank disclosing for the first time that it had $23 billion in reserves for litigation.
The New York-based bank reported net loss for the third quarter of $380 million or 17 cents a share, compared to $6.5 billion or $1.60 a share in the second quarter and $5.7 billion or $1.40 a share during the third quarter or 2012.
Revenue on a managed basis for the third quarter was $23.9 billion, down 8% from the previous quarter and down 8% year-over-year.
Analysts polled by Thomson Reuters expected earnings of $1.17 a share on revenue of $23.94 billion.
The third-quarter results included $7.20 billion in after-tax legal expenses ($1.85 per share after-tax decrease in earnings), including reserves for litigation and regulatory proceedings.
It also included a $1.6 billion pretax benefit ($992 million after tax or 26 cents per share) from reduced reserves in consumer and community banking, in line with its guidance and expectations.
Excluding these items, the bank pointed out that it earned a "core" profit of $5.8 billion or $1.42 per share.
"While we had strong underlying performance across the businesses, unfortunately, the quarter was marred by large legal expense. We continuously evaluate our legal reserves, but in this highly charged and unpredictable environment, with escalating demands and penalties from multiple government agencies, we thought it was prudent to significantly strengthen them. While we expect our litigation costs should abate and normalize over time, they may continue to be volatile over the next several quarters," JPMorgan Chairman and CEO Jamie Dimon said in a statement.
He added that the bank continues to seek "fair and reasonable" settlement with the government on mortgage-related issues, "one that recognizes the extraordinary circumstances of the Bear Stearns and Washington Mutual transactions, which were undertaken at the request or encouragement of the U.S. Government."
JPMorgan entered into three major settlements in the third quarter. These included an agreement to pay $410 million "in penalties and disgorgement to ratepayers," to settle Federal Energy Trading Commission charges of market manipulation, $920 million in fines to settle multiple probes of the 2012 "London Whale" trading fiasco and another $369 million in fines and customer refunds to settle regulatory charges of "illegal credit card practices."
JPMorgan has been negotiating with the Department of Justice, bank regulators and states' attorneys general to settle numerous criminal and civil investigations of its mortgage lending and sales activities. The settlement could end up as high as $11 billion, according to media reports, and the negotiations may have been held back by the ongoing partial shutdown of the federal government.
The Wall Street Journal reported late Thursday that the bank and the Department of Justice were still far from reaching an agreement.
In a presentation to investors, the bank said that in its estimate, 80% of the mortgage-backed securities losses relate to those securities sold by Washington Mutual and Bear Stearns, before they were acquired by JPMorgan in 2008.
Dimon told analysts during the conference call that the acquisitions were causing the bank pain. He said the management in 2008 had asked the SEC to not take enforcement actions against them over Bear Stearn's mistakes and the agency said it would take it into consideration. "We weren't completely stupid" about the acquisition, he said.
He added that he did not believe the bank was responsible for Washington Mutual¿s losses, by contract. That, however, "does not mean people won't come after you. So that was a bit of a lesson learned too," he said.
Still, Dimon's comments Friday suggest that the bank will not settle charges without a fight. "We're going to do what's in the best interest of our shareholders all things considered, it's a board level decision and it needs to be fair, reasonable, taking consideration all of the facts."
Management however warned that the legal expenses could be volatile. Even though it has set aside $23 billion toward litigation reserves, including the latest addition of $9.15 billion to reserves, the bank's estimate of reasonably possible legal losses in excess of reserves dropped only slightly to $5.7 billion, from $6.8 billion in the previous quarter
CFO Marianne Lake said in a media conference call that the legal expenses were much higher than the bank had anticipated but reflected "today's reality for us." She said legal expenses would be lumpy quarter to quarter but will normalize over time.
Dimon said the bank was getting closer to putting its legal problems behind it, but said that the environment remained unpredictable. "We wish we could reduce the uncertainty for investors but we can't."
He added that while the legal issues were painful, the bank's underlying performance was still strong.
JPMorgan saw revenue from consumer and community banking business decline 8% from the previous quarter and 13% from a year earlier. Lower credit losses however boosted profits by 15% year-over-year.
Net interest income was down 2% at $7.1 billion, driven by lower deposit margins and spread compression in credit card and auto loans. The bank said net interest income would be flat in the near term.
Expectedly, the bank took a hit in its mortgage production business, with refinancing volumes plunging on higher interest rates. Mortgage production revenue, excluding repurchase losses plummeted 67% from the previous year. Mortgage originations declined 14% year-over-year and 17% quarter-over-quarter to $40.5 billion.
The bank posted a mortgage pretax income of $90 million. But excluding repurchases, it posted a loss of $85 million. The bank had already warned that it was likely to see negative mortgage production pre-tax margins in the second half of the year.
JPMorgan expects to have cut 11,000 jobs by the end of the year.
The bank's fixed income trading revenue declined 8% from a year ago. September was marked with higher volatility and lower volumes as the Federal Reserve decided not to go ahead with its plan to taper bond purchases.
Equity trading revenue was however up by 20%, while investment banking fees was up 6%.
Underlying credit trends continue to improve. The bank said it expects to release $150 million in reserves in its card and auto loan division in the fourth quarter. It also expects to release more mortgage reserves if charge offs continue to trend down.
The bank reported a Basel III Tier I Common Capital of 9.3% at the end of the third quarter. Management said during the media call that it still plans to finish the year with a target of 9.5%.
It also said that the bank's legal issues would not interfere with its plans to buy back shares or pay dividend.
Buybacks would still be largely dependent on the stock price and the bank's internal capital targets, Dimon said in the media call.
-- Written by Shanthi Bharatwaj in New York.
>Contact by Email.
Disclosure: TheStreet's editorial policy prohibits staff editors and reporters from holding positions in any individual stocks.