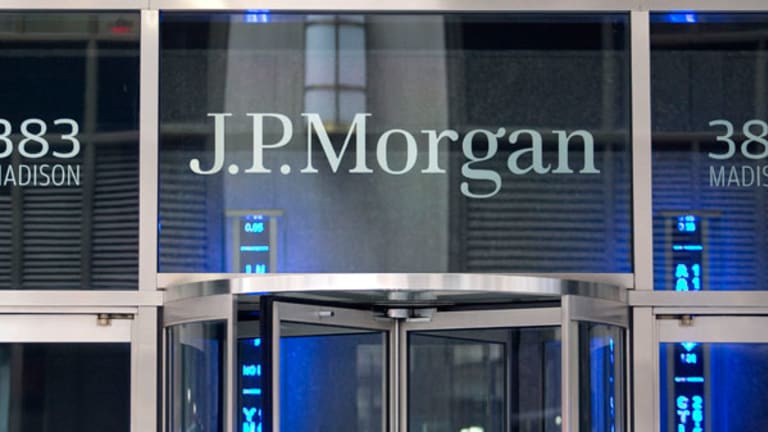 JPMorgan Chase Beats on Better-Than-Expected Trading (Update 2)
CEO James Dimon touted "strong performance across our businesses."
JPMorgan Chase reports second-quarter profit of $6.5 billion or $1.60 a share.
Net revenue comes in at $26.0 billion.
The consensus estimate among analysts was EPS of $1.44 on revenues of $24.84 billion.
Updated from 7:21 a.m. ET with additional information throughout.
NEW YORK (
) --
JPMorgan Chase
(JPM) - Get JPMorgan Chase & Co. Report
on Friday said its second quarter profit rose 31% from a year earlier, beating expectations, boosted by stronger-than-expected trading revenues and a continuing decline in credit costs.
The New York-based bank reported net income for the second quarter of $6.5 billion or $1.60 a share, compared to $6.52 billion or $1.59 a share in the first quarter and $4.96 billion or $1.22 per share during the second quarter or 2012.
Revenue for the second quarter was $25.95 billion, up 13% year-over-year. Analysts polled by
Thomson Reuters
expected earnings of $1.44 a share on revenues of $24.84. billion.
The year-ago results were weighed down by more than $4 billion in losses from the "London Whale" trading debacle.
The second-quarter results included a $950 million pre-tax benefit from reduced loan loss reserves in real estate portfolios, $550 million in pre-tax benefits from reserve releases in the credit card portfolio, which was offset by $600 million pre-tax expenses for additional litigation reserves. The non-core earnings items added 15 cents to earnings-per-share.
"Our earnings reflected strong performance across our businesses," Chairman and CEO Jamie Dimon said, making special mention of the strong improvement in asset quality. "Net charge-offs remain near historical lows in our Credit Card business, have dropped to less than half of what they were a year ago for our Real Estate Portfolios and remained very low in our wholesale portfolios. In light of these trends, we reduced the allowance for loan losses in Consumer & Community Banking in the second quarter by a total of $1.5 billion."
However, he said loan growth had been soft, reflecting a cautious stance by small businesses.
Shares of JPMorgan were flat in pre-market trading.
Trading revenues were up 18% year-over-year at $5.4 billion. That is higher than the 10-15% guidance issued by management earlier in June. The performance reflected "solid client revenue and improved performance in credit-related and equity products," the bank said.
April and May were strong months for trading, but a sudden and sharp rise in interest rates added turmoil to the market in June.
Still, fixed income trading revenue fared better-than-expected, rising 17% from a year ago to $4.07 billion, but declining 14% from the seasonally strong first quarter.
Equity trading was down 3% from the first quarter, but up 24% year-over-year at $1.3 billion.
Investment banking fees were up 20% quarter-over-quarter and 38% year-over-year, on strong equity underwriting.
However, core net interest income, which accounts for more than 40% of operating revenues, disappointed, declining 1% from the previous quarter and 5% from a year-ago to $9.5 billion. Net interest yield -- the spread between interest earned on assets over interest paid on deposits and borrowings -- continued to fall, dropping by 17 basis points to 2.20% from 2.37% in the first quarter and 2.40% a year earlier.
The bank said cash balances increased by $109 billion over the first quarter, partly due to additional deposit growth. This accounted for 18 basis points of core net interest yield. Additionally, the bank earned lower yields on loans and investment securities.
In its guidance, the bank said it expects net interest margins to be stable in the second half and that it expects net interest income to be modestly higher.
In the rate-sensitive mortgage business, originations were down 7% quarter-over-quarter but up 12% year-over-year, at $49 billion. Significantly, purchase originations were still up 50% year-over-year and 44% quarter-over-quarter.
Mortgage production pre-tax income came in at $582 million, down by $349 million or 38% from the prior year, on lower gain-on-sale margins and higher production expenses as the bank increased its headcount.
"If primary mortgage rates remain at or above current levels, refinance volumes and margins will be under pressure and Mortgage Production profitability will be challenged," the bank said in a presentation to investors.
On a positive note, it said investors can expect more reserve releases as charge-offs and delinquencies continue to trend lower.
The card, merchant and auto business saw net income rise 21% to $1.2 billion, driven by improving credit, higher revenue and lower expenses. Here too, the bank said, a continuing decline in defaults could prompt more reserve releases in the second half.
The bank finished the quarter with an estimated Basel III Tier I Common Capital Ratio of 9.3%, including the impact of final rules issued last week.
-- Written by Shanthi Bharatwaj in New York.
>Contact by
.
Disclosure: TheStreet's editorial policy prohibits staff editors and reporters from holding positions in any individual stocks.