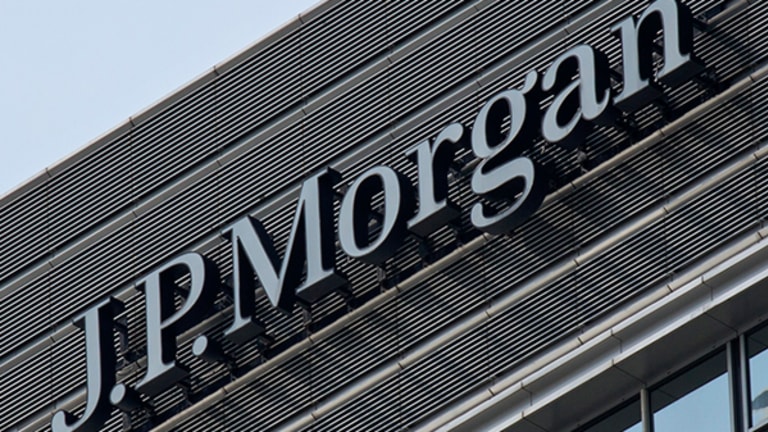 JPMorgan at Risk With FHFA Settlement
Language admitting wrongdoing with the FHFA could feed private lawsuits, if not worded very carefully.
NEW YORK (
) --
JPMorgan Chase
(JPM)
will have to be very careful if it admits wrongdoing as part of an expected $4 billion settlement with the Federal Housing Finance Agency, to avoid opening up major exposure in private mortgage putback lawsuits.
As part of the large settlement expected between the nation's largest bank, the Department of Justice, federal regulators and states' attorneys general, JPMorgan Chase is working on a $4 billion settlement with the FHFA, which regulates
Fannie Mae
(FNMA)
and
Freddie Mac
(FMCC)
. Fannie and Freddie were taken under government conservatorship in September 2008.
JPMorgan Chase,
Bank of America
(BAC)
and other major mortgage lenders have already entered into large direct settlements with Fannie and Freddie, over the losses on loans sold directly to the agencies. Those loans were made under Fannie Mae and Freddie Mac guidelines, and the agencies had all the relevant data to make strong cases for settlements.
The FHFA settlement is completely different, because it will cover the losses taken by Fannie Mae and Freddie Mac -- together known as the government sponsored enterprises, or GSEs -- on private label mortgage-backed securities sold to them by JPMorgan. The GSEs bought a huge amount of private label paper during the housing boom. This means that they were buying the same MBS that other institutional investors bought from JPMorgan.
"The Department of Justice now has this mandate that any settlement you make with a company has to include some statement of admission of wrongdoing," says Guggenheim analyst Marty Mosby.
Making an admission of wrongdoing in the direct sale of loans to GSEs is relatively easy, according to Mosby, since a bank "can say that due to a lack of strict controls and overriding acceptance in the marketplace, there was mismanagement, but nothing fraudulent."
But language admitting wrongdoing in the sale of private label MBS to Fannie and Freddie is "very sticky," Mosby says. "That is a critical piece of language. As soon as you admit to any wrongdoing to FHFA, it will affect lawsuits from private investors."
The
Wall Street Journal
on Wednesday reported that a group of investors, including
BlackRock
(BLK)
and
Neuberger Berman
are seeking "at least $5.75 billion" from JPMorgan Chase, to recover losses on mortgage-backed securities sold to them by the bank.
According to Mosby, "Any estimate
of JPM's ultimate exposure from lawsuits on the private label side is a real guess."
"They are dealing with five levels: Fannie, Freddie, the Federal Housing Administration (FHA), FHFA and private label. JPMorgan wants to get through the first four of those, and then be left with the private label stuff they have to fight for the next several years," he says.
With home prices continuing to rise Mosby says "a lot of those private label securities are boing to perform well enough that the investors' appetite to go through that battle is probably going to be less."
What About JPMorgan's Stock?
Investors who are not among the JPMorgan Chase faithful may wonder why the stock has performed so well, especially recently, but the numbers really do tell a good story for the long-term.
JPMorgan's shares closed at $52.75 Wednesday, returning 23% this year, which compares rather well to the 26% return for the
KBW Bank Index
undefined
, especially when considering the pummeling the bank has taken this year from regulators and the media.
The shares are up slightly since Sept. 10, the day before the company surprised investors by announcing a
of $380 million, or 17 cents a share, springing from $9.15 billion in extraordinary legal expenses, which came to $7.2 billion, or $1.85 per share, after tax.
At that time, the media reports centered on a figure of $11 billion for government settlement. In the meantime, the figure has climbed as high as $13 billion. JPMorgan Chase reported $23 billion in litigation reserves as of Sept. 30. The coming settlements will of course make a big dent, and there's no way of knowing how much in additional legal reserves the company will set aside for a possible wave of private mortgage putback lawsuits.
Why do 26 out of 33 sell-side analysts polled by
Thomson Reuters
rate JPMorgan Chase a buy?
One reason is that the shares trade for 8.8 times the consensus 2014 earnings estimate of $6.01 a share. That is one of the lowest forward price-to-earnings ratios for actively traded U.S. banks.
Another reason is that the company actually
grew its third-quarter operating revenue
year-over-year, if litigation reserve provisions and the industry-wide decline in mortgage revenue were stripped out.
"If you look at the fundamentals without the litigation charges, they are still producing about a 15% return on average tangible common equity, even backing out the
loan loss reserve release," according to Mosby.
Another factor in the stock's strong performance is the quarterly dividend of 38 cents, which equates to a yield of 2.88%, based on Wednesday's closing price.
That dividend is not likely to be affected by JPMorgan's regulatory and legal mess, since it was approved in March by the
Federal Reserve
as part of the regulator's annual stress test process, which for the largest banks holds dividends to roughly 30% of earnings.
The dividend provides a $50 "floor" for the stock, according to Mosby, because at that point the yield would be 3%. The analyst rates JPMorgan a "buy," with a price target of $63.00.
"Over the next year, the downside risk is minimal, with a lot of upside potential, if they can get through this settlement without causing anymore heartburn," he says.
data by
Interested in more on JPMorgan Chase? See TheStreet Ratings' report card for this stock.
RELATED STORIES:
Madoff Deferred Prosecution Would Tighten Noose Around JPMorgan's Neck
Fifth Third, JPMorgan Lead Big Bank Revenue Winners: KBW
Real Estate Industry Freaks Over Fannie and Freddie Pullback Plan
How Deutsche Bank Trust Investors Could Profit From JPMorgan's Legal Woes
JPMorgan Settlement Looms Over Weak Bank Earnings
-- Written by Philip van Doorn in Jupiter, Fla.
>Contact by
.
Philip W. van Doorn is a member of TheStreet's banking and finance team, commenting on industry and regulatory trends. He previously served as the senior analyst for TheStreet.com Ratings, responsible for assigning financial strength ratings to banks and savings and loan institutions. Mr. van Doorn previously served as a loan operations officer at Riverside National Bank in Fort Pierce, Fla., and as a credit analyst at the Federal Home Loan Bank of New York, where he monitored banks in New York, New Jersey and Puerto Rico. Mr. van Doorn has additional experience in the mutual fund and computer software industries. He holds a bachelor of science in business administration from Long Island University.