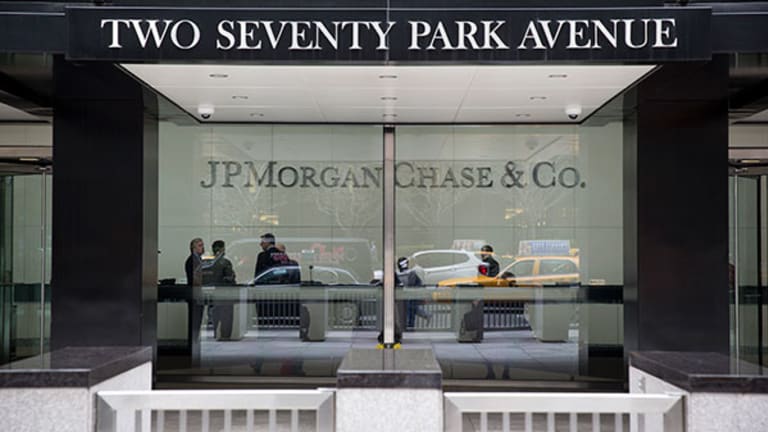 Publish date:
JPM Is a 'Buy,' Despite WaMu, Says Goldman
JPMorgan has suffered $18 billion in 'unexpected losses' from two acquisitions, but they were worth it, says Goldman Sachs analyst Richard Ramsden.
JPMorgan has suffered $18 billion in 'unexpected losses' from two acquisitions, but they were worth it, says Goldman Sachs analyst Richard Ramsden.
NEW YORK (TheStreet) -- Next time a big bank fails, don't expect buyer to swoop in quickly, like JPMorgan Chase (JPM) - Get JPMorgan Chase & Co. (JPM) Report did following the epic failure of Washington Mutual in September 2008.
When JPMorgan bought the failed Washington Mutual Bank (not the holding company) from the Federal Deposit insurance Corp. for $1.9 billion, it became the largest U.S. bank by deposits, and added over 2,200 branches.  JPM at that time said that "Excluded from the transaction are the senior unsecured debt, subordinated debt, and preferred stock of Washington Mutual's banks. JPMorgan Chase will not be acquiring any assets or liabilities of the banks' parent holding company (WM) or the holding company's non-b bank subsidiaries."
In March of 2008, in a deal that was pushed by the Federal Reserve, JPMorgan had acquied Bear Stearns, which faced imminent bankruptcy as its liquidity dried up. 
JPMorgan's landmark $13 billion residential mortage-backed securities (RMBS) settlement on Tuesday with the Department of Justice and other government authorities, and a previous $4.5 billion RMBS settlement with a group of institutional investors on Nov. 15, bring the bank's fourth-quarter mortgage litigation tab to at least $17.5 billion.
"Roughly 75%" of those combined settlement expenses were "driven by legacy WaMu and Bear issues," according to Goldman Sachs analyst Richard Ramsden.
In a note to clients on Thusday, Ramsden wrote that "When combined with previously announced economic losses, this has reduced what were forecasted to be mid-teens [internal rate of return, or] IRR deals into a negative $2bn P&L impact so far."  On a more positive note, Ramsden added that "this doesn't fully capture the fact that the Bear deal helped JPM grow its revenue market share in U.S. capital markets from 19% (06-07) to 25%, while the WaMu deal filled key geographic 'holes' in CA, FL and WA."
But what it means to bank regulators is that the next time a major U.S. bank fails, major players may be very reluctant to do the government a favor by preventing a bankruptcy (as JPM did with the Bear Stearns deal), or preventing a painful FDIC receivership, which would have included billions of dollars to depositors, as JPMorgan did when it agreed to take on all of Washington Mutual's deposits, including the uninsured ones.  The Washington Mutual failure occured before the basic deposit insurance limit was raised to $250,000 from $100,000, and before the FDIC temporarily lifted all deposit insurance limits on business checking accounts. 
Through the Dodd-Frank banking reform legislation, Basel III and the great strengthening of supervision, regulators are hoping not to see another failure of a major U.S. bank, but in the event of another liquidity or credit crisis, a speedy acquisition of a large, flailing bank is unlikely.
"In the aftermath of these deals, future acquisitions of distressed banks are unlikely, in our view. This means regional banks may have to be self-resolvable and could be subject to new regulatory requirements on 'bail-inable' debt, Ramsden wrote.
"More regional bank debt is negative for equity as it is considerably more expensive than deposit funding. For credit, we expect debt losses in smaller banks to be higher than for larger institutions in the event of a failure. This, combined
with higher supply as banks get compliant with new rules, could result in a significant widening of spreads for smaller banks versus their G-SIFI peers," according to Ramsden.
G-SIFI stands for Global Systemically Important Financial Institutions.  This is the group of big banks, including JPMorgan, Bank of America (BAC) - Get Bank of America Corp Report, Wells Fargo (WFC) - Get Wells Fargo & Company Report, and Citigroup (C) - Get Citigroup Inc. Report, among many others, that is subject to higher capital requirements than regional banks under Basel III.
In light of JPMorgan's substantial litigation cost from the Washington Mutual deal in particular, the implied reluctance for subsequent deals of this type puts regional banks at a permanent disadvantage, because of higher borrowing costs.  This is a perverse outcome, considering how much effort is going into strengthening the entire banking system and all the talk about taking away the advantages of the "too big to fail" banks.
It Was Worth It
In addition to the market share gain in prime brokerage following the Bear Stearns acquisition, JPMorgan has "rapidly been harvesting gains" in market share from the Washington Mutual purchase in several key markets.  JPM's overall U.S. deposit market share has increased to 10.9% from 8.8% in 2009.
Despite the lingering pain, the gains in market share from the Bear Sterns and Washington Mutual acquisitions have made the deals worthwhile, according to Ramsden.  "With headline risk now reduced," the analyst on Thursday reiterated his "buy" rating for JPMorgan, with a $63 price target.
JPMorgan's shares closed at $57.22 Thursday.  The shares trade for 9.5 times the consensus 2014 earnings estimate of $6.02 a share, among analysts polled by Thomson Reuters.  The consensus 2015 EPS estimate is $6.37.
Interested in more on JPMorgan Chase? See TheStreet Ratings' report card for this stock.
RELATED STORIES:
Fairholme's Fannie-Freddie Plan 'At the Edge of Ludicrous': Summers
Big Banks Lead Market Higher Following Yellen Approval
Bank of America Is the 'Top Sector Pick'
JPMorgan's 'Admission' Oversold by Government
Settlement Unshackles JPMorgan's Stock
$4B in JPMorgan Consumer Relief Will Rankle Investors
-- Written by Philip van Doorn in Jupiter, Fla.
>Contact by Email.
Philip W. van Doorn is a member of TheStreet's banking and finance team, commenting on industry and regulatory trends. He previously served as the senior analyst for TheStreet.com Ratings, responsible for assigning financial strength ratings to banks and savings and loan institutions. Mr. van Doorn previously served as a loan operations officer at Riverside National Bank in Fort Pierce, Fla., and as a credit analyst at the Federal Home Loan Bank of New York, where he monitored banks in New York, New Jersey and Puerto Rico. Mr. van Doorn has additional experience in the mutual fund and computer software industries. He holds a bachelor of science in business administration from Long Island University.