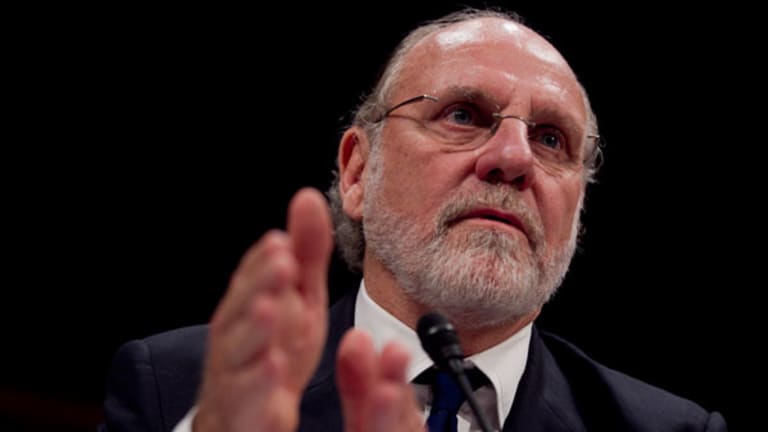 Jon Corzine Sued By MF Global Bankruptcy Trustee
MF Global's bankruptcy trustee sues Jon Corzine, top executives.
Updated from 9:33 a.m. ET to include Corzine statement and additional commentary throughout
.
NEW YORK (
) - Jon Corzine, the former head of
MF Global
, is being sued by the trustee of the bankrupt commodity broker's estate, in a civil case that may mark an unspectacular end to attempts to hold the former Wall Street kingpin accountable for what was the nation's eighth largest bankruptcy at the time.
In August, the
New York Times
reported that Corzine and top MF Global executives were unlikely to face criminal charges for the firm's demise.
Instead, Corzine is being sued by trustee Louis J. Freeh for breaching his financial duty to MF Global's creditors, as the firm expanded into investment banking and proprietary trading without having the controls in place to manage the firm's increasing financial risk profile.
Notably, Freeh points to Corzine's decision to enter $6.3 billion in repurchase contracts tied to European government bonds between 2010 and 2011 as leading MF Global towards its demise.
Without controls in place governing the ability to meet margin calls and money transfers in MF Global's various subsidiaries, Corzine's risky strategy to bolster profits by way of repurchase contracts backfired.
The trustee states that Corzine's appetite for risk and lack of focus on bolstering the MF Global's financial controls precipitated the firm's downgrade to a sub-investment grade rating by Moody's and warnings from the Financial Industry Regulatory Authority.
Ultimately, ratings downgrades caused a run on MF Global that led to its demise in October 2011. As MF Global entered bankruptcy, however, it was found out that the firm had a shortfall of $1.6 billion in customer funds, which should have been segregated from its operating activities.
Top executives Bradley Abelow, Henri Steenkamp were also named as defendants in the complaint.
"The Trustee brings this action against Defendants for acts and omissions that culminated in the business collapse of the Company and the bankruptcies of the Debtors," Freeh's complaint reads.
"As detailed herein, Defendants, in their capacities as officers, breached their fiduciary duties of care, loyalty, and oversight over the Company, and failed to act in good faith."
In total, Freeh states in the complaint that the poor oversight and a failure to remedy deficient controls by Corzine and other executives cost MF Global creditors over $1 billion. The complaint indicates top MF Global executives will face civil litigation related to the firm's demise, however, it doesn't specify damages.
Similar to the Trustee's report a few weeks ago, this lawsuit, like others that are based on allegations of negligent conduct, is a clear case of Monday Morning Quarterbacking," said Steven Goldberg, a spokesperson for Jon Corzine, of Tuesday's suit.
"There is no basis for the claim that Mr. Corzine breached his fiduciary duties or was negligent. To the contrary, Mr. Corzine was recruited to revitalize a troubled company, and during his entire tenure as CEO he worked tirelessly with the Board, firm management and world class consultants to improve MF Global's operations and performance."
Freeh's complaint also appears to minimize the culpability of rank and file employees in the $1.6 billion in missing customer money that was revealed MF Global's eventual demise.
"Because of the Company's deficient systems, members of the Company's Treasury Department were not aware at the time that they were using customer funds," the complaint states.
"This is really a battle between Mr. Freeh's view that Mr. Corzine embarked on a risky investment strategy that ignored warnings of failures within the company's procedures and controls and ultimately led to the company's collapse, and Mr. Corzine's version of events which lays blame for the company's failure on external market forces," Robert Mintz, a partner in the business & dinancial services litigation practice at law firm McCarter & English, said in an e-mail.
James Giddens, a trustee representing MF Global's brokerage customers, is selling off assets to repay those creditors under the
Securities Investor Protection Act
. According to a 2012 report, Giddens also alleged breach of fiduciary duty and negligence against Corzine and other MF Global executives.
-- Written by Antoine Gara in New York