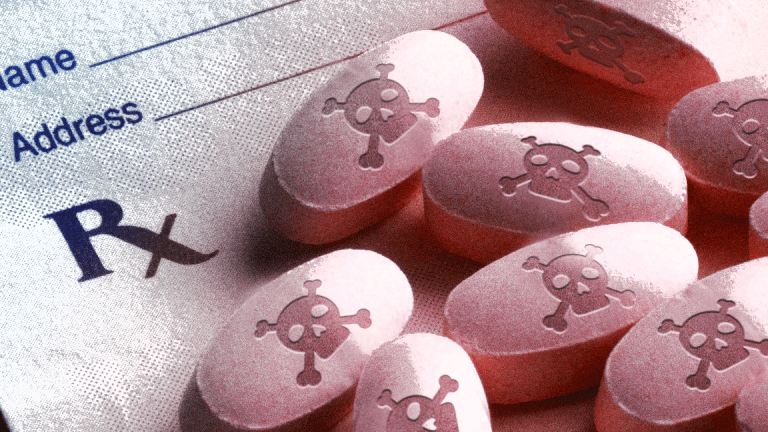 Johnson & Johnson Gains On Opioid Settlement Reports; Distribution Firms Surge
Johnson & Johnson extended gains Wednesday amid reports it could be close to agreeing a multi-billion dollar settlement with state attorneys general over its role in the nation's opioid crisis.
Johnson & Johnson (JNJ) - Get Johnson & Johnson (JNJ) Report shares extended gains Wednesday amid reports it could be close to agreeing a multi-billion dollar settlement with state attorneys general over its role in the nation's opioid crisis.
Bloomberg reported late Tuesday that Johnson & Johnson has offered to pay around $4 billion to wipe out claims against it linked to an impending trial in Cleveland, Ohio, that seeks damages and redress from a  national crisis that is estimated to have killed more than 400,000 people over the past two decades.
Earlier this month, Johnson & Johnson agreed to pay $20.4 million, including opioid-rleated damages and legal costs, to Cuyahoga and Summit counties in Oho, but admitted no culpability. That deal followed a similar agreement with a court in Oklahoma that saw the group pay $572.1 million in damages for the misleading marketing and promotion of its Nucynta and Duragesic painkillers.
"With respect to opioids, you've seen two divergent paths," Johnson & Johnson CFO Joe Wolk told investors on a conference call Tuesday. "In Oklahoma, even the Attorney General said many times during the court proceedings, this is not about Johnson & Johnson, it's about that there is an opioid crisis." 
"In Ohio, you saw something different," he explained. "We saw a reasonable amount in proportion to other companies that were involved as defendants. We were particularly pleased to see that the funds were going to victims of opioid addiction. And so for many reasons there, we thought the best path for all stakeholders was settlement, and that's something that we will always kind of take into account in terms of what is the best solution for all stakeholders, including investors who obviously want certainty."
Johnson & Johnson shares were marked 1% higher at the start of trading Wednesday to change hands at $134.05 each, following yesterday's 1.62% advanced that was sparked by the healthcare firm's stronger-than-expected third quarter earnings report.
Separately, the Wall Street Journal reported that three pharmaceutical groups controlling around 85% of the U.S. prescription drug market -- McKesson Corp. (MCK) - Get McKesson Corporation (MCK) Report , Cardinal Health (CAH) - Get Cardinal Health, Inc. Report and AmerisourceBergen Corp (ABC) - Get AmerisourceBergen Corporation Report -- are close to a deal that would see the trio pay $18 billion over ten years to cover liabilities stemming from nearly 5,000 pending state and federal lawsuits.
McKesson shares surged 3% to $142.13 each, while Cardinal Health was marked 41.4% higher at $48.76 each. AmerisourceBergen, meanwhile, was indicated 2.2% higher at $85.05 each.
Last month, OxyContin maker Purdue Pharma LP filed for Chapter 11 bankruptcy protection, and said it had reached a tentative agreement to settle lawsuits brought by attorneys general in 24 U.S. states, and well as similar actions filed by legal counsels in 2,000 cites and counties around the country that it estimates will "provide more than $10 billion of value to address the opioid crisis."
Dozens of other U.S. states, however, as well as many other private and public plantiffs, have declined to participate in the proposed settlement, leaving Purdue and its controlling Sackler family liable for billions more in judgments should the various suits, linked to the breadth and depth of the opioid crisis, eventually succeed.