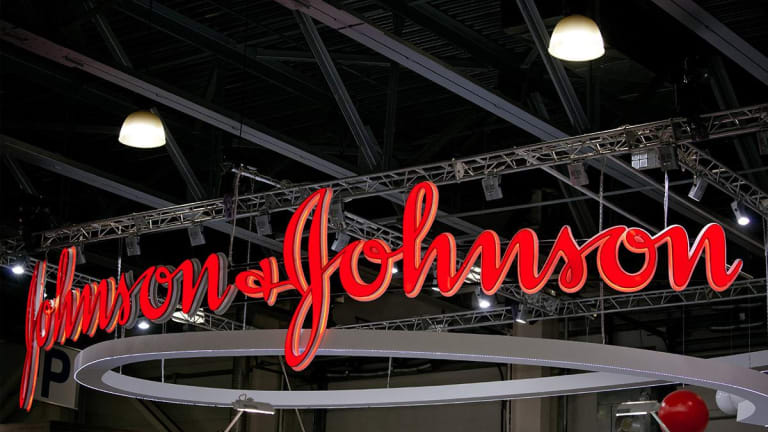 Johnson & Johnson Is a Great Company Trading at a Fair Price
Drug companies continue to be scapegoats on Capitol Hill and the talcum powder issues aren't disappearing for J&J. Yet its operations and balance sheet are stellar and J&J shares trade at a discount to historical averages.
There are few companies in American history that have generated more wealth for its long-term shareholders than Johnson & Johnson (JNJ) - Get Johnson & Johnson (JNJ) Report . It was founded in 1886 and throughout the years it has adapted and evolved into one of the world's largest bio-technology/pharmaceutical company.
J&J's current market cap is north of $360 billion. But this isn't just a long-term growth story. J&J is also very generous with its shareholder returns. 
Johnson & Johnson is one of the best-known dividend aristocrats, having raised its annual dividend for 56 consecutive years. J&J currently offers shareholders a 2.65% dividend yield that is widely considered to be one of the safest in the world. And, over the last five years, Johnson & Johnson has retired approximately 4.35% of its total outstanding share count and in December, J&J management announced that it was adding $5 billion to the share repurchase authorization.
On top of it all, J&J is one of only two companies in the world that can boast a AAA-rated balance sheet (the other is Microsoft (MSFT) - Get Microsoft Corporation (MSFT) Report ). This AAA rating is even higher than the United States government's, which was downgraded from AAA to AA+ by Standard and Poor's in August of 2011. 
So with all of these bullish qualities going for the company, you'd think that Johnson & Johnson shares would trade at a premium to the broader market, right? Well, not quite.
Valuation and Talcum Powder Concerns
Johnson & Johnson currently trades with a 16.4x trailing twelve-month price to earnings multiple. This is below the broader market's multiple and J&J's historical average multiple in the 18.5x range.
The relative discount isn't because of earnings results. In 2018, Johnson & Johnson's top and bottom line growth figures were in-line with expectations and historical results. It's not fundamentals, but instead, negative sentiment, that is holding this company back. 
Healthcare names continue to stay in the headlines as politicians debate their future in the United States. Drug companies and pharmacy benefits managers seem to be easy scapegoats for politicians trying to explain high healthcare costs. The market never likes uncertainty, which is exactly what the constant partisan debate surrounding healthcare spawns.
Furthermore, Johnson & Johnson has been in the headlines recently because of claims that its talcum powder causes cancer. The company ardently denies these claims and appears to have data to support its position. Yet, juries in several states have awarded large financial sums to plaintiffs who are suing the company because they believe their cancers were caused by asbestos in Johnson & Johnson's baby powder. 
Most recently, a California jury awarded $29 million to a woman claiming her mesothelioma was caused by J&J products. Last year, a Missouri jury awarded $4.69 billion to 22 women claiming J&J products led to their ovarian cancers.
Yet it's worth noting that Johnson & Johnson has been successful in appeals courts regarding its talcum suits. For instance, on March 27, a New Jersey jury cleared J&J of liability in a mesothelioma case.
Johnson & Johnson continues to face thousands of talcum powder-related suits. There have been instances where the company has settled with plaintiffs and it remains unclear what the ultimate financial liability will be from this potential problem. This question mark certainly plays a role in J&J's depressed valuation.
However, looking past the talc issues, this company continues to boast one of the best drug portfolios and product pipelines in the industry. J&J generated roughly $18.5 billion in free cash flows in 2018 and forward-looking prospects for profits remain bright.
While potential billion-dollar legal liabilities can seem scary to investors, it's not as if the talcum powder problem is going to cripple this company. This is why I believe that long-term investors can use short-term weakness to build a position in this high quality name.
The team for Jim Cramer's Action Alerts Plus portfolio, which owns Johnson & Johnson, says that despite the talc risk and potential pressure from biosimilar and generic rivals, "we view Johnson & Johnson as a consistent performer with durable franchises across the consumer and healthcare industry. Importantly, we expect the company's Pharmaceutical and Consumer business to grow above their respective industry growth rates, and even though Medical Devices has lagged, we have seen encouraging signs of improvements. Lastly, the company has one of the best balance sheets in the market, providing management with plenty of optionality for strategic M&A and/or buybacks."
Follow in Warren Buffett's Footsteps
Oftentimes, I find myself setting really low target prices with wide margins of safety to help to bolster my future returns and preserve my capital. However, the problem with this is that very high quality companies like Johnson & Johnson rarely sell to these extraordinarily low levels.
J&J traded down to 11x earnings after the Great Recession and then spent the next three years trading in the 12x-13x earnings range. With this in mind, a 16.4x multiple might not seem like such a great deal. However, taking a step back, we see that the four-year period from 2009-2012 is the only time in the last 20 years that J&J has traded for less than 15x earnings.
Investors who Capitolized on that weakness have made out like bandits, but that wasn't necessary to do well with J&J stock. Johnson & Johnson's earnings growth is about as reliable as it gets. This company has posted annual EPS growth every year since the turn of the millennia. Fundamental growth like this supports a rising share price over time.
It's become incredibly cliché to quote Warren Buffett when writing investment articles and typically I try to avoid it. However, he is famous for saying, "It is far better to buy a wonderful company at a fair price than a fair company at a wonderful price" and this is a notion that bears repeating.
So with that in mind, I think now is a great time to take Mr. Buffett's advice and consider buying shares of Johnson & Johnson. Around here, we talk about the idea of getting rich carefully. Well, J&J is one of the best investment vehicles to make that happen.
Nicholas Ward is long JNJ and MSFT.