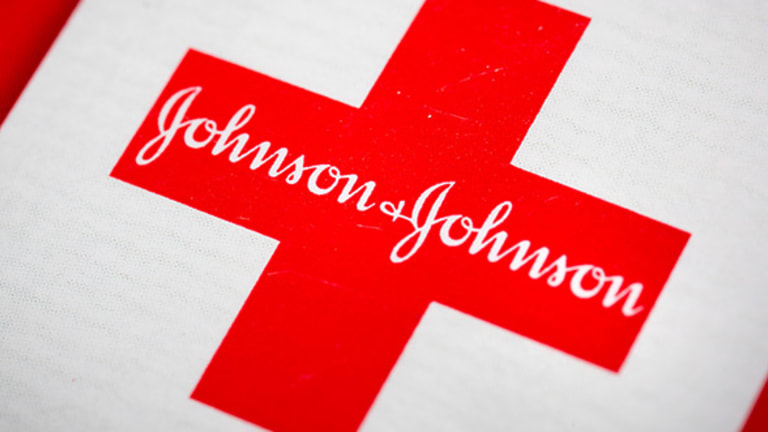 Johnson & Johnson's Stock Should Be on Everyone's Christmas List
Band-Aids in the stocking doesn't sound very exciting, but here is why this mega-company is one of the surest bets for 2017.
Johnson & Johnson (JNJ) - Get Report is a compelling opportunity for investors looking for gains from its highly diverse and profitable consumer and health care businesses.
From Band-Aids to Tylenol to breakthrough drugs, J&J covers a wide spectrum, and its portfolio seemingly grows in size every day.
J&J's nearly 13% stock price gain this year and its dependable dividend yield of about 2.7% provide more reasons to invest in the redoubtable company.
Although a few risks loom over the company's business, the $300 billion giant should manage to maintain its unwavering ascent next year.
Wall Street's concerns about the stock aren't completely illogical, however. Pfizer's launch of a drug very similar to J&J's Remicade, which delivered more than $5 billion in sales in nine months, is a clear challenge.
And the fact that J&J's massive business empire is spread across the globe also exposes it to several foreign-exchange risks.
With 51% of the company's sales coming from outside the U.S., J&J is a true global player. This year, multiple forex fluctuations put pressure on J&J's earnings, much like other heavyweights with a big chunk of sales coming from outside the U.S., including Molson Coors Brewing,Qualcomm and Texas Instruments.
This was clearly a year of uncertainty, with the U.K.'s Brexit, the U.S. presidential election and the Federal Reserve's decision to raise interest rates affecting the global economic climate. And these forex troubles could continue into next year.
In addition, President-elect Donald Trump's verbal sparring with China could also create several problems, not the least of which is a possible trade war.
However, J&J's relentless quest for value makes it a great investment option.
J&J's massive cash-churning business with levered free cash flow over the past 12 months of more than $17 billion on top of its $40 billion cash chest, should both grow.
Earnings per share are expected to increase nearly 6.2% next year, and J&J is set to continue to deliver returns.
Despite the company's wide economic moat and track record of dividend hikes, as well as stock returns, J&J's valuation metrics are manageable.
As a consumer products stock, J&J's forward price-earnings ratio, at about 16 times, is markedly lower than that of Procter & Gamble at more than 20 times. This is also in-line with pharmaceutical companies such as Merck and Novartis, with P/E ratios of about 15 times.
J&J's proven history and diverse, solid business should keep this stock delivering gains and income throughout the New Year.
---
85% Accurate Trader gives his Personal Guarantee: "Give Me 9 Minutes a Week and I Guarantee You $67,548 a Year."
What if I told you I know a way you can see a $67,548 per year - or more - in profitable trades just by following this simple step-by-step process? The trader who is sharing this secret has been right more than 8 out of 10 times, turning $5,000 into more than $5 million for himself. Click here to see how easy it is to follow his lead and collect thousands of dollars in "Free Money" every month.
The author is an independent contributor who at the time of publication owned none of the stocks mentioned.