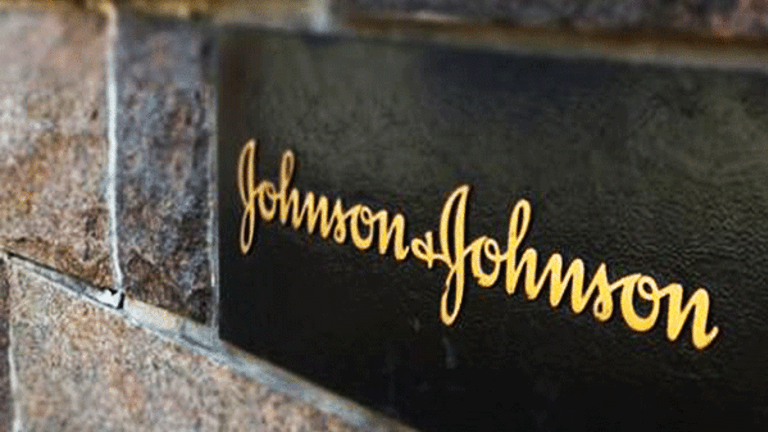 Johnson & Johnson Is Ready to Break Out in a Big Way Despite Lackluster Sales Growth
Shares of Johnson & Johnson post-earnings are rumbling towards a major breakout.
Pharmaceutical player Johnson & Johnson (JNJ) announced earnings this morning before the opening bell for the second-quarter of 2017, and there's a good reason to be bullish on the stock despite incremental sales growth.
The company announced sales of $18.8 billion for the second quarter of 2017, which was an increase of just 1.9% compared to the second quarter of 2016. Obviously, this low sales growth isn't enough to get investors excited, but the silver lining in this earnings report was the guidance forecast for the rest of 2017.
Johnson & Johnson raised its 2017 profit forecast to a range of $7.12 to $7.22 per share, from $7.00 to $7.15 per share. The company also raised its full-year 2017 sales guidance from $75.8 billion to $76.1 billion. Another silver lining can be found when the company said its full-year 2017 guidance does not include any potential U.S. tax reform.
Johnson & Johnson's comments on future sales should keep investor interest in the stock high, so now let's turn to the chart so I can highlight a very attractive setup that's developing quickly post-earnings.
If you take a look at the chart for Johnson & Johnson, you'll notice that this stock has been uptrending strong over the last six months, with shares moving higher off its low of $109.31 to its new 52-week high of $137 a share. During that uptrend, this stock has been consistently making higher lows and higher highs, which is bullish technical price action. That strong uptrend combined with the bullish sales forecast this morning is now quickly pushing this stock within range of triggering a major breakout trade.
Traders should now look for long-biased trades if this stock manages to clear some near-term overhead resistance levels at its 20-day moving average of $133.37 a share to $134.06, and then once it takes out its 52-week high of $137 a share with strong volume. Look for a sustained move or close above those levels with volume that registers near or above its three-month average action of 5.68 million shares.
If that breakout triggers soon, then this stock will set up to enter new 52-week-high territory, which is bullish technical price action. Some possible upside targets off that breakout are $140 to $145, or even $150 to $155 a share.
Traders can use the 50-day moving average of $130.22 a share as a possible stop to exit the stock if that breakout doesn't trigger, or you can also use some more key near-term support levels at $126 to $125 a share as your stop.
J&J's shares rose 1.8% to $134.49 by Tuesday's close.
More of What's Trending on TheStreet:
This article is commentary by an independent contributor. At the time of publication, the author held no positions in the stocks mentioned.