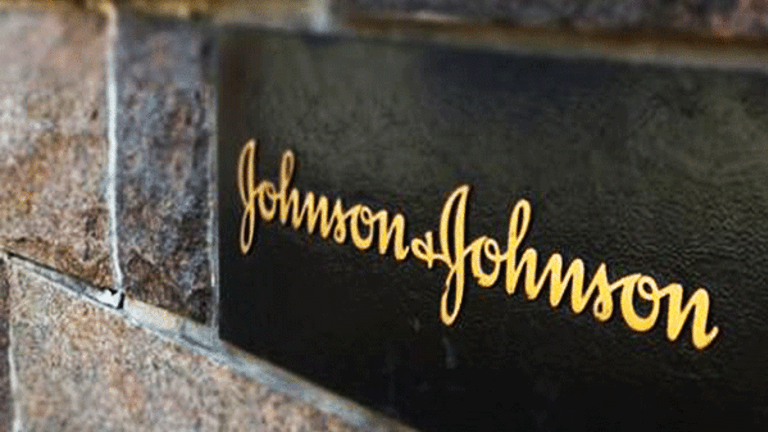 Johnson & Johnson CFO Caruso: 'Pleased With the Results'
Johnson & Johnson reported fourth quarter financial results, missing on earnings, but beating on revenue.
Shares of Johnson and Johnson (JNJ) - Get Free Report were sinking Tuesday afternoon, after the company reported fiscal 2016 fourth quarter earnings results prior to Tuesday's open.
Johnson and Johnson posted earnings of $1.58 per share on revenue of $18.11 billion. While beating analysts' projections for EPS of $1.56), the company missed on revenue of $18.26 billion.
"We thought our earnings were very strong for the year and we are very pleased with the results. We grew our top line at an accelerated rate vs. the prior year," Johnson & Johnson CFO Dominic Caruso told CNBC's "Squawk Box" Tuesday morning. "We had very strong EPS growth of about 8.5%, and we delivered very strong total shareholder return for 2016, in excess of 15%."
Furthermore, Caruso said the company is "excited" about the momentum Johnson & Johnson has moving into 2017. However, despite Caruso's excitement, the stock has been in decline during Tuesday's session.
"If you look at consensus estimates, we noticed that not many of the analysts that follow us have updated their projections for 2016 based on the recent currency movement," Caruso noted. "We are reporting based on real currency movements. We think that is the only area of any significant difference between our results and expectations."
Entering 2017, Caruso noted that Johnson and Johnson has revised its models to reflect the current currency rates. "Not all of the investment community has done that," he said. "We think that is really the only difference between our expectations and theirs."