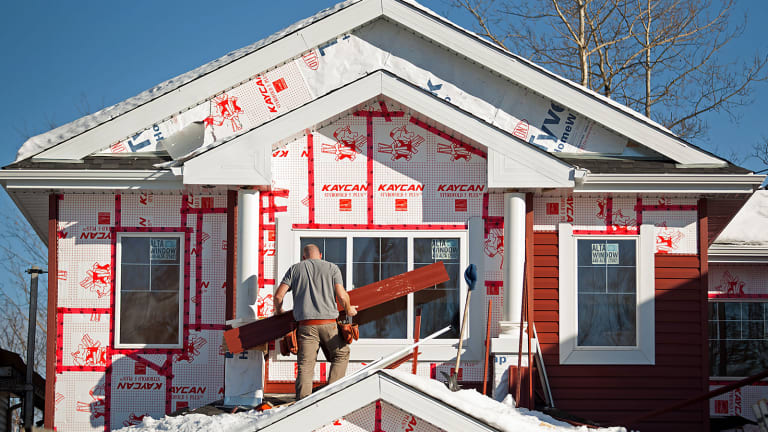 Jim Cramer: Strong March Jobs Report Should Help (Not Hurt) Homebuilder Stocks
Consider buying developer stocks if they fall on a strong jobs number Friday due to rate-hike fears.
We'll get a number Friday morning that everyone fears: The U.S. Labor Department's March non-farm employment report. Ever since the U.S. economy turned up, we've found ourselves in an environment where the stronger the number, the more fears we have that the Federal Reserve will accelerate rate hikes and derail the economy.
Now, we know that's good for the banks; they make more money off your deposits with every rate hike. That's got huge bottom-line potential for all banks, such as Action Alerts Plus holding JPMorgan & Chase (JPM) - Get JP Morgan Chase & Co. Report , because they basically do nothing on a new rate hike to earn the additional profits.
But higher rates are certainly tougher for business in general and, most important, in particular, housing. In fact, I believe a strong employment number would be met with a massive amount of selling in the homebuilders, the most rate-sensitive group.
But perhaps that view is out of date. Perhaps we're dealing with a different set of circumstances that makes being fearful of a strong employment number just plain old-fashioned and antediluvian vs. the Great Recession.
What makes me so confident that we may be looking at Friday's jobs number the wrong way? Simple: The conference call earlier this week from Lennar (LEN) - Get Lennar Corporation Class A Report  , the country's largest homebuilder.
First, the call was a total tour de force, sending the stock up from $57 to $64. Second, the main reason for the rise had to do with the explanation that longtime CEO Stuart Miller gave as to why his business is so strong: the U.S. labor-force participation rate. That, and not the headline non-farm payrolls number, might be the key figure to watch Friday.
Take a listen to what Miller said: "Interest rates tend to be a kind of flashpoint for homebuilding, but it's never properly contextualized. Interest rates go up within the context of an environment, and the environment right now is one of low unemployment and, generally, wage growth. And what is not talked about enough is participation rate -- labor-participation-rate improvement.
"What we're seeing in the field is that more of our customers are coming in with confidence," he said. "They're coming in with certainty about higher wages."
In other words, Miller is saying that the easier it is to get a job, the better the homebuilding business is -- and that those trends "tend to really offset the impact of a higher interest rate" (as Miller put it). So, we should focus on the labor-force participation rate, not whatever rise might come in interest rates. Frankly, this is stunning logic to me.
Now, I know that we're building far fewer homes than we used to, and that we're very supply constrained nationwide. I also know that only the big homebuilders like Lennar, Pulte (PHM) - Get PulteGroup Inc. Report , KB Home (KBH) - Get KB Home Report , Toll Brothers  (TOL) - Get Toll Brothers Inc. Report and DR Horton (DHI) - Get D.R. Horton Inc. Report can really navigate the changes in environmental laws that so restrict homebuilding.
Meanwhile, the effect of the new U.S. tax law is to stimulate the economy, and that's good for homebuilders, too. As is the new tax law's doubling of the standard deduction, which Lennar tells us is allowing apartment dwellers to accumulate the savings they need for a down payment on a home. And the changing fortunes among Millennials has to be noted, given that the ease with which jobs can be found has allowed a new generation to finally move out of their parents' homes and get homes themselves (just in time for multiple children).
Yet the revelation that many will be looking at the wrong number Friday is what gives me hope that even if we start the surge again toward a 3% yield on 10-year U.S. Treasuries, we shouldn't rush to sell homebuilder stocks and others connected with the home (including retailers geared toward homeowner spending and investment). Perhaps we should buy them instead. That's a huge and welcome change -- one that's so different from the selloff we got in February on the last hot U.S. employment number.
I always say that "panic should not be a strategy." If we see a large change in the labor-force participation rate on Friday and Lennar and the other homebuilders get hit anyway, these all-domestic businesses might be just the right stocks for this new anti-international-trade environment.