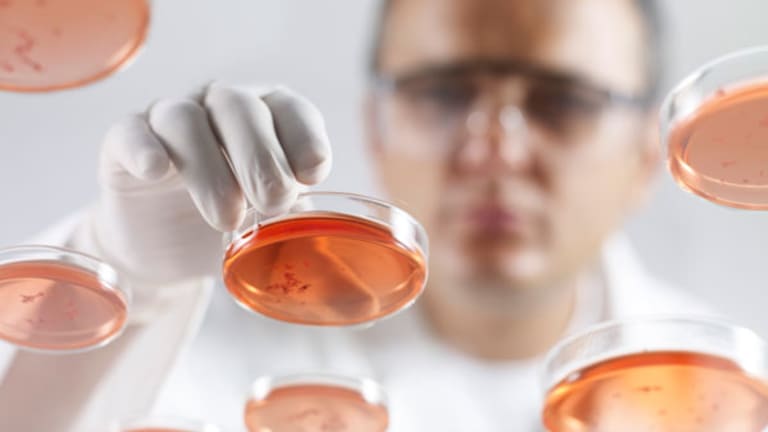 NEW BRUNSWICK, NJ (
) --
Johnson & Johnson's
(JNJ) - Get Johnson & Johnson (JNJ) Report
acquisition of
Aragon Pharmaceuticals
makes strategic sense and deals a blow to
Medivation
(MDVN)
. 

On Monday, J&J announced the acquisition of privately-held Aragon and the rights to ARN-509, a second-generation androgen receptor antagonist that will be a future competitor to Medivation's prostate cancer drug Xtandi.
Medivation shares are down 7% to $47.24 in early Monday trading.
The deal -- $650 million upfront and $350 million based on contingent milestone payments -- is a blow to Medivation, which is
locked in litigation with Aragon and the University of California
over ownership of the rights to ARN-509. Both ARN-509 and Xtandi were
developed in the laboratories of Charles Sawyers and Michael Jung
at UCLA.
The Aragon acquisition is a sound strategic decision for J&J because it allows the company to further develop its prostate cancer franchise after Zytiga goes off patent. More importantly, ARN-509 is likely to be equivalent to Xtandi, and potentially, may be superior. ARN-509 will also allow J&J to compete in earlier stages of prostate cancer with a drug that does not require use of steroids, something that has always been a major problem for Zytiga in the chemotherapy-naive setting.
J&J now has a corporate strategy for life after Zytiga. It has have the resources and expertise to fund large phase III clinical trials for ARN-509, not only in prostate cancer, but potentially also in breast cancer.
What this acquisition also tells us is that J&J lawyers consider the Medivation appeal over intellectual property rights to be weak. They will no doubt have done considerable due diligence on Medivation's claims and consider the risk to be low or manageable.
My personal view was that cash-rich Medivation should have acquired Aragon and neutralized the competitive threat rather than pursue a scorched-earth litigation strategy.
The J&J acquisition of Aragon also suggests that ARN-509 may be perceived as the best in class of the second-generation androgen receptor inhibitors in development. There are others that J&J could have sought to acquire or licence, including ODM-201 from Orion. The fact that J&J chose ARN-509 or a better version of Xtandi is not good news for other companies with AR antagonists in early-stage development.
Medivation is unlikely to feel the competitive threat from ARN-509 in the prostate cancer market for a few years, because registration trials against the current standard of care are needed to show that the drug offers an equivalent or better survival benefit. ARN-509 will most likely be compared against Zytiga, offering yet another benefit of the deal -- the ability to provide free comparator drug in the clinical trials.
The J&J acquisition is good news for men with advanced prostate cancer who may in five years see another new treatment option become available. It is, however, a blow to Medivation and Astellas who now have a serious competitor to deal with in the future in a space where they may have thought they had a major competitive advantage.
Droppert does not own any stocks mentioned in this column. A similar version of this column also appears on Droppert's Biotech Strategy Blog
Pieter Droppert writes the
and is a marketing strategy consultant with a focus on oncology/hematology new product development. Pieter is a Sloan Fellow from London Business School and was formerly a project manager for a major phase III drug development program at a global CRO.