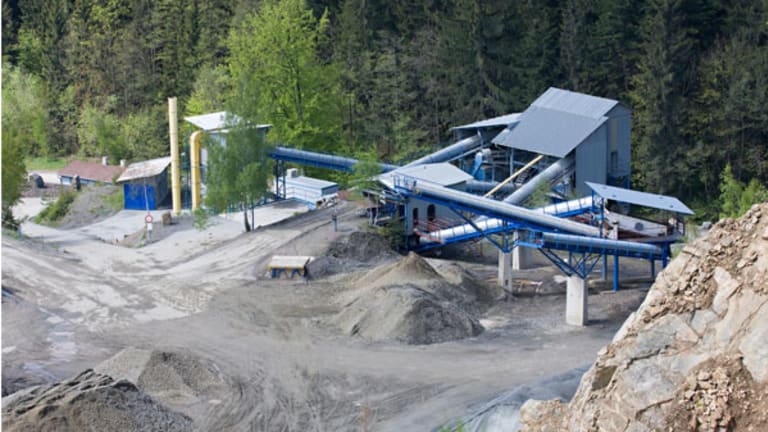 Jim Rogers: Buy Gold Not Gold Stocks
Jim Rogers, renowned global commodities investor and author, says gold prices will hit $2,000 in a decade.
NEW YORK (
) --
, renowned global commodities investor and author, says
will hit $2,000 in a decade.
have risen 20% in the past year, recently testing a new high of $1,133.50. With strong speculative fund buying, a weakening U.S. dollar and inflation fears,
is a popular trend as the precious metal becomes an alternative asset class. Physically backed
SPDR Gold Shares
(GLD) - Get SPDR Gold Shares Report
has risen almost 15% YTD and
Market Vector Gold Miners ETF
(GDX) - Get VanEck Gold Miners ETF Report
has popped over 30%. Rogers' love of gold is nothing new, but with gold in a strong bull market, I wanted to know if the trade was too crowded.
Jim Rogers
: I don't ever like to buy something making all time highs however I'm not selling my gold. Gold is going to go much higher in the course of the bull market. Doesn't mean it can't go down 20% next year but during the course of the bull market it is going to go much higher it is certainly not a bubble yet.
Jim you are typically a contrarian investor. If everyone is buying, shouldn't you be selling?
Jim Rogers
: Yes, I should be selling at the top, but I don't think this is the top. Gold, if you adjust it for its old highs, adjust it for inflation back in 1980, gold should be over $2000 an ounce right now. In my view, in this bull market in commodities gold will make all new highs adjust for inflation.
What about mining stocks as a way to play rising silver and gold prices?
Jim Rogers
: Not with my money. The studies show that you would make more investing in commodities themselves rather than commodity stocks unless you are a very good stock picker. If you are a good stock picker, unless you find a company that is going to discover silver in Berlin you buy all you can and then you call me and I'm going to buy it too ....short of something like that and there are a hundred gold stocks and most of them don't pan out. But if you own gold, gold is making all time highs.
Aside from gold, what other precious metals do you own?
Rogers
: I own silver as well. I would suspect that if you were buying
gold or silver right now silver would be a better buy. I mean gold is making all time highs,
but silver is 70% below its all time high. Now, if my thesis is right about commodities that they're going to make new all time highs, obviously you would make that much more
money in silver than in gold.
What about palladium and platinum?
Rogers
: I own them all. I think probably now the better plays would be palladium and silver but again let me hit you over the head and say I am world worst market timer and trader. I think you would make more money with silver and palladium at this point but I own all four
gold, silver, palladium, platinum.
What would you say would be the best diversified portfolio right now?
Jim Rogers
: If the world economy is going to get better , commodities are going to lead the way because there are shortages developing in all commodities. If the world economy is not going to get better, I promise you stocks are not going to be a good place to be, but commodities will be the better place to be because they're printing so much money. And if the world economy doesn't get better they are going to print a lot more money. So if you're going to own something you should own commodities or you should own currencies. That's another way that you can invest in what's going on in the world.
When will gold hit 2k?
Jim Rogers
: I wish I was that smart. You should watch TheStreet.com. They know everything.
>>Also see: Jim Rogers to Bernanke: Hike Rates and Resign
--
Written by Alix Steel in New York
.
Alix joined TheStreet.com TV in February 2007. Previously, she held positions in film and theater production, management, and legal administration. Alix has a degree in communications and theater from Northwestern University.