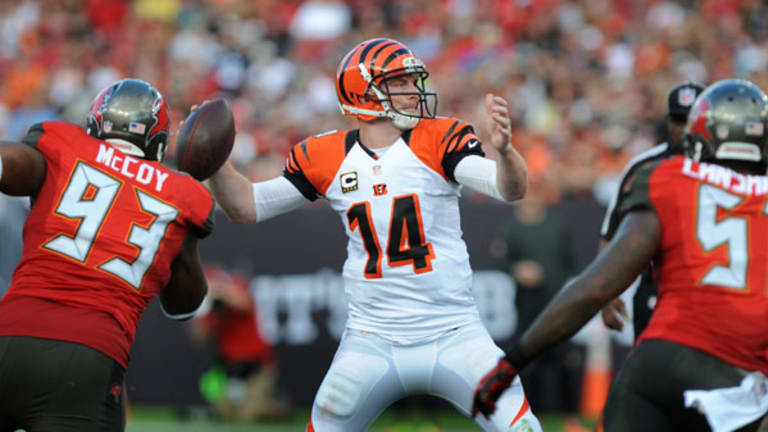 Jim Cramer's Fantasy Football Waiver Wire Picks for Week 14
It's the fantasy football playoffs and that means waiver wire pickups are tighter -- and more important -- than ever. Make sure you know who to pick up and start.
NEW YORK (TheStreet) -- As we enter Week 14 of the NFL season, Jim Cramer says it's all about getting home-field advantage through the playoffs.
"This is a weekend where even if you've won seven games, you must win now because home field is going to be gigantic for playoffs," he says. "Someone might say, 'who needs this game more than that game,' no -- everybody needs every game because home field is everything in the league this year."
The Seattle Seahawks (8-4) and the Green Bay Packers (9-3) are two teams that need to win very badly in order to get home field advantage, says Cramer. With that in mind, he stresses that fantasy football owners should play Green Bay players and anyone from Seattle this week, even those who aren't stars.
With many fantasy owners looking to beef up their teams as the playoffs start, Cramer acknowledges there's slim pickings on the waiver wire. Being as there aren't a lot of players left, it's important to know which guys to grab while owners still can.
So who are the hottest commodities that are still available on the waiver wire this week? Here are Jim Cramer's waiver wire picks for Week 14.
QUARTERBACK: Andy Dalton, Cincinnati Bengals (8-3-1)
Andy Dalton completed 19 of 27 passes for 176 yards, one touchdown and three interceptions in his team's Week 13 win over the Tampa Bay Buccaneers (2-10).
"They need home field. I would actually risk Dalton, I really would."
If you can't get Dalton, Cramer also recommends Minnesota Vikings (5-7) quarterback Teddy Bridgewater. "I like Bridgewater. He's been putting up excellent numbers. People might want to think about him."
RUNNING BACK: Andre Williams, New York Giants (3-9)
Andre Williams had eight carries for 21 yards in his team's Week 13 loss to the Jacksonville Jaguars (2-10).
"You gotta go Williams. Or Grice. Grice is available because people don't realize Ellington's hip-pointer is really, really bad," said Cramer.
WIDE RECEIVER: Andre Roberts, Washington Redskins (3-9)
Andre Roberts caught two balls for 46 yards on five targets in his team's Week 13 loss to the Indianapolis Colts (8-4).
"I want Andre Roberts," Cramer advised. "He is really, really good."
TIGHT END: Jimmy Graham, New Orleans Saints (5-7)
Jimmy Graham had no catches in his team's Week 13 win over the Pittsburgh Steelers (7-5).
"Tight end? There's not a lot of guys left," Cramer noted. "Everybody's kind of picked up their tight ends. I will point out that Jimmy Graham had zero last week. I don't think that's sustainable -- I think Jimmy Graham's going to have a giant game."
KICKER: Mason Crosby, Green Bay Packers (9-3)
Mason Crosby hit four field goals in his team's Week 13 win over the New England Patriots (9-3).
"Mason Crosby is available and I think Mason Crosby's having some extraordinary numbers," Cramer said. "I think you want to do that. Obviously when I say Mason Crosby, you're betting that Green Bay's going to go deep."
DEFENSE: Houston Texans
The Houston Texans beat the Tennessee Titans in Week 13, 45-21.
"The defense I like is the Texans," Cramer said. "They are scoring left and right. But the Rams defense -- which was available, but they blew their numbers out last week -- the Rams defense is very strong. Do not play the Eagles defense against Seattle. They've been a play-maker defense, but I'm very careful."
Brittany joined TheStreet.com TV in November 2006 after completing a degree in Journalism and Media Studies at Rutgers College. Previously, Brittany interned at the local ABC affiliate in New York City WABC-TV 7 where she helped research and produce On Your Side, a popular consumer advocacy segment.