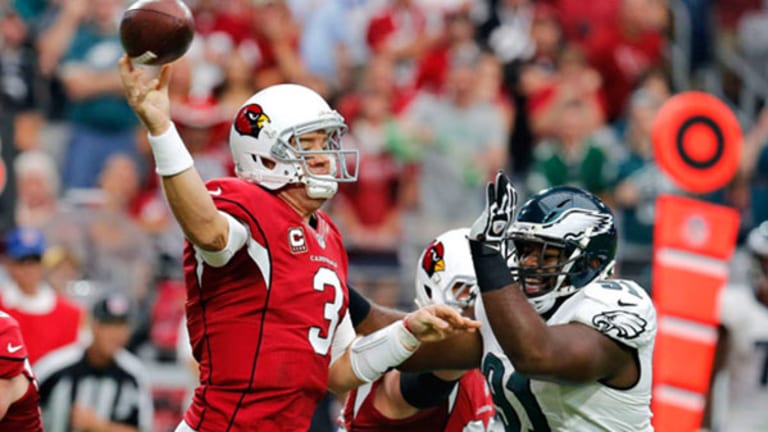 Jim Cramer's Blue Chip Fantasy Football Picks for Week 9
Who you start and who you sit in week 9 of the fantasy football season could have playoff implications. Choose wisely. See Cramer's picks.
NEW YORK (TheStreet) -- Week 9 of the season will separate the men from the boys in both the NFL and fantasy leagues, according to Jim Cramer.
The week kicks off with a showdown between the New Orleans Saints (3-4) and the Carolina Panthers (3-4-1). The Saints are coming off a 44-23 victory over the Green Bay Packers (5-3), which Cramer had deemed a "must-win" for New Orleans. Quarterback Drew Brees threw for 311 yards and three touchdowns in the Saints' victory, and now will be in the spotlight as the team tries to build momentum when they take on the Panthers.
The Arizona Cardinals (6-1) and the Denver Broncos (6-1) are teams Cramer believes are most impressive, calling both "unstoppable." This week, the Broncos take on the New England Patriots (6-2), pitting two of the league's best quarterbacks, Peyton Manning of the Broncos and the Patriots' Tom Brady, against one another. When the Cardinals and quarterback Carson Palmer take on the Dallas Cowboys (6-2), Cramer says the game's result will be heavily influenced by whether Dallas quarterback Tony Romo is able to play. Without Romo, who is still questionable for Sunday's game due to a back injury, Cramer says the Cardinals defense will be able to "blanket" Dallas running back DeMarco Murray.
So what does it all mean for fantasy football owners? Which players should start at each position? Check out which blue chip players Jim Cramer would have in his ideal lineup for Week 9.
QUARTERBACK: CARSON PALMER
Arizona Cardinals' Carson Palmer completed 20-of-42 passes for 329 yards with two touchdowns and no interceptions in his team's Week 8 win over the Philadelphia Eagles.
Cramer says: "I think that there's just a lot of weapons there. Floyd didn't even have a catch last week, you've got this guy Brown -- he's the fastest guy in the NFL as far as I can tell."
WIDE RECEIVER: DESEAN JACKSON
Washington Redskins' DeSean Jackson caught six passes for 136 yards in his team's Week 8 win over the Dallas Cowboys.
Cramer says: "He's just too good, too good."
RUNNING BACK: ARIAN FOSTER
Houston Texans' Arian Foster rushed for 151 yards and two touchdowns on 20 carries in his team's Week 8 win over the Tennessee Titans.
Cramer says: "I hate to say this because the Eagles are playing the Texans, but Foster, he's got to be stopped, he's got to be stopped."
TIGHT END: JIMMY GRAHAM
New Orleans Saints' Jimmy Graham had five catches for 59 yards and a touchdown in his team's Week 8 win over the Green Bay Packers.
Cramer says: "I just think that Graham has burned the Panthers -- take a look at how he's played against the Panthers. Remember, this is Sean McDermott's defense -- I happen to love Sean, he lives literally down the block from where I grew up, but I think you're not going to be able to stop Graham, I think he's going to be playing full."
KICKER: CODY PARKEY
Philadelphia Eagles' Cody Parkey kicked a season-best 54-yard field goal in his team's Week 8 loss to the Arizona Cardinals.
Cramer says: "Parkey is your best kicker -- for the Eagles -- I don't have him. Shayne Graham was available."
DEFENSE: PATRIOTS -- OR CARDINALS
PATRIOTS: New England Patriots beat the Chicago Bears 51-23 on Sunday, Oct, 26 at Gillette Stadium.
Cramer says: "I'm sitting Vereen -- oh my God, Vereen has just killed me this year. But the Patriots D has been saving them. And obviously Brady is just playing really terrifically right now."
CARDINALS: Arizona Cardinals won over the Philadelphia Eagles 24-20 on Sunday, Oct. 26 at University of Phoenix Stadium.
Cramer says: "Well, I gotta tell ya, I really do like that Cardinal D. I just think without Romo, they're going to be able to blanket DeMarco Murray. If Romo does not play, it's the Cardinal D."

ONE TO WATCH: ROBERT GRIFFIN III
Washington Redskins quarterback Robert Griffin III is expected to make his return from an ankle injury in Week 9 against the Minnesota Vikings.
Cramer says: "We're going to look at RG3 just because we want to see the comeback. Remember, one thing that they have, they're loaded with receivers, you know what, Andre Roberts is unbelievable, Garcon is so tough and it's DeSean's season. It's just all been masked by how bad the Redskins are -- I like the D. Watch RG3."
WHO NOT TO PLAY: DEMARCO MURRAY
Dallas Cowboys running back DeMarco Murray rushed for 141 yards on 19 carries in his team's Week 8 loss to the Washington Redskins. In Week 9, the Cowboys take on the Arizona Cardinals at home in Arlington, Texas.
"The Cardinal run defense is killer. It's the best run defense in the league. Cardinals are underrated the whole way."

More Slideshows You Might Like
Billionaires' Bad Bets: Their Worst Performing Stocks of 2014

Here are 18 Wet Hop Beers You Should Try Right Now

23 Countries Where the Rich Make the Most Money
Brittany joined TheStreet.com TV in November 2006 after completing a degree in Journalism and Media Studies at Rutgers College. Previously, Brittany interned at the local ABC affiliate in New York City WABC-TV 7 where she helped research and produce On Your Side, a popular consumer advocacy segment.