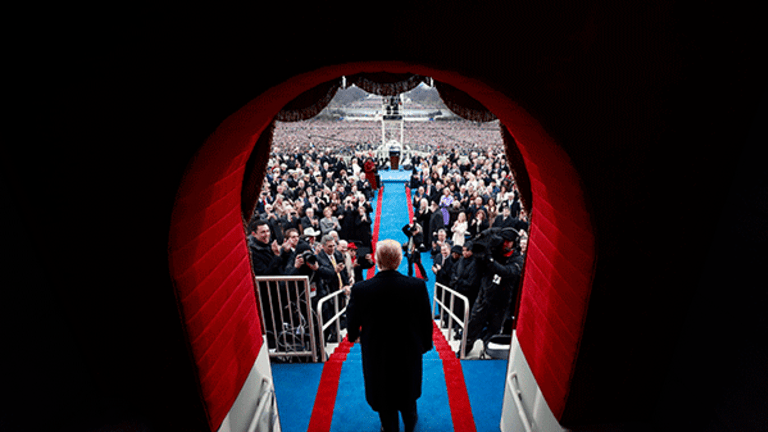 Jim Cramer: Trump's Plan to Build in America Presents Positives, but Question Marks
Winners, losers and question marks in Trump's plan to bring manufacturing plants back into the U.S.
President Donald Trump wants to bring manufacturing plants back to America. One way he hopes to achieve this goal is by levying taxes on companies choosing to build plants outside the U.S. and importing their products back into the country.
"A company that wants to fire all of its people in the U.S. and build some factory someplace else, and then thinks that product is going to just flow across the border into the United States, that's not going to happen," Trump told CEOs at the White House Monday morning. "They're going to have a tax there, a border tax, a substantial border tax."
"This is the gift of getting," TheStreet's Jim Cramer said on the floor of the New York Stock Exchange Monday morning. Cramer acknowledged that the President will not only go to war for companies choosing to build domestically, but that they will be recipients of tax breaks.
But, this also presents a problem companies will undoubtedly have to navigate.
"What does it do to the cost of goods if we start building things here? That's more expensive theoretically unless you can automate," Cramer noted. "What does it mean for companies that were going to put things overseas, do their earnings per share wilt?"
Cramer called the process "complicated" because companies with existing plants overseas now wanting to build local could be in a predicament. "That's the big question mark."
But, it's a win for the pipeline companies, Cramer argued. "This guy told me on repeated cases that he wants to break OPEC. So, what do you do? You revise NAFTA, that's really against Mexico far more than Canada," Cramer said. "The idea of importing Canadian oil in order to make the U.S. as self-sufficient for energy as possible is right in the wheelhouse of Dow Chemical."  (DOW) - Get Free Report
A lot of pipelines will need to be installed if Trump intends to make the U.S. as energy-sustainable as possible, because of having to import Canadian oil. "There is also a lot of pipelines needed if you are going to drill more, we saw the rig count up very big on Friday," Cramer added.
Other winners in Trump's America-first ideology are Comcast (CMCSA) - Get Free Report and Home Depot, (HD) - Get Free ReportCramer noted. Comcast on the simple premise that the only things it exports are movies and the remainder of its business is done domestically.
"Home Depot because even though a lot of the stuff that they sell in their stores is bought from overseas, they also have a considerable home and garden business, which is deeply American," Cramer said.
(Comcast and Dow Chemical are holdings in Jim Cramer'sAction Alerts PLUS Charitable Trust Portfolio.Want to be alerted before Cramer buys or sells CMCSA? Learn more now.)