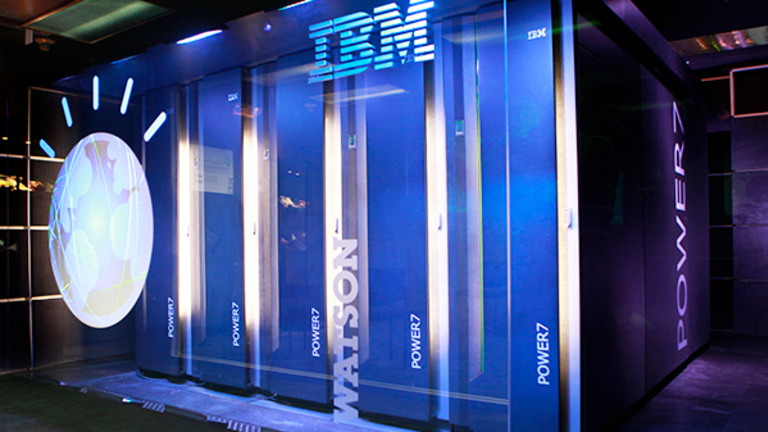 IBM Shares Are at a Price That You Almost Can't Believe
Morgan Stanley reiterates its outperform rating.
Morgan Stanley reiterates its outperform rating.
On Monday, shares of International Business Machines Corp. (IBM) - Get Report hit new 52-week lows. Over the past five years, IBM stock is down 27% (excluding dividends). In fact, the stock is up just 29% over the past 10 years. (Should IBM just split up?)
Morgan Stanley analyst Katy Huberty isn't so sure all the selling is warranted, though. TheStreet's founder Jim Cramer, who also manages the Action Alerts PLUS charitable trust portfolio, pointed out a more bullish tone from Huberty, one of his favorite analyst.
While Ulta Beauty ULTA CEO Mary Dillon may be one of Cramer's favorite executives, Huberty's up there in the analyst community. She pointed out that institutional ownership has declined, hurting the stock over the past few months. However, she also argues that a recovery in gross profit is key to stock outperformance, hence Huberty reiterating her outperform rating.
Shares are up 1% to $142.38 Wednesday afternoon, as a result. It helps, too, that IBM announced it's getting more involved in the healthcare space and autoimmune diseases.
"This has been one of the worst stocks in the market," Cramer pointed out, despite a lot of investors pulling for the company and CEO Ginni Rometty, and hoping that she turns things around.
Huberty is a good analyst, "she's been spot-on for Apple (AAPL) - Get Report , too," Cramer noted. If you're shorting IBM stock -- which seems to be the preferred trade as of late -- then perhaps investors should take a closer look at this research report.
Watch the full replay of Jim Cramer's live show:
Don't miss these top stories on TheStreet:
Samsung Debuts the Galaxy Note8, The 'Next Level Note'
Looks Like Apple Just Killed the iCar
We Might Have Unlocked the Secret Behind Amazon's Big Deal for Whole Foods
At the time of publication, Cramer's Action Alerts PLUS had a position in AAPL.