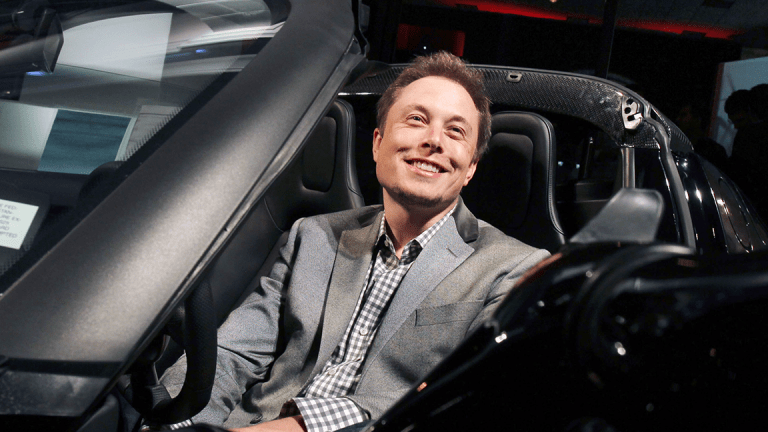 Publish date:
Jim Cramer Targets Tesla Model 3 Production Failures and Financing Woes
Is Tesla chief Elon Musk using production shutdowns to make an excuse for a new capital raise?
Is Tesla chief Elon Musk using production shutdowns to make an excuse for a new capital raise?
Is Tesla Inc. (TSLA) - Get Tesla Inc Report backpedaling on those guarantees of no need for a debt or equity raise this year?
According to TheStreet's founder and Action Alerts PLUS portfolio manager Jim Cramer, the company could be using production shutdowns as an "ideal reason" for why it may need to break that promise. Cramer took to Twitter to hash it out.
Tesla said in a first-quarter update letter released April 3 that it was "laying the groundwork for Q3 to have the long-sought ideal combination of high volume, good gross margin and strong positive operating cash flow. As a result, Tesla does not require an equity or debt raise this year, apart from standard credit lines."
In its first-quarter financial update released May 2, Tesla said, "During Q2, we expect to shut down production for about 10 days, which includes the shutdown we took in April, to address bottlenecks across the lines and increase production to new levels."
Tesla reportedly is planning to shutter production at its California plant for six days at the end of May to make necessary fixes to its assembly line for the Model 3, according to a Reuters report that cited unnamed sources. That would be the second production shutdown Tesla CEO Elon Musk hinted at in quarterly updates.
According to Cramer, it doesn't matter that Tesla already hinted at 10 days of production shutdowns. Another production halt would be a "material change that can warrant an unforeseen financing," Cramer said.
With that, Cramer argued that it could be possible Musk may use another production shutdown as a means of thinking "outside the box" in a bid to figure out how to snag more financing without breaking another promise.
And breaking promises is something for which Musk, for better or for worse, has become known. The CEO and his electric car company have repeatedly missed production goals for the Model 3, but Musk reportedly sent an email to employees Tuesday saying Tesla could "very likely" exceed its goal of making 500 Model 3 units this week.
Tesla stock tumbled 2.67% to $284.18 by the market close Tuesday. Shares reversed premarket gains to trade lower 0.69% just after the opening bell Wednesday morning. Tesla stock is down 9.43% year to date.
TheStreet presents on May 22: "How to Stomach Market Volatility." Hosted by Fisher Investments, the exclusive live webinar will give you the tools to successfully navigate market volatility and discuss why having a wealth manager is more critical than ever before. Quickly register for the event here [hyperlink over the word here]: https://webinar.thestreet.com/20180522/index.html