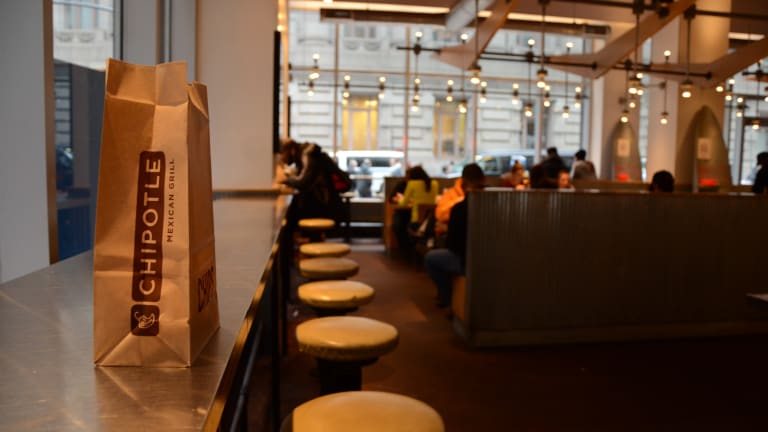 Jim Cramer's 'Off the Charts': Chipotle Is Working on a Healthy Rebound
Jim Cramer looks at Chipotle, whose charts suggest a major stock recovery.
Chipotle (CMG) has struggled to get back to where it was at before multiple food safety scares knocked the stock off of its upward trajectory. The company's revenue so far this year is half of what it was a year ago before an E. coli outbreak in Seattle, a norovirus scare in California and salmonella in Minnesota scared customers away. 
Chipotle stock has dropped from $750 in mid-October to an intraday low around $395 in January, where it seemed to finally bottom. As of Tuesday's close, Chipotle trades around $415.
Jim Cramer made Chipotle the focus of this week's Mad Money "Off the Charts" segment. 
The fast-casual dining company has been proactive in its attempt to repair its image, announcing and implementing new stringent food safety protocols and rolling on a customer-loyalty program. Cramer reminded viewers that health scares like the one Chipotle had last year tend to eviscerate a company's same-store sales -- as it has done with Chipotle -- but after a year to 18 months you should start seeing a recovery. 
With Chipotle entering into that time frame in the coming weeks, Cramer enlisted RightViewTrading.com publisher and Real Money contributor and chartist Robert Moreno to read the organic tea leaves and see if a recovery is indeed on the horizon. 
It turns out Moreno sees Chipotle's chart setting the stock up for a serious move higher. 
Minor food safety scares started sending Chipotle lower during the summer, but it wasn't until an E. Coli scare in October that the stock started heading towards its long-term floor of support at $600. The stock broke that floor in November and has been heading lower ever since. However, Cramer pointed out that Moreno sees the $395 level as being important for the chart's symmetry.
"it represents a 50% retracement of Chipotle's rally from the lows of 2009 to the highs of 2015. And a 50% retracement is one of those important Fibonacci levels where a stock will often change its trajectory," Cramer told viewers. "Sure enough, Moreno notes that ever since then, Chipotle's floor of support at $395 has held, and each time the stock has tested that floor, it's produced a nice bounce."
"What else matters in this weekly chart? First, there's the Moving Average Convergence/Divergence, or MACD indicator, which technicians use to detect changes in a stock's trajectory before they happen," Cramer continued. This chart's Moving Average Convergence Divergence line has been making a bullish divergence versus the stock all year. 
Additionally, the Commodity Channel Index, a tool that measures whether a stock is overbought or oversold, has moved from an oversold reading earlier this summer and started tracking higher, yet another signal that the stock is ready to rebound. 
While the company's weekly chart is showing good signs, Moreno was really impressed with Chipotle's daily chart. 
"This shorter-term chart is all about the triangle that's been dominating the action in Chipotle since its breakdown: You've got the $395 support level making the triangle's base, and the downtrend line from the former support at $600 making both the hypotenuse and the stock's ceiling of resistance," Cramer said. 
The chart looks ready to retest the $600 level that had previously acted as support but now acts as resistance. Moreno sees a number of indicators suggesting the stock is ready to break out above that level. 
First, the Relative Strength Index, or RSI, an important momentum indicator, has moved up rapidly in the last couple of weeks and recently crossed above its centerline, reflecting better price momentum. Second, you've got the Vortex indicator, "which sounds like some weird Star Trek reference, but it's actually a technical tool that uses two oscillators to identify early trend changes," Cramer said. 
Third, the money flow index, which measures buying and selling pressure, is in positive territory and showing signs of trending higher. 
If Chipotle can break above its downtrend line, which is about $5 above where it is now, then Chipotle has a clear path back up the $600 level it breached nine months ago. 
Cramer ended by mentioning that an informal Twitter poll he posted shows 38% of respondents were seeing the company's once ubiquitous long lines returning at their local stores, 35% weren't seeing the return of the long lines and 27% said that it was still a work in progress. 
"So here's the bottom line: The charts, as interpreted by Robert Moreno, suggest that Chipotle might be ready to start rebounding in the near future, and the results of my totally unscientific Twitter poll make me think that Moreno could be right," Cramer concluded. 
At the time of publication, Cramer's Action Alerts PLUS had no position in stocks mentioned.