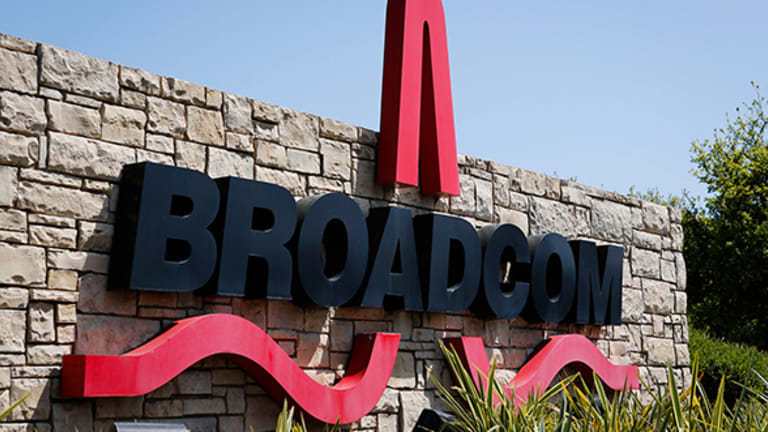 Jim Cramer's 'Off the Charts': A Stock on Santa's 'Nice' List, Another on his 'Naughty' List
Here is a preview of one stock that should extend this year's gains and another that probably won't.
Taking a page from the Santa Claus playbook, it's useful to look at some of this year's "nice" stocks (big gainers) as opposed to "naughty" ones to see which ones stand a credible chance of being nice next year, Jim Cramer said during his Mad Money program's "Off the Charts" segment.
To get some help gauging which of this year's big gainers could be just as nice next year, Cramer turned to Tim Collins, his colleague at RealMoney.com.
Collins cited two 2016 high-flying market darlings, one that he said should be just as nice next year as it has been this year and another one that will probably end up next year on the other list.
First, Collins looked at Broadcom (AVGO) - Get Broadcom Inc. Report , the semiconductor giant and long-time Cramer-favorite formerly known as Avago. The company is a major maker of chips for communications, enterprise storage and the internet of things, and it's been able to deliver some stunning results lately.
But perhaps even more stunning, said Collins, is Broadcom's weekly chart, shown below.
Broadcom's chart shows its 30-week moving average has been a powerful floor of support. For the last six or so months, Broadcom has been consolidating gains. Now, though, Collins thinks the stock is ready to begin its next leg up. Last week, Broadcom finally broke above the ceiling that had capped its price since August, and so far this week it has kept moving up.
Collins thinks it will keep rising. He points to the Full Stochastic Oscillator, a momentum indicator that identifies when stocks are overbought or oversold. For months, this oscillator ran in a tight range, although it maintained a reading above the critical 50 level the whole time, meaning Broadcom never lost its momentum. But in recent weeks, the Full Stochastic Oscillator has rocketed higher, and Collins thinks that signals a similar leg up.
Further, Collins points to another momentum indicator known as the Chaikin Oscillator, which detects changes to the level of buying and selling before they happen. It just made a bullish crossover, as did the Moving Average Convergence Divergence or MACD indicator, another momentum tool that helps chartists spot changes in a stock's trajectory before they happen.
The upshot is that Collins could easily imagine Broadcom rallying above $200 by Valentine's Day -- in other words, getting on Santa's "nice" list again next year.
Next, is Teck Resources (TECK) - Get Teck Resources Ltd Report , a Canadian company that produces copper, zinc and, most importantly, coking coal -- the kind that's used to make steel. Its weekly chart is below.
Teck Resources has been one of the biggest winners of 2016, up more than 450% this year. Collins, however, said that last week the stock fell below a key floor of support that had been propping the stock up since April. To make matters worse, the stock has started trading below its 13-week moving average for the first time since its 2016 breakout began.
But what really has Collins worried are the secondary indicators. Check out the Moving Average Convergence Divergence or MACD line up top. This indicator has come down dramatically and Collins says this move is eye-opening. We haven't seen a push lower like this one since 2015, which heralded a huge drop in the Tech Resources' share price. At the same time, the Full Stochastic Oscillator has broken down very aggressively, below that critical 50 level.
There's more support at $18.50, but Collins doesn't think that will hold; indeed, he expects it to pull back to $16 next year -- in other words, getting on Santa's "naughty" list next year.
Employees of TheStreet are restricted from trading individual securities.