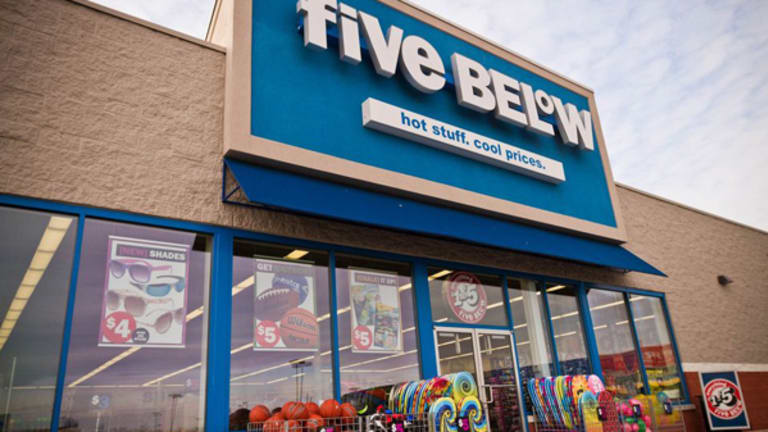 Jim Cramer's 'Off the Charts': 4 Teen Apparel Retailers Whose Stocks Look Promising
As fickle as teen consumers may be, shares of four retailers who sell to them have great potential, says Jim Cramer.
Shares of several retailers who sell teen apparel have been rocketing up lately. At the same time, it's a sector of which Jim Cramer has long been wary.
Teens can be fickle, he said, and it's almost a truism that adults -- including those who run teen-oriented apparel and accessories retailers -- don't consistently "get" teens. When you buy shares in a teen retailer, Cramer said during his Mad Money program's "Off the Charts" segment, you're making a bet on what teenagers like, and that's a "mug's game."
Still, to keep emotions out of investing decisions, Cramer turned to Bob Lang, founder of ExplosiveOptions.net and the brilliant technician in the three-man, all-star team behind TheStreet.com'sTrifecta Stocks newsletter.
Lang says the teen apparel sector has three seriously exciting stocks. One is Zumiez (ZUMZ) - Get Zumiez Inc. Report , a skateboarding- and snowboarding-oriented apparel play. As can be seen below, the shares have been zooming higher for the last seven months, and the stock is now testing the ceiling of resistance at its 200-day moving average for the first time.
But more important from Lang's perspective is that the Chaikin Money Flow oscillator, which measures the level of buying and selling pressure in a stock, has been trending higher for months and is now solidly in positive territory, suggesting that some big institutional money managers are loading up on Zumiez.
A second appealing stock in the sector is Tilly's (TLYS) - Get Tilly's Inc. Report . Lang says the shares exploded higher two weeks ago in the wake of a much better-than-expected quarter. After surging higher in August, the stock spent the next few months consolidating gains before spiking yet again after its latest earnings report. Further, Tilly's rallied hard over the last two weeks on incredibly strong volume.
The Chaikin Money Flow oscillator, which just keeps climbing, suggests heavy institutional buying. Shares are around $14, but Lang thinks Tilly's could rise to about $17. For him, a pullback makes a terrific buying opportunity.
Thirdly, check Francesca's Holdings (FRAN) - Get Francesca's Holdings Corporation Report , which sells apparel, jewelry and accessories for young women. Shares spiked 28% in one day last week on a massively better-than-expected quarter. The stock slashed up through the ceiling of resistance at its 200-day moving average on strong volume. Also, the Relative Strength Index has been steadily rising, another bullish sign, says Lang.
As for the Chaikin Money Flow oscillator, it went from negative to positive in September and continues to get stronger. Lang says he wouldn't be surprised if shares can go from around $21 to $30 over the next several months.
Cramer says the only teen-oriented retailer he's been interested in is Five Below (FIVE) - Get Five Below Inc. Report , whose wares sell for $5 or less. Lang's response is that, while not on his own favorite list, FIVE has been trading in a tighter and tighter range indicating it is either going to pop or plunge.
Lang believes a pop is more likely since this $42 stock has a floor of support around $41. Plus, the Moving Average Convergence Divergence indicator, a tool that helps technicians predict changes in a stock's trajectory, just made a bullish crossover, where the black line goes above the red one. Historically this has been a pretty reliable predictor of higher prices. Lang says if FIVE can break out above its $44 ceiling of resistance, it could have lots of upside, but if it falls beneath its $41 floor of support at $41, all bets are off.
Employees of TheStreet are restricted from trading individual securities.