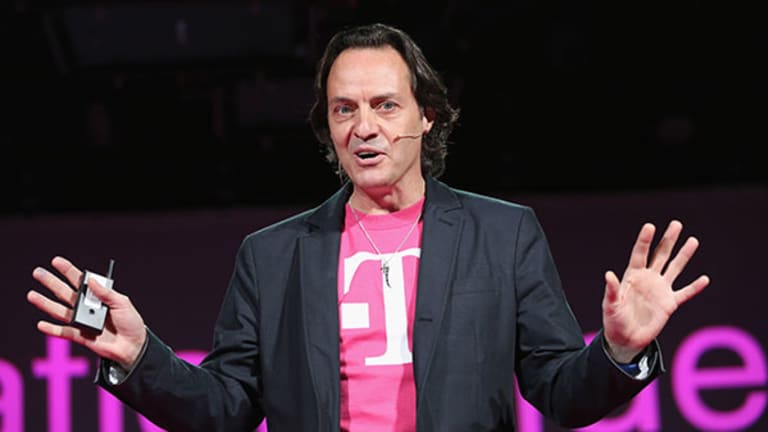 Jim Cramer on Stocks: 8 CEOs Who Destroy the Competition
If you bet against them, you've bet on the wrong team.
NEW YORK (Real Money) -- We accept -- no, we demand -- coaches who want to crush the opposition. If we don't have competitors at the top, we may very well be backing losers.
It's the exact same thing in business -- we just don't talk about it, but it plays out every day, and I want to share my list of the most competitive CEOs, people you may not realize have the gloves off when it comes to beating their rivals.
There's no substitute for a trading floor to get great ideas, so Jim Cramer created a better one at Real Money, where he blogs three times each day and interacts with 20+ traders. Read him today.
John Legere of T-Mobile
I think of this is because I had the privilege of interviewing the single-most competitive CEO in the business this morning. I am talking about John Legere, who runs T-Mobile US (TMUS) . He has turned running that once also-ran telco into the company with the most momentum in the industry -- a company that shot the lights out this morning with an amazing quarter, adding 2.1 million subscribers, bringing the total additions to 8.3 million for 2014. Astounding numbers.
You know how he did it? By being himself. He's the single most in-your-face CEO in the country, and I love it. Legere's a bomb thrower. He's a guerilla fighter. He doesn't look like a CEO. He dresses like New England Patriots Coach Bill Belichick and he needs a haircut. Or does he?
When you pitch your company as the "uncarrier," replete with a Kim Kardashian ad during the Super Bowl (the most recognizably untalented person in the universe, with more Facebook (FB) likes and friends, Snapchats, Instagrams and tweets than some countries), you need to make a personal statement. With Legere, it's about as personal as you can get. He disparages the other guys with aplomb. At one point during the interview I had to stop him because he accused Verizon (VZ) of having phony offerings. I said, "Wait a second, you can't say that about Verizon." He basically came back with, "Why not? It's a fake!" Talk about not backing down.
Legere's whole rap would be clownish if it weren't working. He knows, though, that he needs the youth of America to switch from The Man, and The Man is Verizon or AT&T (T) . He has this whole guerilla marketing rap going that extends right to the pink T-shirt that he wore with some sort of hoodie today to the gym -- whoops, I mean the set.
It's not just that, though. I think Legere does it because it drives the other guys, total button-down folks, up a wall. So many CEOs are so lawyered up that they fear everyone. It's like the lawyers, who are always so powerful, would rather have you do less business, make less money and be less competitive, lest they get in trouble. To which I ask, with whom? Whom do they fear? What do they fear? I know whom Legere fears: no one. And that's what makes him such a terrific competitor, and why he is taking business from everyone.
Walter Robb of Whole Foods
You know who else is a vicious competitor dressed in sheep's clothing? Walter Robb, Co-CEO of Whole Foods (WFM) . I know you see him as a mild-mannered grocer, your neighborhood proprietor with the finest produce and freshest goods. No mistake about it, Walter is a gentleman -- but he's a gentleman who wants to eviscerate the competition. He's not trying to co-exist with Fairway (FWM) , Sprouts (SFM) , or The Fresh Market (TFM) -- he's trying to bury them.
When Robb wasn't winning for a bit, when the competition momentarily seemed to have the upper hand, he and Co-CEO John Mackey -- more of a visceral competitor -- came out with technological guns blazing: They cut prices, introduced Instacart, became the number one Apple (AAPL) Pay store, and showed people where their goods are sourced. I've seen no response from the competitors. I think they are dazed and confused by how aggressive Whole Foods has become. They may be natural and organic, but Walter's got one foot pedal to the metal and the other on the jugular of the now also-ran players.
Kevin Plank of Under Armour
How about Kevin Plank? People often tell me that Under Armour (UA) is overvalued. I hear more short stories about this one than any other stock. Two people today told me I need to start worrying about UA and the West Coast port slowdown. I told them I don't have to worry; I am letting Plank worry for me. It takes about three minutes into a conversation with Plank for him to tell you how he's going to crush Nike (NKE) . A half hour in and he's willing to concede that the world's big enough for both Nike and Under Armour -- for now. Under Armour wanted Kevin Durant, the fabulous NBA MVP, and lost out to Nike. I bet that was a real bad day to be around Plank. No matter, he signs the lethal Stephen Curry immediately and, yesterday, inks a deal with The Greatest, Muhammad Ali, for lifestyle clothing. Sometimes when I am with Plank, I think he wants to go out to Beaverton and pick a fight with CEO Mark Parker. He's like the Marines: no better friend, no worse enemy. Repeat after me: I will not bet against Kevin Plank.
Jim McNerney of Boeing
You know who may be the most subtly competitive soul out there? The fabulous Jim McNerney of Boeing (BA) -- a stock that just can't stop rising. I remember when I interviewed him not that long ago, I asked him, a Yalie, if he considered Airbus a friendly rival, kind of like the Harvard Crimson going against the Yale Bulldogs? He looked at me as if I had lost my mind. No, he explained, he wanted to crush them. There's nothing at all collegiate or collegial about the competition, it's no-holds-barred. And we wonder why this stock keeps hitting a 52-week high.
John Stumpf of Wells Fargo
You want a gentle, mild-mannered banker who packs a .44 Magnum to a knife fight? Try going up against John Stumpf of Wells Fargo (WFC) . He doesn't want to cut your heart out, but he does want to take your business. Any business. At the first meeting, he'll offer you a fantastic mortgage or a refinance. Your second meeting? He's cross-selling you some other service. Not only that, here's a guy -- like his predecessor and a personal hero of mine Dick Kovacevich -- who knows not only when to fight but when not to fight. Wells never went against the Justice Department because it never did the stuff that Justice didn't like. Justice has bedeviled every major bank except for Wells, which is why Wells has done better than every major bank.
Howard Schultz of Starbucks
You think Starbucks (SBUX) is where it is because Howard Schultz is a pushover? He's a dominant chief executive who simply outworks and out-thinks everyone. He's scary competitive. You would know that if you follow my stuff.
Larry Ellison of Oracle
You know who's the most competitive exec in the tech industry? Could it be Oracle's (ORCL) Larry Ellison? He's awesomely competitive, I have to admit. He slashes and burns the other guys, and has a TOTO philosophy -- no, not the dog. TOTO means turn off the oxygen to competitors, such as Workday (WDAY) , SAP (SAP) and Salesforce.com (CRM) , where Marc Benioff is no slouch, either. Ellison wants to bear hug the completion.
But you know who you really don't want to go up against? John Chambers of Cisco (CSCO) . That's right, the mild-mannered gentleman from West Virginia. He's as subtle as Legere is in your face. But he's in total world-domination mode at all times, for 20 years now. He won't stop until he vanquishes everyone, and you wouldn't even know he's doing it. With Chambers, politeness is lethal.
I know there are plenty of competitive execs that I have left out, but you have to understand that if you own stock in a company with a nameless, faceless, head coach, you may be betting on the wrong team. If that's the case, you might as well sit in the stands and enjoy an index fund.
Editor's Note: This article was originally published on Real Money at 3:50 p.m. EST on Feb. 19.
At the time of publication, Jim Cramer's charitable trust Action Alerts PLUS was long CSCO, SBUX and WFC.