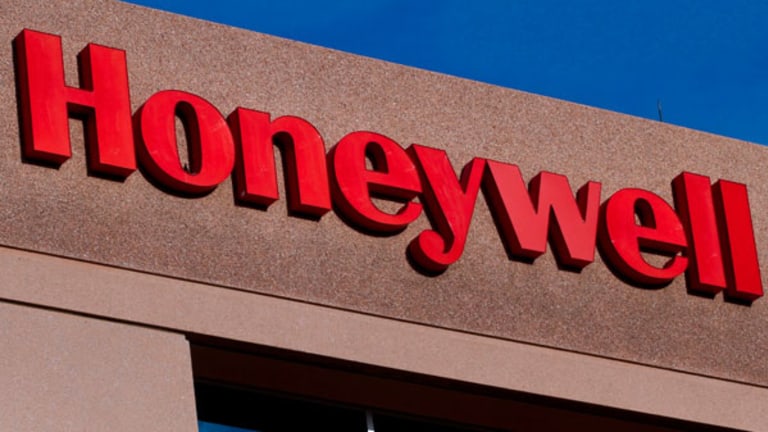 Jim Cramer: Buy Honeywell On a Market Swoon
Wait for the market to pull back and then Honeywell will be a bargain, according to TheStreet's Jim Cramer.
Wait for the market to pull back and then Honeywell (HON) will be a bargain, advisesJim Cramer, portfolio manager of the Action Alerts PLUS Charitable Trust. 
"If you don't own it yet, do you buy it ahead of the quarter? Why not wait for a market swoon?" Cramer toldTheStreet's Rhonda Schaffler at the New York Stock Exchange Thursday. "They always give you one. Then I would buy it."
The aerospace sector, as a whole, has recently suffered through weaker demand in global economies and a stronger U.S. dollar that made domestic goods more expensive to purchase internationally. In its first-quarter earnings report, metals company Alcoa (AA)  lowered its 2016 outlook for the aerospace sector to 6% to 8% growth this year, down from previous forecasts as high as 9%. 
New Jersey-based Honeywell could be better positioned to weather weakness in the sector and benefit most from a rebound in the global economy. 
"The world is going (Honeywell's) way," Cramer added. "China is better, Europe is a little better."
Honeywell shares have outperformed the broader sector and market so far this year. Shares have climbed nearly 11% since the beginning of the year, compared to a 1% increase in the PowerShares Aerospace & Defense ETF (PPA) and 2% growth in the S&P 500. Over the past 12 months, Honeywell shares have fallen 0.6%. 
Honeywell will report first-quarter earnings before the bell on Friday, April 22.