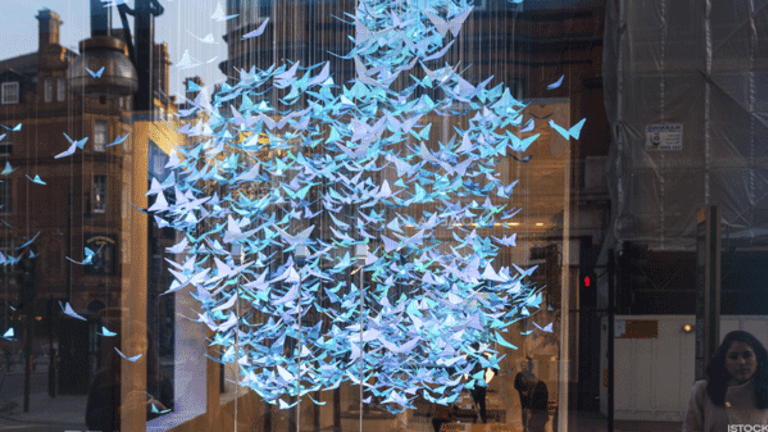 Jim Cramer -- Apple's First Jobs Fund Investment Goes to Corning
Apple's newly created jobs fund will send $200 million to Corning.
Apple's newly created jobs fund will send $200 million to Corning.
Last week, TheStreet's Jim Cramer went West for his CNBC "Mad Money" show. Among his many guests was Tim Cook, the CEO of Apple (AAPL) - Get Report , who explained to Cramer the company's plan to launch a $1 billion tech-based job fund.
On Friday, further details were announced as Apple made a $200 million investment to Corning (GLW) - Get Report . Corning, known mostly for its gorilla glass, will use the funds at its Kentucky plant and has been a supplier for Apple for at least a decade.
There's a stigma that all manufacturing and production jobs are headed overseas. But this is "affirmation that we can make things in this country," Cramer, the manager of the Action Alerts PLUS portfolio, said on CNBC's "Mad Dash" segment.
Corning gets it, Cook gets it, Cramer reasoned. And make no mistake about it. This isn't just create jobs for the sake of creating jobs. The U.S. isn't headed back to traditional manufacturing, but instead can start taking a more active role in advanced manufacturing, Cramer explained.
This may be a feel-good story, but at the end of the day it boils down to job creation here in the U.S. and it's "sensational" work by Apple, Cramer concluded.
Don't miss these trending stories on TheStreet:
Trump Won't Like What General Electric Is Doing to Its Workers, but Investors Should Be Thrilled
GE Likely to do Something Soon That it Hasn't Done Since the Depth of the Financial Crisis-Analyst
J.C. Penney's Stock Is Getting Crushed - Here's What Went Down
At the time of publication, Cramer's Action Alerts PLUS had a position in AAPL.